How to Boost your Business with Odoo WhatsApp Integration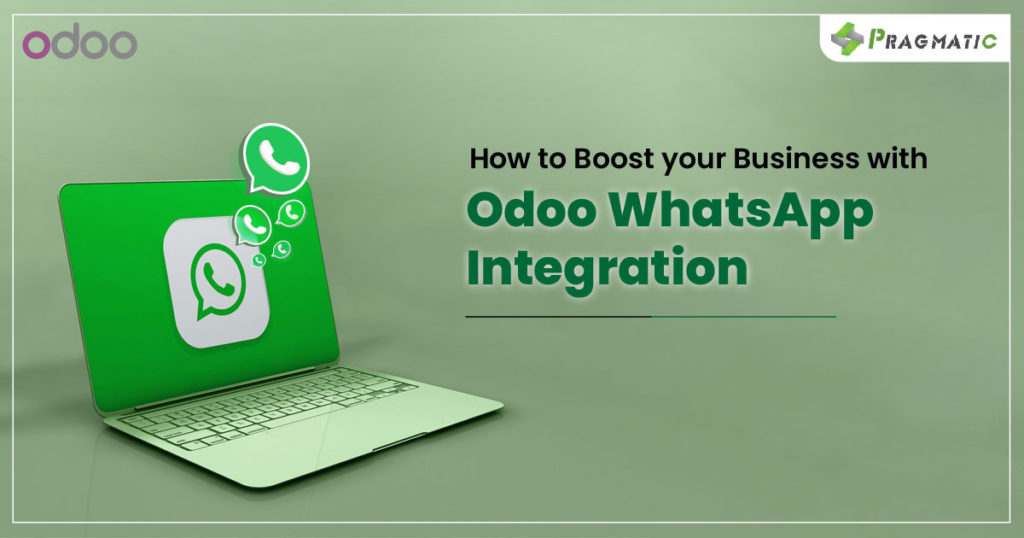 WhatsApp is a powerful multi-platform communication tool used all over the world. Most individuals use it to share papers and communicate via audio, video, and other media to improve communication. It is essential for privately sharing messages and documents or in a more committed group. As a result, it has a complete guide to always navigating your contact.
For professional business services, we need clear communication in small, medium, and large businesses. Wait, is WhatsApp used as a legitimate communication channel? Many businesses utilize WhatsApp to ensure equitable trust and to preserve interpersonal relationships with clients.
WhatsApp Integration in Odoo
As you all know WhatsApp came into existence in 2009. Since its inception, WhatsApp has revolutionized communication and grown in popularity throughout the years. It currently has 2.5 billion active users and sends 60 billion messages per day. Since then, many messaging apps have been developed, but none have as many active users as WhatsApp.
When it comes to Odoo, it has grown in prominence in the field of ERP. Odoo is a suite that provides considerable capability for running a business successfully through a centralized system.
The major advantages that Odoo offers are numerous, but they can be summarised as follows:
Inter-departmental communication and a centralized system
Increasing Productivity
Making Quick Decisions
Collaboration that Exceeds Expectations
Enhanced Data Flow
Lowering Operating Costs
Business insights are delivered.
Boost your Business with Odoo WhatsApp Integration.
Basically, when you are using WhatsApp to communicate with your clients it creates a good impact on your business. WhatsApp conversation provides your client with immediate assistance, displaying your credibility, strong relationship, and commitment.
In a decade, WhatsApp has progressed considerably, and the features it provides to users are so compatible and adaptable that no other chat software can match them.
WhatsApp has a simple UI and works well with Odoo. We created an Odoo app that allows users to use the WhatsApp application to send messages using Odoo. Customers can communicate with you using WhatsApp directly from your Odoo website. Here are some major Benefits of Odoo WhatsApp Integration
Robust, dependable, and simple to operate.
Odoo may send and receive WhatsApp messages in both directions.
Odoo's Helpdesk Module, when linked with WhatsApp, can assist cut response time to customer concerns.
According to WhatsApp's current policy, data is stored on a server and is encrypted.
This integration includes the following features:
A single WhatsApp number is assigned to an entire organization.
Messages from WhatsApp may be sent and received in Odoo, making it bi-directional.
Invoices and receipts in PDF format can be emailed with a single click.
By using the drag-and-drop method, you may send complete product details to the consumer.
Predefined messages/templates can be saved and distributed to clients.
Account invoices and Account payments can be used to send order information.
Until it is manually removed, the chat history is stored.
This integration also allows for group chat.
This connection allows you to send media files such as product videos, photographs, PDFs, doc files, and so on.
The New-Age WhatsApp Automation Solution Is Here!
Conversation Central All-In-One
This article will walk you through the process of connecting your WhatsApp web to Odoo.
By using Odoo WhatsApp we can streamline communication with multiple collaborators and enhance team competency in your fields by using the Odoo-WhatsApp connector.
Odoo is adaptable to any third-party application and may be linked with any program. Odoo, as an Application Programming Interface (API), may simply be linked with any third-party application, such as WhatsApp, to improve your business. WhatsApp has provided a simple capability that allows it to integrate with Odoo. The Odoo WhatsApp connector allows you to send messages and live chat with your customers directly from Odoo. It also assists you in adding a WhatsApp widget to your website.
You may instantly separate your support team members in this version so that consumers can quickly transfer messages to the correct individual. The customer can check if they are available and can send messages based on their availability.
We can integrate WhatsApp Web to deliver messages in Odoo versions. Because it is simple to use, you can send it to your appropriate partners at any time. The WhatsApp Messenger module improves your consumers' rapid and practical service.
By customizing this module, you can distribute relevant messages from your contacts list to appropriate team members. Messages can be transferred to Contacts, Sales and Accounts invoices and payments, credit notes, delivery, purchase orders, Points of Sale, Project Tasks, CRM leads, Payment Reminders, Signup pages, and other systems using the same app.
You can add quick support for instant messaging now that it is time to assure confidence and safety while exchanging communications via WhatsApp.
Conclusion:
Are you attempting to provide the greatest customer service possible for your website? Implementing an Odoo website and an Odoo WhatsApp web interface can provide this support. By adding this odoo apps module, you may rapidly distribute messages and contact your clients by connecting your Odoo website to WhatsApp.
To maintain proper efficiency with your customer service, integrating WhatsApp with Odoo, which is considered a bargaining chip among social media platforms, may improve as a key unavoidable channel in connecting with clients. Maintain your customer service in a uniform manner with Odoo Apps. With this perspective, we believe that this post will help you in growing your business in a delightful way.
Odoo Conversation Central All-In-One is a complete app suite created by Pragmatic that helps you manage your entire business functions inside WhatsApp Messenger. There are powerful modules combined into a single Odoo WhatsApp module package that automates core business functions, viz., marketing, payments, sales support, live chat, eCommerce shopping, product catalogue, and customer service. Want to learn more? Please check out our Whatsapp ODOO All-in-One Integration module page.

And if you want to know more about how WhatsApp-Automation works, kindly Talk to Our Experts for Conversation Central All in one Integration, which can help you set up all your WhatsApp Integration needs.