Top Three Ways to Incorporate WhatsApp Into Your Website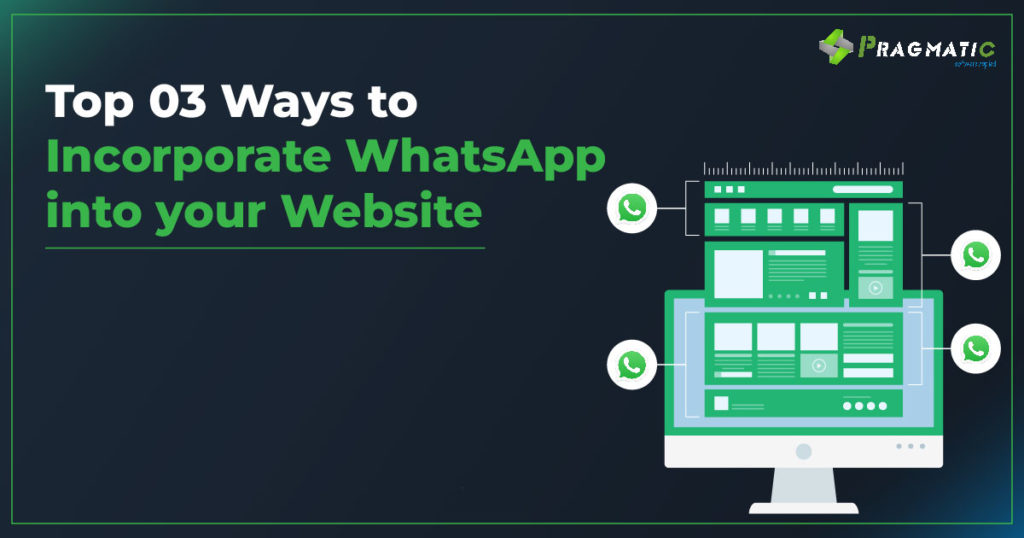 If your business uses WhatsApp then here is a quick guide on how you can add WhatsApp to your business website. Within a few clicks, consumers can contact you with inquiries or set up appointments, etc.
With around three billion-plus users worldwide, WhatsApp is now deemed as one of the most reasonable communication platforms of this era, as it has evolved into an essential part of everyone's daily lives. Since most of them are acquainted with this app and its features, it has evolved as a great business communication mechanism for companies across the globe. WhatsApp Business, the business app from WhatsApp, is favored by most small and medium businesses that want to connect with an extensive group of buyers and consumers.
Further, while incorporating this business app or even its API, there are quite a few additional steps that your business might need to consider and can leverage the potential of using WhatsApp Business.
WhatsApp Business offers a way to build an integration with the messaging app and access its massive user base. Using this, business owners can connect with their customers in real time, engage with them, and interact in different ways that were not known earlier.
Now, the question arises – why should you integrate WhatsApp into your website?
Many business owners nowadays use WhatsApp Business, but they fail to showcase that they furnish the capability for customers to communicate via WhatsApp. One of the ways that they can do this is just by integrating WhatsApp into their website. Integrating WhatsApp into your website can offer several substantial benefits to your business. We'd like to summarize some of the most crucial ones here:
Here are the top three ways you can integrate WhatsApp into your website.
Include a WhatsApp link on your site (click to chat):
One of the easiest ways to incorporate WhatsApp into your website is by creating and adding "Click to Chat" links. Once a visitor or a customer clicks on the link shared on your site, they will be mesmerized by a WhatsApp chat window, either on their cellphone or on WhatsApp Web. This allows them to directly connect with you or any of your customer support executives. Some WhatsApp service providers, also allow you to add personalized messages to greet consumers.
Include a WhatsApp chat button on your site.:
The next favored method of WhatsApp integration is adding a WhatsApp chat button. When compared to links, chat buttons are preferred by businesses because they allow for more customization. WhatsApp chat buttons also show up much more prominently on the website and can thus be noticed by consumers efficiently.
The New Age WhatsApp-Web Integration Solution Is Here!
Conversation Central All-In-One
Chat through WhatsApp's QR Code:
QR codes are the most outstanding addition to WhatsApp's ever-expanding list of features. It permits your business to facilitate both online and offline customer acquisition. Generating a unique WhatsApp QR code, you can simply paste the WhatsApp QR codes on your web pages or prominent areas, where they can be easily scanned by interested customers. QR codes can furthermore help you boost your offline engagement as they can be pasted in physical marts and other areas.
These WhatsApp hacks can help you build new revenue streams by allowing you to create custom content for your customers and send them promotional offers. It also permits you to send notifications about orders or sales and monitor client activities throughout the day.
A few more advantages of using the WhatsApp Business API include:
Reply quickly across multiple platforms, including WhatsApp, Instagram, Facebook, and email.
Assist your representatives by assisting them in prioritizing issues and personalizing messaging.
Create an easy chat preference from which users can pick to improve the efficiency of customer interactions. You may send your customers an automated and personalized thank-you WhatsApp message when they make a purchase.
Bonus pointers:
Keep in contact after visitors leave your site:
A WhatsApp integration on your site will be akin to adding a live chat tool to your business website. While both might be synonymous as they deliver several similar characteristics, there is a significant difference. When a client raises a query through live chat, they have to stay on the page until they receive a response. This is a two-way sword as it both tests the customers' forbearance and increases the stress on your customer service crew. Since WhatsApp routes all the chats to the app, you can respond to the query even when your customer leaves the page. In a way, you can stay interconnected with your customers longer and build lasting associations.
Giving personalized assistance in the customer's language:
WhatsApp helps interactions cater to the demands of their customers in their lingo. As people are increasingly evolving mobile-first, businesses need to ensure that they can furnish better customer service by intercommunicating in the customer's language and even by providing help in the native language. Integrating WhatsApp into your website will allow you to reach consumers across India and offer a personalized offering to them in their native language.
Now that you have learned the importance of why integrating WhatsApp Business here is a guide on how does it work?
It is challenging to gain a sign-up for 'WhatsApp for Business' instantly and get access to API as the sign-up process takes too long. Hence, it is better to sign-up for a third-party WhatsApp API assistance as Chat API.
Also, Selenium could be used for free but it is not powerful and seems inconsistent when it comes to managing large volumes of load.
Conversation Central All-In-One : WhatsApp on Steriods
Run your entire business on WhatsApp 
Hence, you need to SIGN UP for a Chat API account exclusively.
Further, if you want to know more about how it works, kindly Talk to Our Experts for Conversation Central All in one Integration, which can help you set up all your WhatsApp Integration needs.