How to Use Odoo 17's Customizable Dashboards for Managing Complex 3D Printing Work Orders?
If you're in the 3D printing business, prepare for a dashboard that doesn't just work but works wonders.
Tailor-made for the complexities of your craft, Odoo 17's dashboards are the secret ingredient to streamlining your work orders into a masterpiece of efficiency.
Whether you're juggling multiple client projects or fine-tuning the details of your next big print, Odoo 17 is your partner in precision, performance, and profitability.
So let's get set to transform your 3D printing process with the smartest tool in the business. Read on to master the art of management with dashboards designed for the future, today.
HOW CUSTOMIZABLE DASHBOARDS CAN HELP 3D PRINTING BUSINESSES
1) Improved Visibility and Insight
Odoo 17's dashboards offer a bird's-eye view of the production floor, granting immediate access to the status of work orders, material usage and equipment downtime. This real-time data allows for proactive management and agile response to operational demands.
2) Collaborative Workflow Management
Customizable dashboards enable different departments to harmonize their efforts. With shared access to critical data, teams can work synchronously, ensuring that every step of the order process is transparent and coordinated.
3) Enhanced Operational Efficiency
These dashboards are not merely visual tools but are integral to streamlining business processes. By tracking progress and analyzing workflow patterns, businesses can identify areas for improvement, leading to faster turnaround times and higher-quality outputs.
HOW INTERNAL TEAMS IN THE 3D PRINTING INDUSTRY CAN USE CUSTOMIZABLE DASHBOARDS
1) Sales Team Alignment
Sales teams can use dashboards to track the lifecycle of quotes and orders, providing them with the insights needed to prioritize leads and maintain customer relationships effectively.
2) Production Process Optimization
Production teams benefit from dashboards by monitoring work orders and resource availability, ensuring that the manufacturing process runs smoothly and efficiently.
3) Customer Service Excellence
For customer service teams, dashboards offer real-time tracking of customer inquiries and service tickets, enabling prompt and informed responses to customer needs.
STEP-BY-STEP PROCESS FOR USING CUSTOMIZABLE DASHBOARDS TO MANAGE COMPLEX 3D PRINTING WORK ORDERS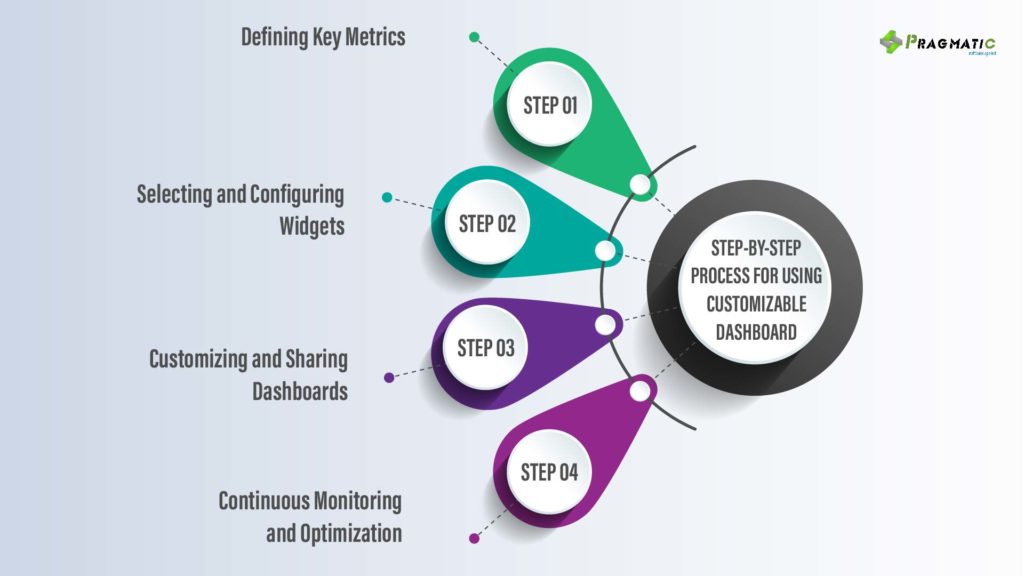 Step 1 : Defining Key Metrics
Firstly, determine the essential aspects of your 3D printing orders you wish to monitor. This will guide the customization of your dashboard to reflect the metrics that matter most to your operation.
Step 2 : Selecting and Configuring Widgets
Next, choose from a range of widgets that represent these metrics. Configuration of these widgets can be tailored to display the desired data sets and report formats.
Step 3 : Customizing and Sharing Dashboards
After setting up the widgets, customize your dashboard layout to align with team preferences and share it with relevant stakeholders for a collaborative approach to order management.
Step 4 : Continuous Monitoring and Optimization
Use the dashboard to continuously monitor processes and make data-driven decisions for ongoing improvement and optimization of resources.
Example Dashboard : 3D Printing Work Order Management
Widgets Included :
Work Order Progress : Visual tracking of each order's status.
Order Intake : Analysis of incoming orders to manage demand.
Material and Equipment Availability : Overview of the resources and their current status.
Support Ticket Monitoring : Real-time tracking of customer support issues.
Filters Applied :
By Work Order Status : To segregate orders based on their completion stage.
By Order Priority : To prioritize production based on urgency and importance.
BENEFITS OF USING CUSTOMIZABLE DASHBOARDS
With real-time access to data, enhanced team collaboration and increased workflow efficiency, customizable dashboards in Odoo 17 are a vital asset for cost reduction and strategic planning in the 3D printing business.
LEVERAGING PRAGMATIC TECHSOFT'S EXPERTISE WITH Odoo 17 DASHBOARDS
Pragmatic Techsoft, renowned for its adept solutions for 16+ years in Odoo implementation, offers unparalleled expertise in customizing Odoo 17 for 3D printing businesses.
We ensure a smooth migration to Odoo 17, facilitating better control over your complex work orders with a comprehensive understanding of the manufacturing module, inclusive of inventory and quality management, to drive your business forward.
Odoo 17 customizable dashboards represent a leap forward in managing complex 3D printing orders.
Stay tuned to our website and blogs for more insights on Odoo 17 and beyond.