Odoo Community Vs Odoo Enterprise Edition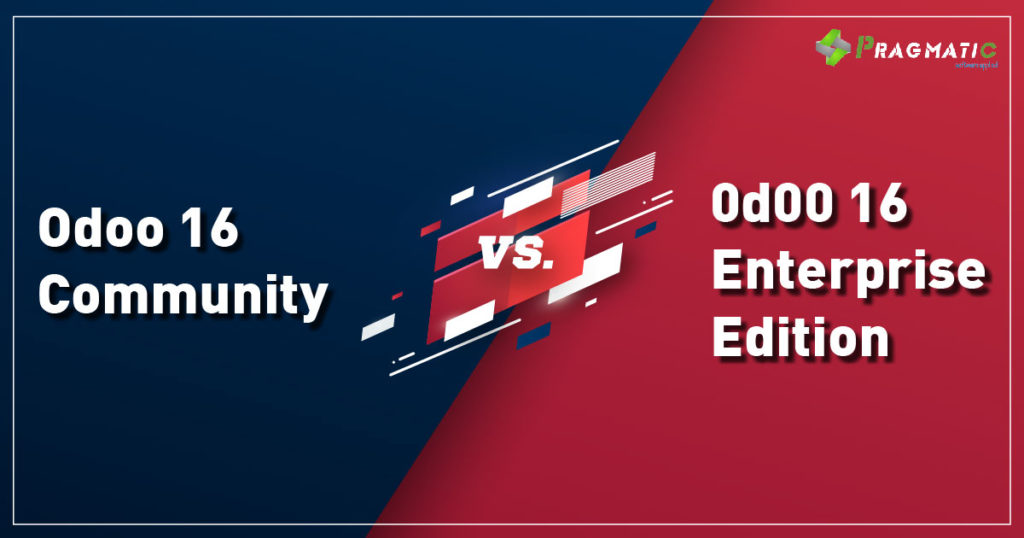 A leading open-source ERP system, Odoo offers an array of business management applications. You can use it to manage business operations efficiently with specialized modules that address almost all process challenges in a company. Odoo is currently used by more than 7 million people around the world.
The various modules in Odoo provide advanced functionality that improves employee performance, which also increases business efficiency. Among the modules available in Odoo are CRM, Sales, Purchase, Inventory, Accounting, Website and E-Commerce, Project, HR Management, and many others. Due to its adaptability, Odoo has gained popularity across many industries regardless of the size and nature of the organization.
There are several versions of Odoo available. Generally, you can choose between Community and Enterprise editions of Odoo. Getting new features and modules is as simple as updating to the most recent version, and the most recent version is Odoo16 with its dynamic new features and functionalities. Basically, the Community edition is cost-free, and you don't need to pay to use the module for your business. Odoo Enterprise, however, is available with a paid option.
Let's have a look at the features, differences, and similarities between the two versions.
Odoo Community Vs Odoo Enterprise Edition
Odoo Community Edition is a free version of Odoo powered by open-source software.
Odoo Enterprise is a paid upgrade that is more suited for use in niche markets with high value.
Contrary to Odoo Community Version, Odoo Enterprise offers unlimited support, version upgrades, and cloud hosting options.
In addition, Odoo Enterprise is faster and more responsive than its Community counterpart.
Odoo Community is an open-source version, while Odoo Enterprise is licensed and shared. This enables the various business components to be more agile and adaptive.
Regardless of whether you use Odoo Community or Odoo Enterprise, you'll find a set of functional modules which are suitable for business operations in both versions. These modules include sales, purchase, accounting, inventory, etc.
Odoo Community differs from Odoo Enterprise in that it does not provide unlimited functional support, version upgrades, or hosting assistance.
As part of Odoo SA's public and private cloud hosting services, Odoo Enterprise gets unlimited functional support, frequent upgrades, and public and private cloud hosting services.
Planning to upgrade to Odoo 16?

While the globally hailed Odoo 16 version ushers in distinctive features for different modules, it is important to interpret its practical advantages for your business. Talk to our Odoo Experts now to know all about its productive application for your business. Click here now if your company is planning to upgrade to Odoo 16.
An array of functional modules like Marketing Automation, Quality Management, Maintenance, Online Appointment, Subscription, Data Cleaning, Sign, Help Desk, Studio etc., which do not come with Odoo Community are available for users in Odoo Enterprise.
As compared to Odoo Community modules, Odoo Enterprise modules offer several additional features like barcode integration, a shipping connector, MPS, and VOIP.
Odoo Community features do not offer full functionality with regards to Sales, HRMS, Website, eCommerce, or other modules. Besides, studio apps and mobile versions are not supported.
Odoo Enterprise edition provides enhanced operational speed and efficiency, as well as mobile browser compatibility.
A version of Odoo Community with additional features is called Odoo Enterprise Edition.
With Odoo Enterprise, companies move from selling open-source software to providing proprietary services.
Odoo Community is a free business platform developed and tested by OCA.
In addition to offering a variety of customizable modules, Odoo Enterprise is useful for firms of all sizes.
By comparing Odoo Enterprise and Odoo Community, it is possible to gain a better understanding of the benefits of these applications. The two versions should be evaluated and compared using different criteria, such as support, bug fixing, upgrades, hosting, and pricing before deciding the best option for your business. The below table should help you get further clarity about the differences in the features between the two versions –
Pragmatic Techsoft has many years of experience providing Odoo ERP software for a diverse range of industries. We have helped our clients with customized Odoo ERP systems to achieve their specific business goals right from the earlier versions of Odoo. Our software solutions have propelled the business capabilities of numerous organizations across 50+ countries for over a decade. With a vast range of custom modules to accommodate different business functions, you can optimize operations to their fullest potential. You can automate routine tasks and focus more on the things that need your immediate attention. 
If you are planning to upgrade to Odoo 16 from any previous versions of Odoo, click here now to Talk to our Odoo experts.