Odoo Implementation Methodology observed by Pragmatic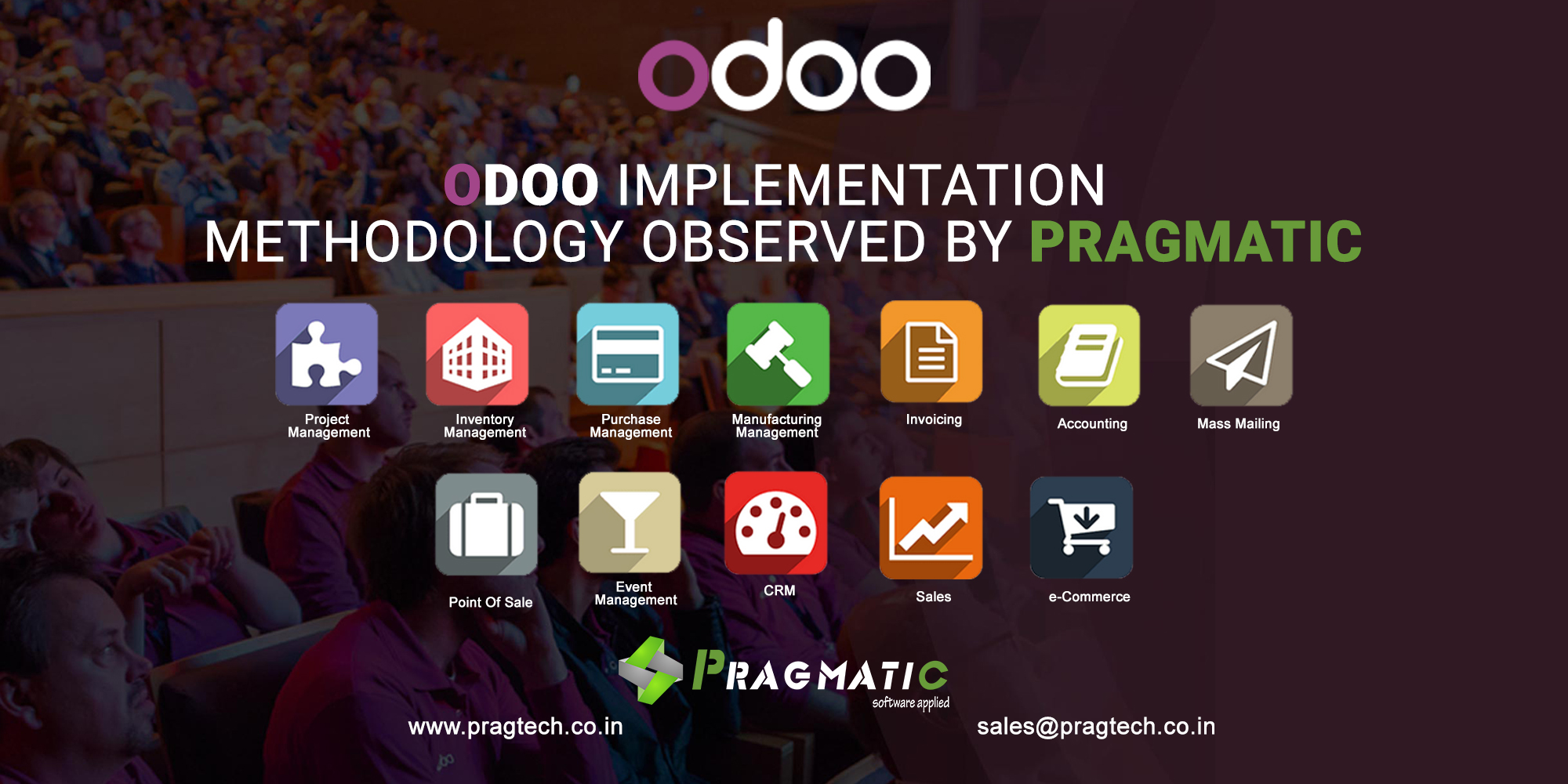 Odoo Implementation is one of the most important decisions any business can take. If done right, it can lead to successful growth of an organization. In case you are thinking to implement Odoo or need any help with Odoo implementation for your business, Pragmatic is here to help you. We provide Odoo implementation with proper project management methodology.
The extensive experience and expertise Pragmatic brings to the table, will minimise risks of Odoo implementation and maximise successful outcomes.
A successful Odoo implementation can reap vast rewards in organisational strengths and efficiencies. We have learnt from our experience. Therefore, our Odoo implementation process starts with thorough evaluation.
Agile Odoo Implementation Approach
Step 1 – Pre-Analysis:
Before Odoo implementation, we make sure that we conduct enough meetings with your key managers or decision makers in the organization to give you a positive feasibility report in the beginning of the implementation itself.
Step 2 – Detailed Analysis:
We make sure our analysis is thorough, so that we are able to gather the required knowledge of the workflow of the organization for the Odoo Implementation is taking shape, and provide an implementation strategy and a thoroughly thought-through roadmap to complete development procedure.
Step 3 – Project Planning:
At this stage we plan how to execute the roadmap we developed for the organization in the above step. At this stage we prepare a complete a Gap Analysis Document and prepare the complete business model for a complete step by step Odoo Implementation at your organization.
Step 4 – Initiation of Development:
At this stage we begin to implement the solution designed for your organization. Given below are some of the solutions we give you –
Interface designs whenever necessary
Workflow implementation
Dashboard designs
Access Rights Management
Report Designs
System Integration
Quality Assurance Tests
Deployment
Client Walkthroughs
Client Suggestion Implementations
Client Approvals
Step 5 – Odoo Implementation:
With all the above mentioned steps completed, especially the Client Approval Step we proceed with the Odoo Implementation for your premises.
Agile Approach to Development
Data Migration in Agile Approach
Step 6 – Data Migration:
After successful application installations, configurations and implementations we proceed with your business data migration from the system you have been using until now to the new system developed for you. We provide data migration through:
Web Services
XML/CSV Files
ETL
Step 7 – Training:
Preparing a solid functionality on paper and getting it developed as planned won't change the scenarios of your organization completely unless it is implemented internally in the organization.
Change management therefore becomes one of the most frequent reasons for Odoo failures. Your staff necessarily needs to engage themselves with the Odoo from the beginning itself. We therefore provide best in class user training for your staff to better engage with your implemented Odoo Solution.
Step 8 – Support and Maintenance:
One of the major differences between an unsuccessful and a successful Odoo implementation is after-go-live support. New developments so that your system does not go obsolete ever.
So, in case you want to get an Odoo implementation done, you can get in touch with us at
or call us on +1 713 701 5957.