With Odoo Website Management Apps, building a Website is Super Easy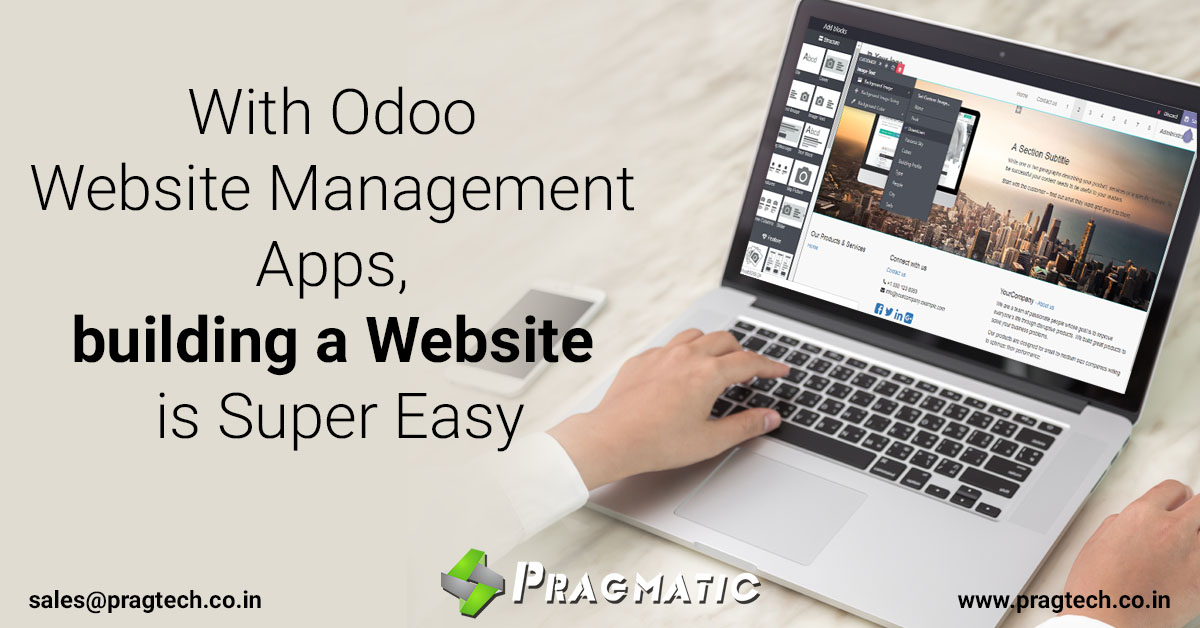 A website is an important part of a company. A website is basically made to support the company activities online and also connect a particular set of audience with the company. The nature of the website changes in accordance with the nature of the company.
Odoo ERP is a very good option if you are looking for the perfect website builder. It doesn't matter if you are creating an e-commerce website, a customer relationship management portal or even a company website, Odoo can handle it all.
With the latest versions of Odoo the website building keeps becoming better. In this blog, we will discuss the various apps from Odoo app store that can make your website management easier.
Top 5 Paid Odoo Website Management Apps
1. Odoo Multi Vendor Marketplace
It transforms your single e-commerce website into a working e-commerce marketplace. Your sellers would signup and sell their products. What your business receives are; A flood of customers from every walk of society and commissions for every sale they make on your website. You as the Marketplace admin is entitled to complete control on the happenings on your Odoo Marketplace. You approve/disapprove products, orders, sellers, etc, manage sellers' payments, seller shops and much more. Odoo Multi Vendor Marketplace is designed to be installed and ready to use with minimal configuration. But we understand every client is unique so every functionality is open for customization to perfectly suit your needs.
2. Odoo Multi-Channel Sale
The perfect solution to your multi-channel marketing strategy. Blend your stores on various multiple channels like Amazon, eBay, Etsy and more under the same roof. Manage various multiple E-commerce channels using a single Odoo database. Integrate and manage every aspect, from order placement to stock management to delivery operations diligently. Import Products, Products categories, customers, shipping methods etc. to Odoo from each channel. Automatic synchronization of data between Odoo and various channels to help you run the operations without delays.
3. Google Merchant Center Integration
Grow Selling with icaps Google Merchant Center integration. Do more, in less time!
Works in combination with Google shopping campaign, dynamic remarketing ads, and or local inventory ads. Easily export and synchronize products with Google Merchant Center with a single click. Export both regular and variant products.
icaps Google Merchant Center app supports both Enterprise and Community version. It lets you stay ahead of the competition. Let millions of shoppers see your online and in-store inventory. icaps Google Merchant Center API does it all for you. Use this solution to synchronize products to your selected Merchant center account. The app provides an easy to use interface allowing you to control which product(s) are tied to which Google merchant account, product category, targeted country, language, channel, age group, display ads and dynamic remarketing.
4. Shipstation Connector
In this module, connect your shipstation software with Odoo ERP software and synchronize all the shipping data in one Single ERP solution and manage your Delivery/shipping operations directly from Odoo.
5. Odoo Multi Website
This application will help you to configure multiple websites under a single menu with a user friendly and interactive interface. This will help you to set-up multiple websites with same or different companies, manage separate menus, icons, delivery and payment methods and many other features all under the same menu. Group orders, customers, products, invoices, stocks, payment transactions easily on the basis of websites.
Top 5 Free Odoo Website Management Apps
1. Web Responsive
This module adds responsiveness to web backend.
2. Odoo Web Login Screen
This project aims to give to you the new Odoo Web Login Screen. You can apply this for module website if you have installed it. Installation process of Odoo web login screen is at present stage only possible in manual way. Then go to you Odoo web interface to the module section and start "Update module list". Then look for the "Odoo Web Login Screen" in Apps (module list) and install. I hope you enjoy checking out what all you can do with this application. For example, you can change background by hours. 
3. Website Form Builder
This module provides websites the feature of adding custom forms in any page. To use this module, you need to:
Go to any of your website pages.
Edit it.
Drag and drop the Form snippet into the page.
Use the snippet overlay to add, edit and remove fields.
If you want to set a hidden field, make sure you set a valid default value on it, or users may get hidden errors and they might even be unable to send the form!
4. Website Coupon Code
This module by allows to manage customers in a better way by providing discount coupons to our special customers, and thereby increase the sales.
Create and configure vouchers for providing a discount based on product, product category or for all products.
Generate a unique code for each coupon.
Limit the usage of coupons by each user.
Provide a validity for the coupons.
History of coupons used by each customer.
5. Website Form – ReCaptcha
Adds a ReCaptcha field widget for website forms. This module will try to use the language of your website. If it can't find it for any reason, it will default to google API and use the language of the browser or your location.
These are the top 5 paid and top 5 free Odoo Website Management apps available on the Odoo App store. You can get in touch with us and we can help you download and setup the app for you. Drop in an email to us at sales@pragtech.co.in