GET READY TO SELL MORE WITH ODOO WOOCOMMERCE CONNECTOR
You can transform your website into a thriving e-commerce store with little to no technical skills by integrating #OdooWooCommerceConnector by Pragmatic.
If you own an e-commerce business or manage an e-commerce website, then you already know about WooCommerce.
In the unlikely (and frankly surprising) event that you don't, WooCommerce is the most popular e-commerce platform on the web.
This brilliant WordPress plugin can turn your website into a fully-functional e-commerce store with little to no technical skills.
In the age of exploding e-commerce platforms dictated by global giants, WooCommerce has come across as a cost-effective solution for MSMEs.
It is a free plugin offered by WordPress. It allows you to create your online store and sell your products and services without any hassle.
You don't need any programming skills or technical expertise to start selling online.
The reason for its rapid popularity is the flexibility one gets to represent the business virtually. Besides, there are a plethora of compelling themes available for customization to create your website the way you desire.
Odoo WooCommerce Connector by Pragmatic is built to integrate Odoo with WordPress. What makes it an effective eCommerce solution is that it gives both the store owners and developers complete control over the module.
Pragmatic has developed this module not only as a connector between Odoo ERP system and Woo-powered store, but to support the numerous features of the platform, and make it easy to configure.
Users can easily import, export, and synchronize invoices, customer records, products, coupons, inventory, and much more using Pragmatic's Odoo WooCommerce Connector.
Advantages of Odoo WooCommerce Connector by Pragmatic –
Streamline essential e-commerce functions by integrating WooCommerce store in Odoo
Economically viable option as both Odoo and WooCommerce are open-source software
Extremely user-friendly module as it does not require high-end technical skills or an expert developer to launch the store
Seamless transition and operation in terms of importing orders, customer data, inventory, etc.
Flexibility is one of the key components of the product as you can add all sorts of new functionalities to your store simply by installing relevant plugins
Efficiently works on all the devices
Targeting prospects becomes easier as you can personalize and segregate the database
Refined data analysis mechanism as you always remain in charge of your data
Better tracking and monitoring of customers' preferences, purchase history, and buying patterns
Evaluate store performance which is integral to prevail in the retail segment
Completely secure module where you can set up the payment gateways of your choice
Create an engaging shopping experience with complete control over your store's look and interface
Push notification functionality for promotions of e-commerce products, services, offers, etc.
Draw utmost results from digital touch-points
Features of Odoo WooCommerce Connector by Pragmatic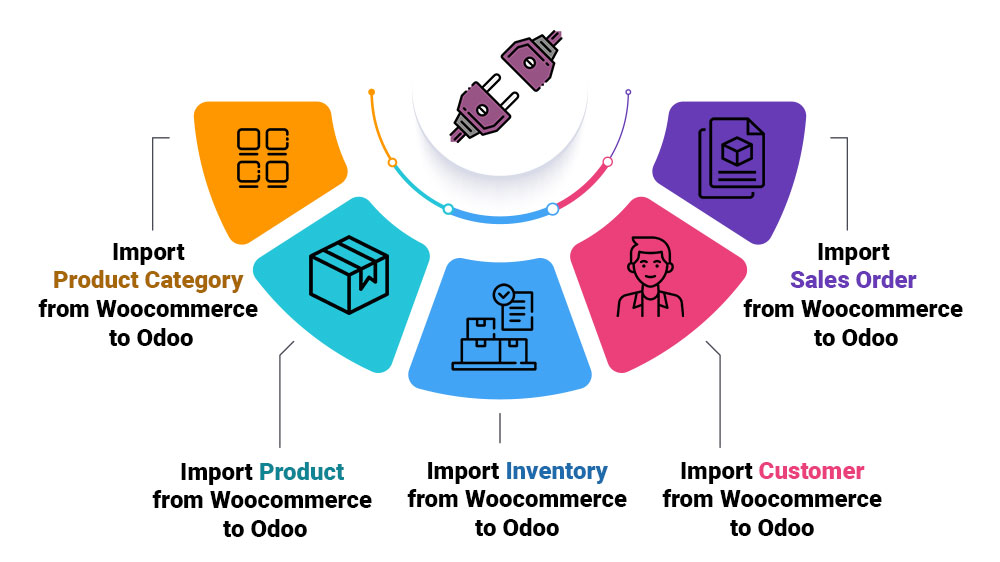 WooCommerce and Odoo are technically distinctive platforms with different functionalities. While Odoo ERP system enables you to automate a range of business functions, WooCommerce is the champion of the e-commerce world. Both are the leaders in their own game.
Bringing them together to work for your business will assure better retention, increase brand value, trigger impulsive buying, and promise an integrated customer experience.
Brief Roadmap for Connecting WooCommerce with Odoo ERP System
Bottom line, Odoo WooCommerce Connector by Pragmatic offers WooCommerce ERP integration in order to help businesses make the most of the data they have acquired.
Your Odoo system helps you to fluidly manage different business components. However, furnishing it with additional support such as the WooCommerce Odoo Connector can dramatically reduce repetitive tasks and allow you to focus on driving better sales.
Book a free 1-On-1 Confidential Consultation Now!
Not ready for an appointment? Have any questions yet? We have answers.