Payment Acquirers Available in Odoo Enterprise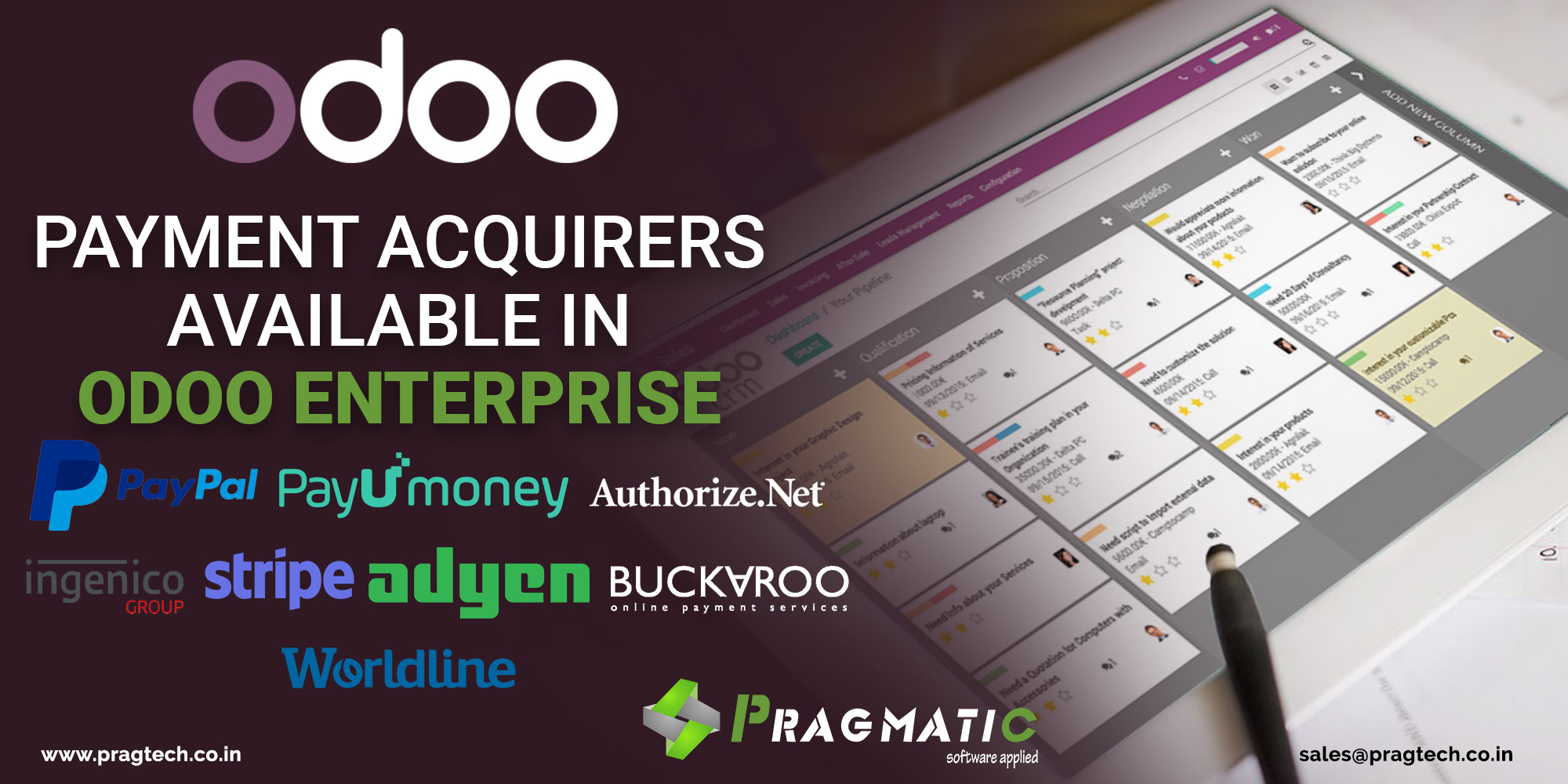 A business runs on income generation and investment return. It is all about the monetary transactions happening in a business that is all that matters when it comes to business sustenance. Whenever a business provides some products or services, they take money in return for their offering. If Odoo Enterprise is installed as the ERP, these monetary transactions become super easy and quick with the out of the box Payment Acquirers that come with it.
You can find all built in payment Acquirers from Website –> configuration –> ecommerce –> Payment Acquirers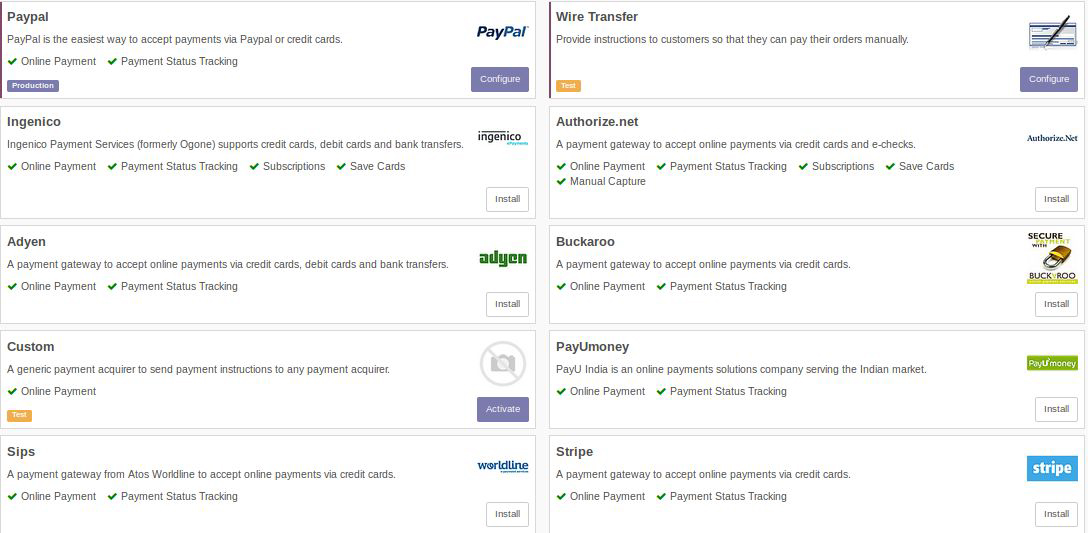 Paypal
PayPal Holdings, Inc. is an American company operating a worldwide online payment system that supports the online money transfers, thereby serves as an electronic alternative to traditional paper methods of payments like cheques and mon
Features
– Payment Status Tracking
– Online Paymen
Ingenico
Ingenico Group is one of the prominent global leaders in seamless payment, providing smart, trusted and secure solutions empowering E-commerce across all channels.
Features
Online Payment
Payment Status Trackig
Subscription
Save Card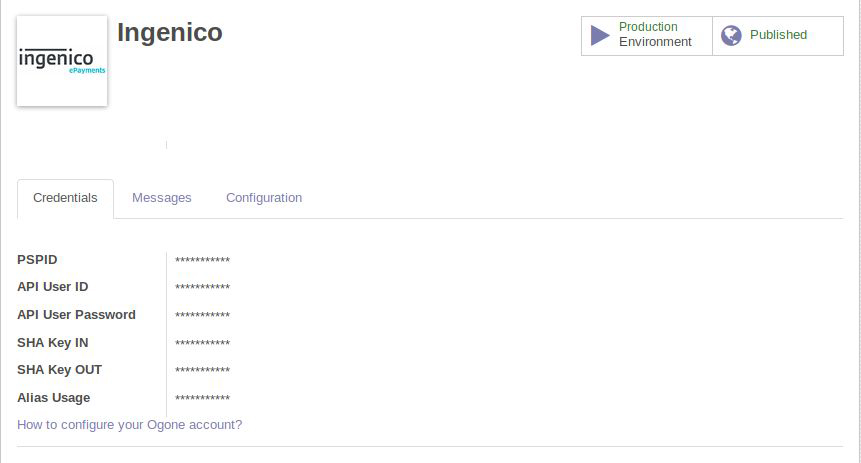 Authorize.ne
Authorize.Net is a US based payment gateway service provider, allowing merchants to accept credit card and electronic check payments via their website and over an Internet Protocol connection.
Features
Online Paymen
Payment Status Tracki
Subscription
Save Cards
Manual Capture
Adyen
It generates a single payment platform to globally accept payments and grow revenue online, on mobile, and at the point of sale
Features
Online Payment
Payment Status Tracking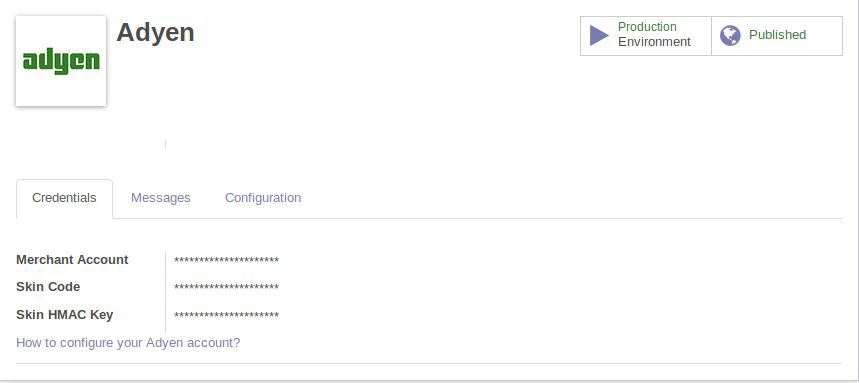 Buckaroo
Buckaroo offers a wide range of payment solution which allows the end user to completely automate their entire payment and collection process and all associated administration. One will be able to save a great deal of time on back-office activities with a large number of (international) payment methods and a completely digitised invoicing system, plus you will also be able to collect your payments and debts in a faster and more customer friendly manner. Both online as well as
Features
Online Payment
Payment Status Tracking

PayUmoney
Payumoney is an affordable online payment gateway provider in India. They enable small businesses to integrate online payment gateway services
Features
Online Paymen
Payment Status Tracking

Sips
Sips payment gateway offers you to choose among a large number of payment types so as you can offer the right ones to your customers according to the country and local payment demands.
Features
Online Paymen
Payment Status Tracking

Stripe
Stripe is a technology company. Its software allows individuals and businesses to receive payments over the Internet. Stripe provides the technical, fraud prevention, and banking infrastructure required to operate online payment systems.
Features
Online Paymen
Payment Status Tracking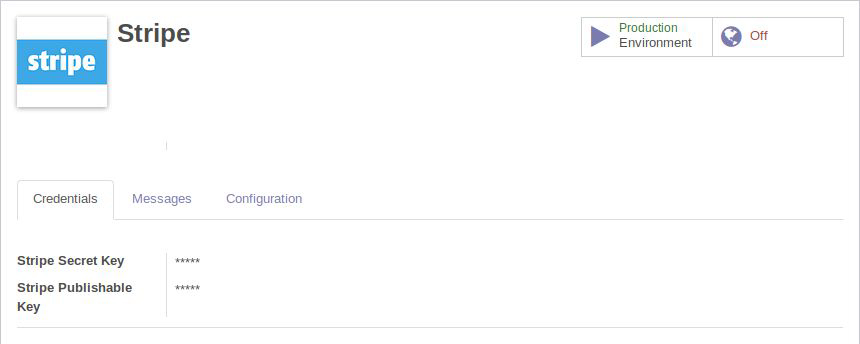 In case you want get Odoo installed for your business or want to run an ecommerce business with Odoo in the background loaded with all the multiple payment acquirers, get in touch with us. You can email us at sales@pragtech.co.in