[Doubt to Delight] 7 Ways a Mobile App Boosts Trust and Credibility for Your Eye Clinic – Trust on the GO!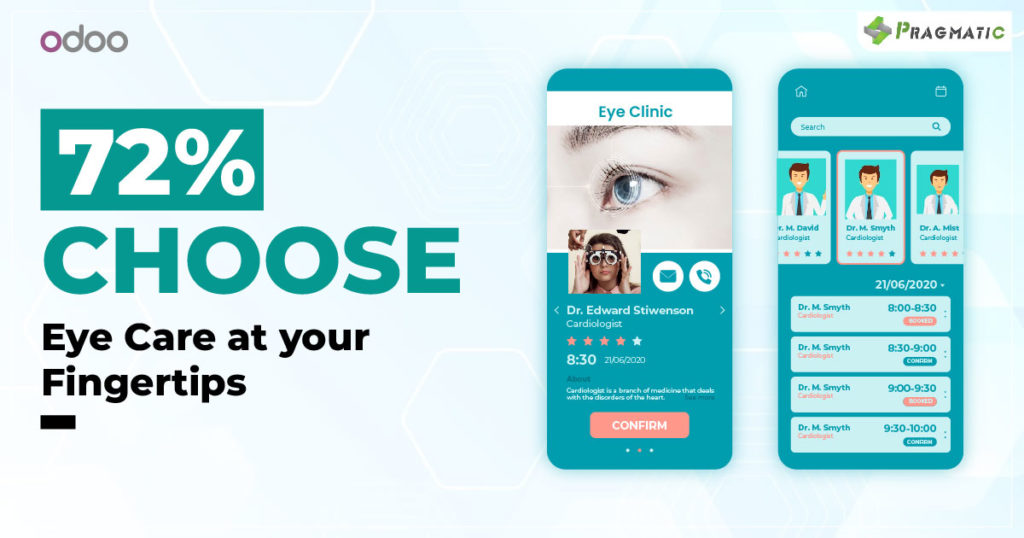 1) Streamlined Appointment Scheduling : No more waiting on hold!
Statistics show that a whopping 72% of Consumers use their Mobile devices to research Healthcare Providers.
By offering an intuitive mobile app, you allow your potential patients to schedule appointments with ease.
No more frustrating phone calls, just a few taps and boom!
They're all set for their Eye Check-Up.

2) Personalized Patient Experience : Treat them like Royalty, minus the Throne
With a mobile app, you can provide a personalized experience to your patients.
Tailored notifications, reminders for follow-up appointments and Personalized treatment plans make them feel like VIPs.
Let's face it; who doesn't love a little Extra Attention, especially when it comes to their precious eyes?

3) Seamless Communication : "We've got your back, or should we say, Eyes?"
Through the magic of Mobile Apps, you can establish seamless communication channels with your patients.
From sending important updates to sharing informative eye care tips, You'll be their go-to source for everything eye-related.
Remember, trust is built through open and consistent communication.
4) Instant Access to Information : Forget Google, Embrace your New Eye-ssistant
By integrating a knowledge-rich mobile app, you can empower your patients with instant access to eye care information.
From FAQs to informative articles, they'll have a treasure trove of knowledge at their fingertips.
Now, who needs Dr. Google when they've got your app, right?
5) Real-Time Notifications : Because Tardiness isn't our style!
Never miss an opportunity to engage with your patients by sending real-time notifications.
Remind them about upcoming appointments, share updates about new services or eye care trends and even celebrate their birthdays (with their consent, of course!).
These small gestures go a long way in building trust and loyalty.
6) Easy Prescription Management : Prescriptions made painless, just like Eye Exams.
With a mobile app, you can simplify prescription management for your patients.
They can conveniently access their prescriptions, order refills and even track the status of their medication—all through your app.
Talk about convenience at their fingertips!
7) Secure Data and Privacy : Guard the info like a Hawk, but with more Feathers
Security and Privacy are paramount, especially when it comes to healthcare.
Your mobile app should ensure that sensitive patient data is protected with robust security measures.
By prioritizing their privacy, you demonstrate your commitment to their trust and peace of mind.
A Game-Change, it not only enhances the patient experience but also boosts trust and credibility in the eyes (pun intended) of your target audience.
So, don't be left in the digital dust—leverage the power of mobile apps to transform your doubt into delight!
Speaking of innovative solutions, have you heard about Odoo? It's a fantastic business management software that can streamline your operations and take your eye clinic to new heights.
And if you want more insightful blogs, be sure to follow Pragmatic Techsoft.
Trust us, you won't be disappointed!
Happy App-ing, folks!