This is How your Odoo ERP Implementation Team should Look Like!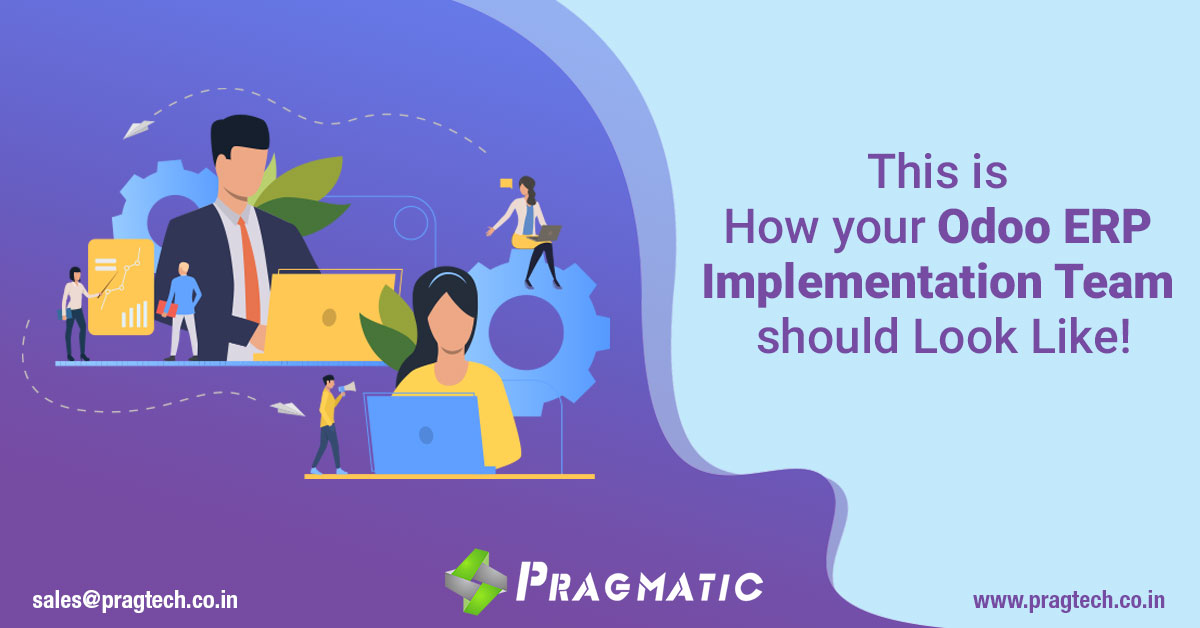 So, you've decided to get Odoo ERP system. The next step, of course, is to put together your ERP implementation team.
There are many reasons you may be undertaking an ERP implementation (not just Odoo for that matter). It could be to increase productivity or to lower costs. Whatever your reason is, one thing is for sure — you must have the right team around you otherwise you could fail.
So who exactly do you need in your implementation dream team? Let's run you through the key players:
Project Owner
This is someone who will take on a high level of responsibility — usually the head of the business that is implementing the new system. If a company is larger, then it may fall to a committee of executives instead of a single person. The direction in which the implementation goes is ultimately up to the Project Owner, even if they aren't directly involved in the actual implementation. You need a calm thinker, as they'll be relied on to solve unforeseen issues that arise.
Project Manager
The Project Manager is responsible for organizing the implementation process. They will work with the Project Owner to develop specific requirements and goals for the solution, as well as the budget.
They will coordinate with the internal implementation team and update the plan as and when required, liaising with the Project Owner along the way. Other responsibilities may include:
Being the point of contact for resolving issues from employees
Reporting project progress
Directing and motivating the project team
Managing schedules
Managing the budget and timing of the project
Your Project Manager will be assisting the Project Owner with issues, so you need a problem solver here.
Super User
The Super User can be described as the most versatile player in this squad. They're arguably the most critical team member to the long-term success of your solution.
The Super User is a member of the team who will know the ins and outs of every department, becoming the go-to person once implementation is successfully completed. Throughout the implementation, they will be the person who dedicates the most time to the project and keeps the communication open between the project management team and the project's end users. In larger companies, there may be more than one person in this position, while in others, this role is combined with that of the Project Manager.
A strong candidate in this role will allow for a more self-sufficient company once the new ERP system has been launched. Therefore, when choosing your implementation team's Super User, you should look for someone with great communication skills. To be a good fit for the role a person must be able to address any non-technical issues, requests, or concerns that the team may have and escalate them correctly and to the right managers or the supplier.
Of course, the key to a successful implementation is to have a Super User who has good technical skills, leadership attributes and a positive approach.
Functional Team Members
One way to fill this position for your ERP implementation team is simply to put together a squad of representatives from the company's core departments — finance, manufacturing, and IT. Larger businesses may feel the need to have several representatives from each main function.
It's crucial that each member is able to clearly communicate and explain the processes and requirements for their core area. At the same time, it's a great chance to build cross-functional teams which would allow more team members to understand how the entire system can tie together.
Often, they will develop process flowcharts for the existing and new system processes, while also develop methods to resolve process gaps. Additional responsibilities include:
Acting as a mentor to others in their functional area
Working with users to develop processes which will accommodate the new software application
Contributing to status reporting
Helping to design and configure software parameters for each module
Identifying process improvement opportunities within the new ERP solution
In some cases, Functional Team Members are referred to as Subject Matter Experts (SMEs).
Report Writer
You Report Writer is a valuable asset who is needed to modify existing reports. While it is possible to outsource this role, most companies prefer to keep this talent in-house as there will be reporting needs that surpass your 'go-live' date.
The key responsibilities in the role of a Report Writer include:
Analyzing the effectiveness of any existing report procedures and systems
Developing process enhancing strategies
Writing and maintaining all reporting processes
Understanding the company's implementation methodology and being able to use it on all engagements
Complete any work assigned by the Project Manager and within the allocated time
If it's a smaller company that is implementing the solution, this role is occasionally tasked to the Super User.
Implementation Partner
Choosing your implementation partner is not a decision that should be taken lightly. They will know the best approach to the project and will offer you realistic timescales to follow. This isn't always possible if you keep the project in-house as your staff are likely to not have as much experience in the process.
The most important consideration, ais to be very clear on what your business is trying to achieve by implementing an ERP.
While this sounds obvious, many organizations are not clear enough on their objectives. The organization's requirements must be agreed by all parties before an ERP product is selected and a robust change process is required to handle the inevitable requests for scope change during the implementation project.
As partners are able to inform you of exactly what you can expect, hidden costs and problems won't appear mid-implementation. Having a team and plan in place is crucial to have a successful implementation.
It's often thought that you should take as much time choosing your partner as you do your vendor. With that in mind, when whittling down your options, you should focus on five points:
Their proven expertise
Their inquisitive nature
Their plan for the project
How responsive they are
How transparent they are
Should you outsource your Odoo implementation?
Of course, you do have the option of outsourcing your implementation project. It's not a secret that implementing a new ERP solution requires a great deal of skill, teamwork, and dedication and some companies simply can't do it all themselves.
To make sure you efficiently outsource the correct roles, it's worth conducting a gap analysis of the skills needed for a successful implementation and comparing it to the calibre of internal skills your company currently possesses in-house. Those that appear to have the biggest gaps are the positions that you should think about outsourcing to ERP consultants.
There are many other reasons why you should consider outsourcing your project, such as:
Implementers have a systematic way of installing the systems and their knowledge has been built up over many installations
It allows your internal team to focus on other tasks by reducing their implementation workload
For larger companies, more in-depth ERP packages are necessary, which would mean more hands are needed on the project
By reducing the burden on your own team members, outsourcing can save time and money while being more efficient with your ERP implementation.
In case you want to hire us as your Odoo ERP Implementation team, you can get in touch with us at +1 713 701 5957 or email us at sales@pragtech.co.in