The Difference between Odoo Partnership Levels & How its not a Scale for Credibility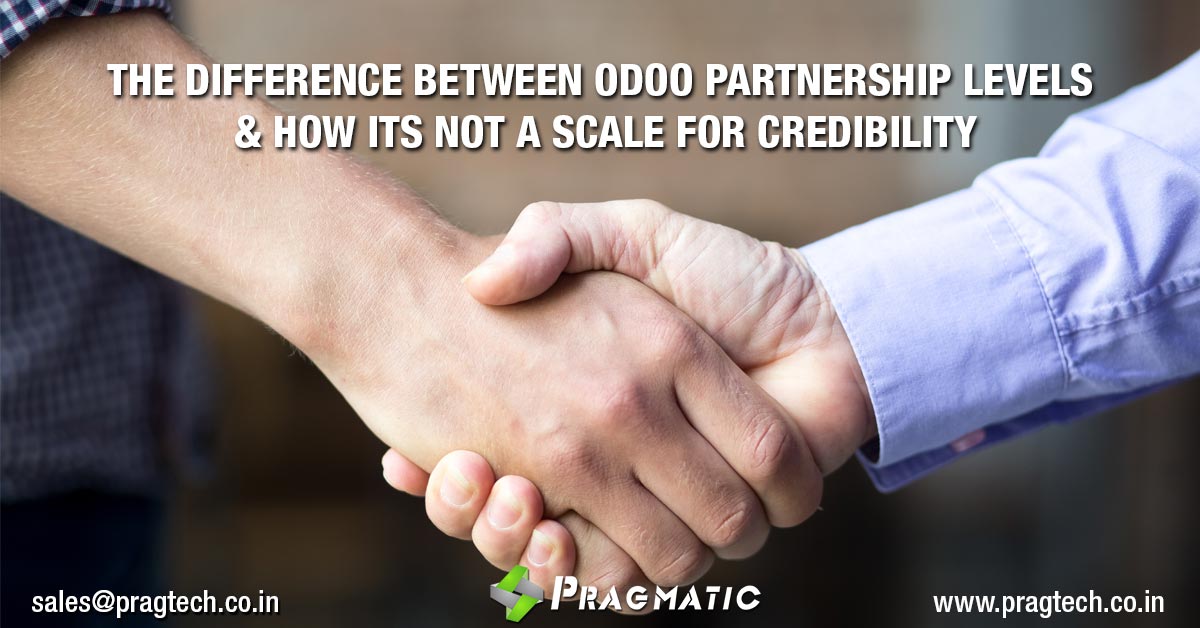 When it comes to taking a decision with regards to Odoo ERP implementation (or any ERP implementation for that matter), there comes a lot of ideas, measurements, calculations and concerns revolving simultaneously.
As a business owner, we understand it's a tough call for you to take.
When it comes to the implementation of Odoo/Open ERP, the choice between Official Odoo partners vs Non Partner Odoo service providers can put you in dilemma whom to trust and go for?
The end user makes the decision upon several factors like the implementation cost, availability of developers and flexibility of work. Each project is unique because of its characteristics.
There's no single answer which is the "better" choice. However, we can definitely guide you to take the right decision based on our more than a decade worth of experience.
The first thing you have to look at is the client list. If the Odoo service provider, be it an Odoo partner or a non-partner has listed a good number of decent-sized company list on their website, then its an indication that the service provider has been in the market for quite a long time and has successfully delivered completed projects.
Next, you got to look if the service provider has listed any case studies on their website. If yes, read them to see the kind of projects they have executed. This will give you an idea if the Odoo partner or the non partner is capable of serving your requirements.
Third aspect to look out for is genuine client testimonials on the website. This is a very important part which speak loads about the quality of service of a software service provider. Nothing is better than a satisfied client appreciating its service provider. In fact, as a potential client you can go ahead with eyes closed, if you see a good number of genuine client testimonials on a service provider's website.
How to differentiate between a genuine and non-genuine client testimonial? Well, you would know by gut feel, literally. Besides, you can always see if the listed people exist in the world by cross checking on LinkedIn or by searching for them on Google.
These are some of the indirect ways of checking a vendor's credibility. The best and the most direct way is to pick up the call and to talk to the vendor. You will 8 times out of 10, get connected with the sales team over the call, who will be able to give you an overview of what all they can do for you based on your requirements.
We strongly feel that the above given factors are paramount when selecting a service provider and not just one fact that if simply the vendor is an Odoo partner or not.
However, still for the benefit of the reader we are giving the benefits of opting for an Odoo partner.
What Odoo Partners can Do?
Odoo official partners establish trust and reliability in their service. The authorized partners will uphold their reliability and credibility towards their client at any cost as it directly affects their business. In addition, the Odoo Partners encompass a team of techno and functional consultant/developers who are highly qualified, certified & trained in Odoo ERP.
The Odoo official partners will be an exponent in all segments such as CRM, Accounting, POS, Warehouse, 3PL integration, API and web-services, Project Management, Sales, Purchase, Event Management, and Survey etc.
Odoo partners exclusively specialize and do development programs on key segments like Odoo Consultancy, Odoo implementation, Odoo Customization, Odoo Training & most importantly providing the future support for each module.
Odoo Partners have authorized signatories having access towards enterprise edition source code. They can report a bug to Odoo establishing the symbol of trust.
Working with Odoo Partner ensures professionalism in workflow, Odoo Official partners encompass a robust team of professionals including developers, designers, managers to analysts with varying skills and knowledge ensuring versatility. During each implementation stage, the quality service is rendered by the designated person.
With Odoo Partner team, all you need to do is get in touch with project managers, run your eye over the final document of the completed project, approve/cite alterations if any, and finally wait for the next implementation stage. The harmonized and structured approach from Odoo Official partners never fails to meet the deadlines.
Odoo Partner can dedicate a team of developers to the customers who are highly flexible and can fluctuate in size based on the project requirements. A flexible Odoo Implementation Partner will work with your company to ensure that the appropriate technological needs are met simultaneously reducing the overall production cost.
In a nutshell, it is viable to opt for Odoo official partner as they preserve the aroma of vision, mission and values enshrined in the project.
Odoo has 3 Tiers for Implementation Partners

Odoo Ready Partners, Odoo Silver Partners, and Odoo Gold Partners. These certifications tell you about a partner's level of experience, their number of Odoo-certified resources, and their customer retention rate.
Ready Partners
The Ready membership level enables Partners to start and grow their Odoo competencies. They benefit from a comprehensive set of services including training, support and access to leads which allow them to build their business at their own pace.
Odoo Ready Partners require 10+ new Enterprise users/year.
Ready partners also have to follow a minimum of 1 official Odoo training session.
Silver partners
Partners which have qualified for the Silver Partner level are experienced in implementing Odoo projects. Silver partners enjoy enhanced benefits as well as access to additional resources to support the growth of their business with Odoo.
Odoo Silver Partners require 50+ new Enterprise users/year and have to have a customer retention rate of at least 70%. Therefore, when you go with a Silver Partner, you are choosing a partner who is quite experienced, active and up-to-date with Odoo.
Silver partners also have to follow a minimum of 2 official Odoo training sessions.
Gold partners
Gold partners have a strategic relationship with Odoo. Odoo is at the core of their strategy. They have committed significant resources to develop and deploy Odoo solutions. They benefit from the highest visibility in the Odoo ecosystem.
Odoo Gold Partners require 150+ new Enterprise users/year and have to have a customer retention rate of at least 80%. Therefore, when you go with a Gold Partner, you are choosing a partner who is experienced, is currently active and up-to-date with Odoo, and consistently creates value for customers.
Gold partners also have to follow a minimum number of Odoo training sessions.
To recapitulate, in case you want to get Odoo ERP implemented for your business from us or want to look at a demo or talk to our Odoo experts before you take a decision, feel free to get in touch with us at +1 713 701 5957 or drop an email at sales@pragtech.co.in