How to Customize the CRM Module in Odoo 17 for Your Business Needs?
UNDERSTANDING AND TAILORING ODOO 17'S CRM MODULE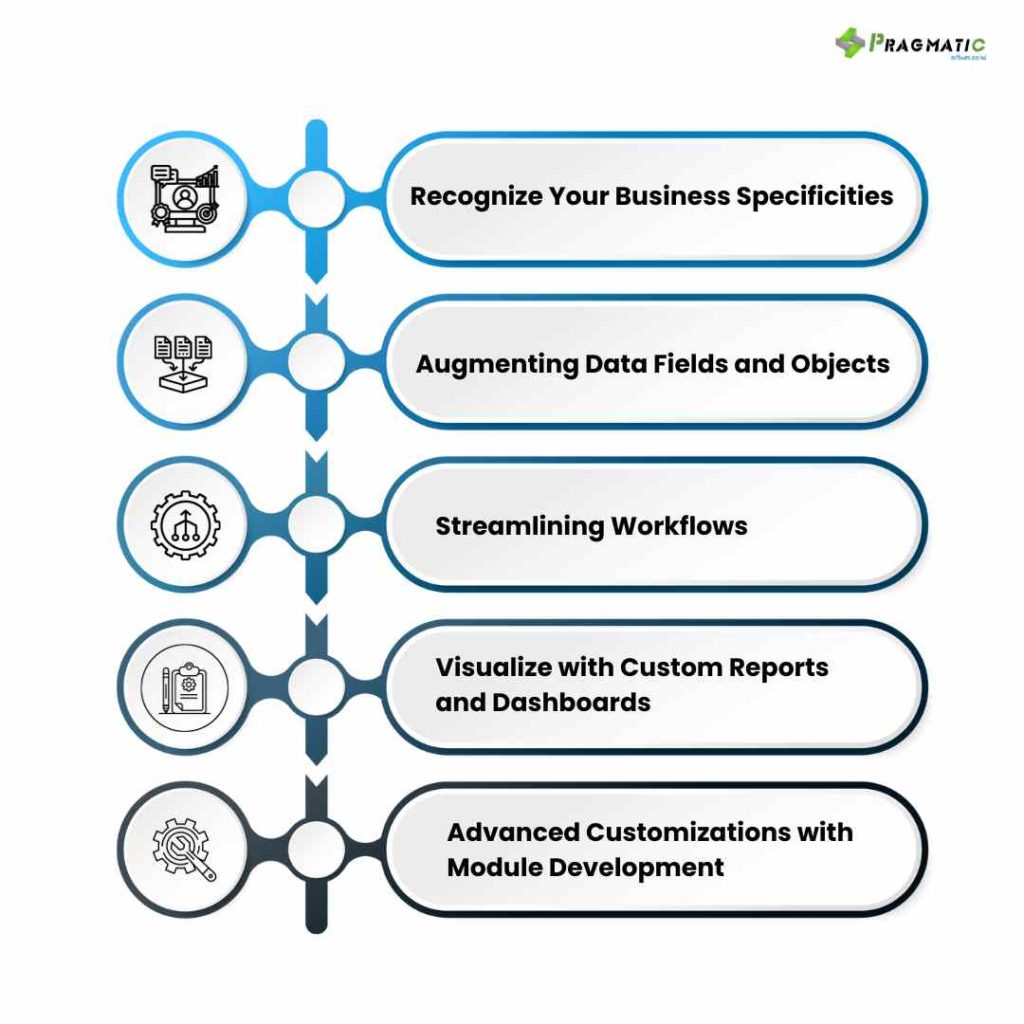 1. Recognize Your Business Specificities 
Start by delineating your business goals and CRM requirements. This foundational step ensures that all subsequent customizations align with your objectives.
2. Augmenting Data Fields and Objects
Odoo 17 allows you to introduce new fields to existing objects or even create new objects altogether. For instance, enhance the lead object by adding a source-tracking field or incorporate an estimated close date field to the opportunity object.
3. Streamlining Workflows
Modify the inherent workflows in Odoo to resonate with your business processes. A workflow tweak, such as auto-assigning new leads based on specific criteria, can drastically improve efficiency.
4. Visualize with Custom Reports and Dashboards
Transcend the default visuals. Craft custom dashboards or reports that mirror your business needs. A dashboard displaying open opportunities' statuses or a report showcasing leads per marketing campaign can be invaluable.
5. Advanced Customizations with Module Development
For businesses with intricate needs, custom modules can be developed to amplify the CRM module's functionalities. Whether it's integrating with an existing support system or adding unique features, the sky's the limit.
REAL-WORLD CRM CUSTOMIZATION SUCCESSES
Manufacturing Sector : A firm introduced an opportunity field to track product mixes, optimizing product bundling decisions.
Service Industry : By auto-routing leads based on the industry to qualified sales members, efficiency was enhanced manifold.
Retail Realm : A retailer's custom report identified top-performing salespeople, enabling targeted training and support.
Navigating the Odoo landscape requires a compass of expertise and that's where Pragmatic Techsoft shines.
With a seasoned team of Odoo maestros, we are adept at crafting customized CRM solutions that resonate with your business pulse.
Beyond customization, our stellar track record in Odoo migrations speaks volumes about our commitment to precision and excellence.
As you embark on this journey, remember to keep an ear to the ground for more insights and tips from our platform on unlocking the full potential of Odoo 17. Let's shape the future of CRM together!