Why are experts calling Odoo's New WhatsApp Features the Next Big Thing for Enterprises?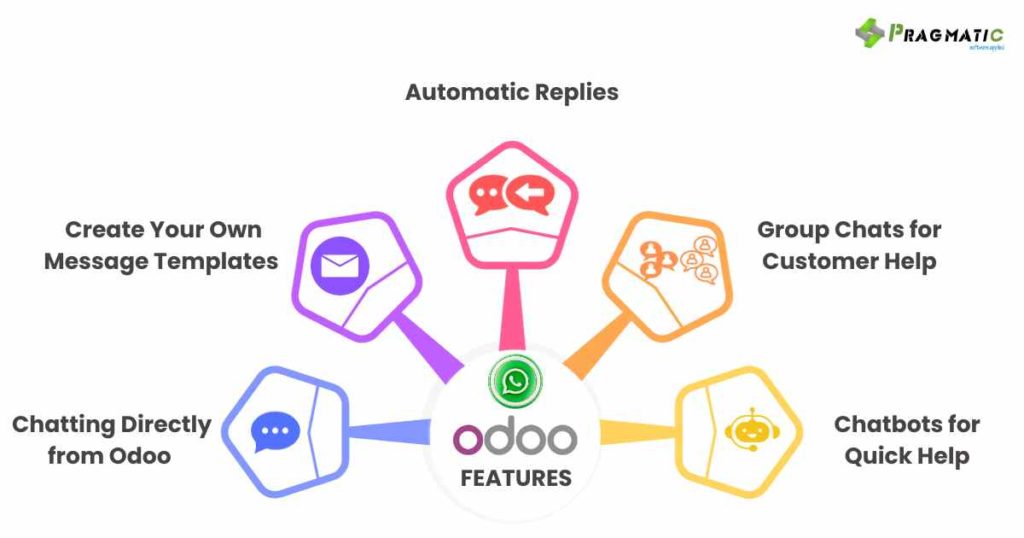 1) Chatting Directly from Odoo 
Messages from customers on WhatsApp can now be seen and replied to directly in Odoo. This means less mix-up and faster replies!
2) Create Your Own Message Templates 
Businesses can make their own message templates for common questions. This way, a ready answer can be sent quickly, saving time and improving customer service.
3) Automatic Replies
Set up automatic replies for certain actions. For example, send a thank you message automatically when someone makes a purchase.
4) Group Chats for Customer Help
If a customer starts a chat, Odoo creates a group chat with the right team to help the customer quickly.
5) Chatbots for Quick Help
Create your own chatbots to answer common questions from customers. This way, customers get quick answers even when the business is closed.
WHAT'S COMING IN ODOO 17'S WHATSAPP INTEGRATION
Odoo 17 is working on further enhancing its WhatsApp features. Here's what's expected :
Two-Way Communication : Send and receive WhatsApp messages directly from Odoo.
Automated Messaging : Set up automated WhatsApp messages for certain Odoo events like when a new lead is created.
Message Templates : Create and save WhatsApp message templates for common messaging tasks.
Contact Groups : Manage WhatsApp contact groups to send messages to many people at once.
Analytics : View data on your WhatsApp messaging activity to understand and improve your communication strategies.
Moreover, support for WhatsApp Business and integration with other Odoo apps like CRM, Sales and Support are expected. This will provide a seamless messaging experience.
Experts believe this feature is a big deal because of WhatsApp's popularity. With Odoo joining hands with WhatsApp, talking to customers becomes simple and cost-effective.
HOW TO GET STARTED
To use these features, businesses need a WhatsApp Business account and connect it to Odoo. Once connected, they can start chatting with customers directly from Odoo, set up automatic replies, and even create chatbots for quick help.
Odoo's new WhatsApp features are indeed a helpful addition for businesses, making communication with customers easy and quick. Experts see this as a big step forward for businesses.
Pragmatic Techsoft is here to assist businesses in transitioning to the latest version of Odoo smoothly.
Dive Deeper into the Odoo-WhatsApp Revolution with Us!
Mark your calendars for an insightful webinar that unpacks the new realm of possibilities the Odoo-WhatsApp integration unfolds for enterprises. With industry mavens calling this the next big thing, it's your chance to get ahead of the curve.
🗓 Date : Friday, 27 October 2023
⏰ Time : 3:30 PM IST
🎙 Title : "Odoo-WhatsApp – the Next Big Thing for Enterprises"
Hosted by Pragmatic Techsoft, the session aims at aiding businesses in smoothly transitioning to the enhanced communication paradigm. Engage in a live Q&A, interact with seasoned experts, and take a solid step towards revolutionizing your business communication.
RESERVE YOUR SPOT NOW
https://www.linkedin.com/events/odoowhatsapp-nextbigthingforent7122116550878273536/theater/
Be part of the discussion that propels your business into a future of unbounded communication possibilities. Secure your spot now and stay tuned to our website and blogs for more updates on Odoo 17!