How can you optimize your online store for better performance using Odoo 17's E-Commerce module?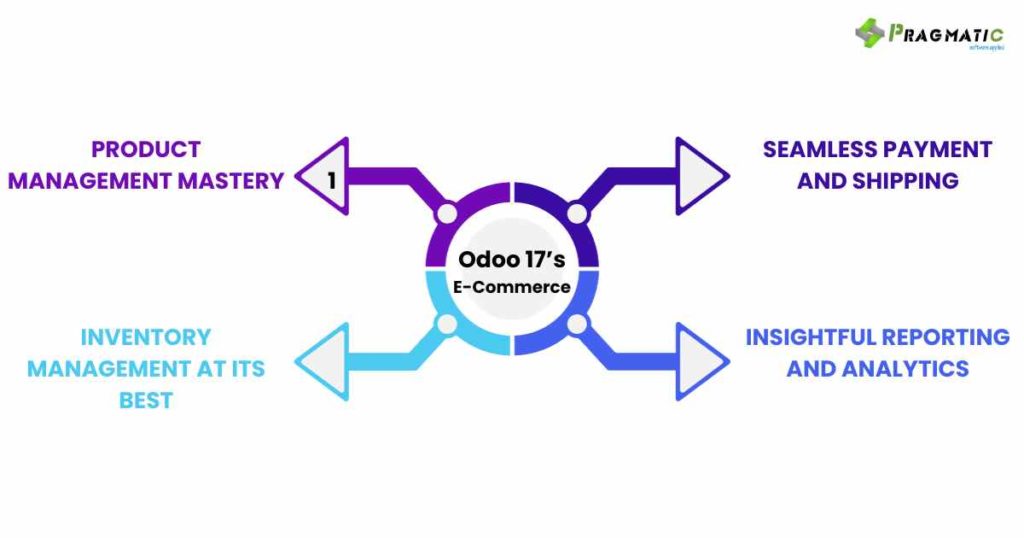 1) PRODUCT MANAGEMENT MASTERY
Creating and managing your product listings is a cinch with Odoo 17. You can effortlessly add new products, set up eye-catching descriptions, and upload high-quality images to entice your customers.
Organizing your products is simplified with categories and sub-categories, making it easier for customers to find exactly what they're looking for.
Adjusting pricing or offering discounts is straightforward, enabling you to respond quickly to market trends and keep your store competitive.
2) INVENTORY MANAGEMENT AT ITS BEST
Odoo 17 keeps you on top of your inventory with real-time tracking. Never worry about overselling or running out of stock with timely alerts to notify you when it's time to restock.
Managing stock across multiple warehouses is streamlined, ensuring accurate inventory levels at all times.
Automated reordering suggestions keep your stock levels optimal, saving you time and preventing potential lost sales.
3) SEAMLESS PAYMENT AND SHIPPING
Offering multiple payment gateways and shipping methods is a snap with Odoo 17. It's all about giving your customers choices to suit their preferences.
The integrated payment systems ensure secure transactions, building trust with your customers.
Real-time shipping rates and tracking provide transparency and keep your customers informed every step of the way.
4) INSIGHTFUL REPORTING AND ANALYTICS
Understand your store's performance like never before with Odoo 17's robust analytics tools. Dive into sales reports, customer behavior, and more to make data-driven decisions.
Identifying best-selling products or spotting trends early on is simplified, enabling you to stay ahead of the curve.
The feedback from analytics is invaluable for tweaking your strategies and ensuring your store continues to grow and prosper.
Let's take this example of Boosting a Clothing Store's Performance
Envision a bustling online clothing store. With Odoo 17, every facet from adding detailed product descriptions to real-time inventory management and offering a variety of payment and shipping options, can be finely tuned to offer a superior shopping experience.
The analytics tool further adds a cherry on top by providing insights into store performance, helping in pinpointing areas for improvement.
With a wealth of experience in Odoo migrations, Pragmatic Techsoft stands ready to help you transition to Odoo 17.
Our team of experts are skilled in optimizing online stores to extract the maximum benefit from Odoo 17's E-Commerce module.
The journey doesn't end here. Stay glued to our website and blogs for more insights on how Odoo 17 can be a cornerstone in your e-commerce success story.
Your odyssey towards e-commerce excellence is just beginning, and we're here to guide you every step of the way.