10 Key Takeaways from Fabien Pinckaers Keynote at Odoo 16 Launch
It's hard to do something 'simpler'. However, the latest version of Odoo makes you think otherwise. Or at least, their team ensured it seemed to be. Nevertheless, the massive efforts in developing this installment of the Odoo version are quite apparent.
Throughout its development, Odoo 16 has captured the attention of the tech community, business and ERP developers. There has been a lot of buzz online regarding Odoo 16's upcoming features and early predictions. After its unveiling event, and subsequent informational product videos, it is only fair to say that Odoo has lived up to its reputation…yet again.
Let's quickly glance through the prominent upgrades in Odoo 16 version –
10 key takeaways from the newly introduced Odoo 16 features:
1 . Blink of an eye performance
Everything becomes incredibly faster in the Odoo 16 version.
While the front-end operating is virtually 8X faster than the current ERP market leader, the backend operation is up to 3.7X faster than its own predecessor (Odoo 15).
The resulting efficiency from faster operating interface will save hours of designer/developer's productive time.
The UI can be shifted to the dark mode in a single swipe.
Generating bills and invoices can also be done faster than the proverbial blinking of an eye.

2 . Boost to e-commerce businesses
New menus have been added to help users sell online easily.
Take control of your products inventory with product-specific features like product filters, product rental, bulk upload, etc.
Alternative products suggestion, add to cart button, back-in-stock notification, are also introduced in the latest version.
Enable easier payment procedure with features like click and collect on-site payment and express checkout.
3 . Incredible website builder
With the various new styling options made available in Odoo 16, users can create their own style for the website.
Images can be added from the front-end in a grid or slider format.
Ease of access with the one-click functionality.
Cookie consent bar is also part of the new design.
Create customized UI with new device shapes, scroll animation, hover animation, etc.
Organize content and product images layout in a better way with the grid format.
Completely mobile-friendly interface with mobile editor feature.
4 . Odoo knowledge application
A new application Odoo Knowledge is one of the highlighting features of Odoo 16.
The application can be used to update and share dynamic content .
It is similar to an information hub for Odoo users .
Organize calendar, to-do lists, sort top-performing products, publish FAQs, etc.
5 . Manufacturing Execution System (MES)
Odoo 16 manufacturing execution system will help organizations align operation dependencies to optimize the process planning further.
Easy system access, simultaneous multi-user participation, next availability date of unavailable components, pre-defined instructions, etc. will eliminate the complexities in the manufacturing line.
Features like step-level tracking, barcode scanning of components to conform with standard procedures, validate job quality, etc., will elevate the assembly line productivity.
Users can add a step, feedback, and suggestions, through pictures for making the process better.
Planning to upgrade to Odoo 16? 

While the globally anticipated Odoo 16 version ushers in distinctive features for different modules, it is important to interpret its practical advantages for your business. Talk to our Odoo Experts now to know all about its productive application for your business.

Click here now if your company is planning to upgrade to Odoo 16.
6 .  Advanced chatbot
The new version of Odoo also enlists the improved avatar of chatbots.
You can assure an enhanced user experience with the new set of questions and automated responses based on AI.
An effective addition upholding the efforts of your marketing team to generate more leads.
7 . Sales & CRM improvements
The improved CRM module is going to provide more visibility into customer services and seamless onboarding procedures.
The new marketing module renders powerful email marketing capabilities, enabling business users to design custom email templates as per their business needs.
Support sales and marketing activities with a unified mechanism between coupons, eWallet, promotions, loyalty cards, gift cards, across e-commerce, POS, and sales orders.
An all-new loyalty program engine has also been developed in this version.
8 . Accounting module reinvented
Similar to the inventory module, there are many notable changes and enhancements in the accounting module.
A more digitized approach to invoice management has been covered which will definitely improve operational efficiency
In this version, users can define credit limits for clients
Through its accounting system, Odoo 16 supports order cancellation and refund processing
Synchronization with more than 20,000 financial institutions to facilitate payments
You can update all the accounting transactions at once
9 . Superior Inventory  Module
Improvements have been made to the inventory module, including upgrades to delivery methods and force back-order options
An array of new tools has been added to enhance the module's overall functionality
Auto-replenishment features are significantly improved
A more efficient way to ship goods and manage delivery
Printing, scanning, and managing lots of barcodes is made easy
10 . Purchase Module
A number of changes and enhancements have also been made to the purchase module
To facilitate better procurement management, the 'call for tender' feature has been redesigned
You can also generate an alternate RFQ to compare with the original.
You can choose the best option for each purchase based on the multiple options offered.
Additionally, there are notable changes in the POS module, mostly related to receipts and deliveries.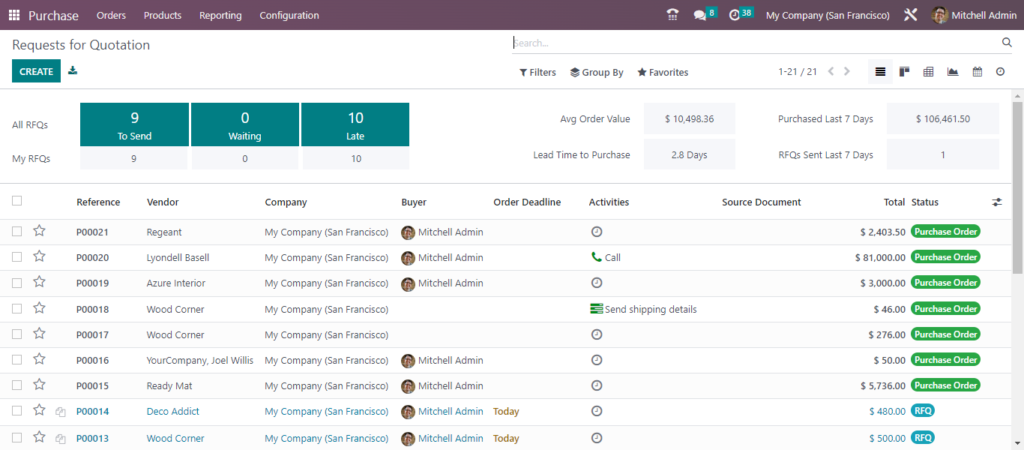 Besides these outstanding features, there are other advanced tools for the sales team like creating quotations, catalogues, agreements, out-of-stock components' availability forecast, to assist them to convert leads without hesitation. Users can streamline the sales funnel, qualify customers, leverage ready email templates, customize reporting dashboards and do much more to accelerate business growth. The advanced analytics feature in Odoo 16 will also earn accolades for the efficiency it will bring to the users.
To summarize things, with the Odoo 16 version, Odoo has done yet once again what it does best – Revolutionizing the way you work!
Pragmatic Techsoft has many years of experience providing Odoo ERP software for a diverse range of industries. We have helped our clients with customized Odoo ERP systems to achieve their specific business goals right from the earlier versions of Odoo. Our software solutions have propelled the business capabilities of numerous organizations across 50+ countries for over a decade. With a vast range of custom modules to accommodate different business functions, you can optimize operations to their fullest potential. You can automate routine tasks and focus more on the things that need your immediate attention.
If you are planning to upgrade to Odoo 16 from any previous versions of Odoo, click here now to Talk to our Odoo experts.