Odoo Demo: This is How you give an Effective Odoo Demo as a Vendor!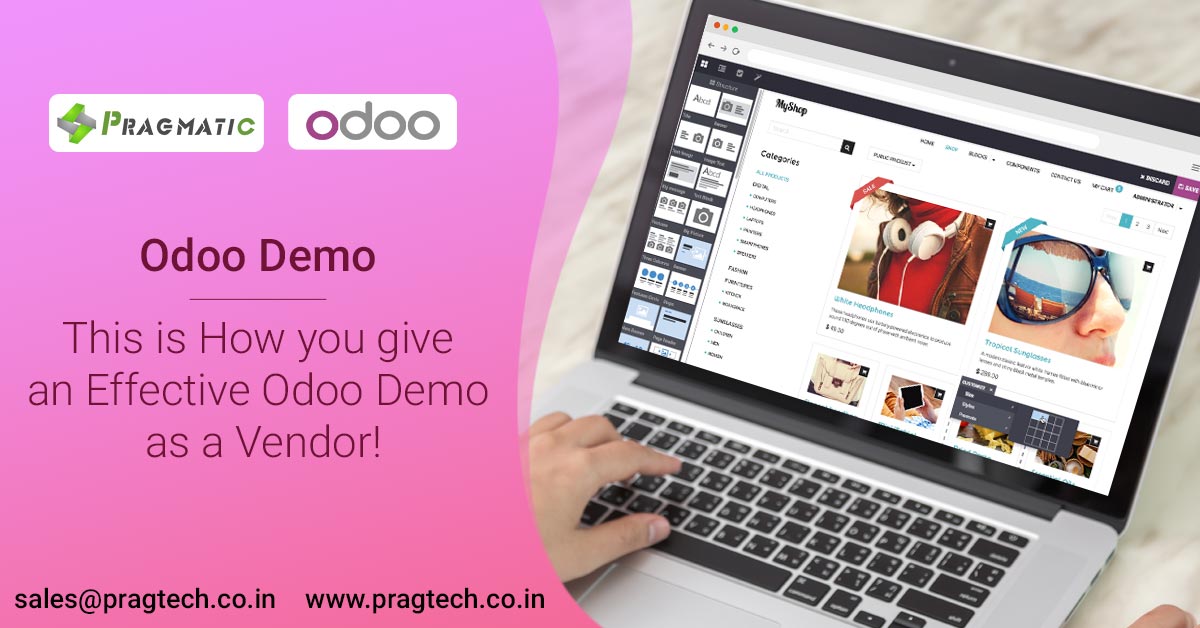 This article goes out to all the Odoo ERP vendors who deal with dishing out Odoo demos day in and day out to their prospects. Based on our experience, we would say that nowadays the traditional pitches have taken a backseat and it's more about storytelling.
Successful selling comes when the sales rep builds a relationship with the buyer rather than just pushing the product down his throat. More so, it's about keeping the buyer's needs first. Hence, we support the idea of storytelling to create a connection.
Over the years of giving hundreds of Odoo demos, what we also lookout for is if the prospect we are talking to left brained or right brained.  
If you think this doesn't apply, think again.
For example, left-brain thinkers are more analytical, logical and practical whereas right-brain thinkers are more innovative, intuitive and emotional, as the graphic illustrates below:
Speak in Simple Language
When selling a sophisticated, ERP cloud based offering to your leads, you're bound to come across some stakeholders who aren't as well versed in the technical language of your product as you are. So, what this means is that you need to adapt your sales pitch appropriately to explain how your product will meet the requirements for them in Layman's terms.
1. Determine How Fluent Your Lead is in Technical Software Speak from the Beginning.
When you connect with a lead, you should be able to gauge how fluent they are in technical ERP-related conversations through basic active listening skills and being aware of how the conversation is going when you are providing some of the more technical details of your product. If they seem confused or overwhelmed when you start getting into those gritty technical details, you need to readjust your pitch and tone to match their level of understanding of the product you are offering.
Another area to avoid is using industry acronyms without explaining what they are beforehand. AFR, BOM, EECN, PDM— you may know what these mean as someone selling ERP technology in the industry, but don't count on your leads knowing exactly what they mean.
The worst thing you can do for yourself is to make your leads feel foolish.
2. Gain Insight into their Challenges and Goals.
This is a given fact regardless of your client is fluent in speaking in savvy technological tongues such as yourself or not.
It doesn't matter what level of technological competencies they are at. Aside from relying more on Layman's terms, you need to find out what their pain points and goals are for their business.
Find out their short and long-term goals, what their budget is, any unique processes that may affect data exchanges during a potential implementation with your offering and more.
After learning what makes them tick, their goals, fears, etc., you will then have the knowledge to present to them the solution(s) that will improve their operations. Just remember to create your presentation experience based around the technological fluency levels your leads possess in their vocabulary.
3. Don't Talk about the Features of your Offering. Talk about the Benefits.
One of the more challenging issues for ERP consultants is clearly explaining how the features of their solution(s) will translate to the overall benefits for administrators and end users of the product(s).
So, what is the difference between explaining the features and benefits of your ERP offering?
"People don't buy products; they buy better versions of themselves."
To put this idea into context, an example could be speaking on the benefits of Odoo ERP costs to your lead who isn't well-versed in the technical language of this specific ERP offering.
Instead of just listing off how your system would use integrations to connect systems to create a single source of truth to share project costs, you would spend time going over specifics on this lead's job and how your offering will enhance their abilities to do it more effectively.
4. Inform through Storytelling.
This isn't the time to just go through your list of features and integrations line-by-line.
No way!
Tell them a story they can relate to. Maybe you have another client who had been having the exact same issues as this current lead does? This would be the perfect time to put together the nitty gritty details of the journey said client took with you to solve all their pain points.
Maybe in the past, one of your client's systems "went up in flames" and thought they lost everything, only to quickly retrieve the redundant backup data your platform performs every hour to resolve their crisis 10 minutes later.
Sharing real-life scenarios will make a big impact on lead's who are having trouble visualizing the technical side of what your ERP offering can do.
What if you don't have any real-life stories in your back pocket currently?
It's not a big deal to create hypothetical scenarios based on your lead's pain points and whatever other information you gather from them in the early stages of learning their pain points If they're planning on switching ERP platforms entirely, make sure to find out what glaring issues they had with it and provide stories about how your product would be able to handle those issues with ease.
5. Give Them Options.
Everybody loves having the ability to pick-and-choose what they want. That's no different for businesses you are selling ERP too. Based off the information learned from your lead and what their budget looks like, you should be offering them an array of packages to give them the ability to determine what's right for them.
Make sure to discuss any tradeoffs, benefits and risks that may impact their business in any number of ways. In the end, you're a consultant doing what's best for your client. If they can only afford a la carte modules from your ERP offering, then that's all you can really move forward with at that time.
As an ERP consultant, it's crucial to be flexible and work with your leads to meet their needs and what they can afford at any given time.
6. Make It Clear On What Your Product Can And Cannot Do.
This is highly important. You must hash out with your leads what you can realistically deliver for them based on their requirements and budget. Go over disaster scenarios, what their expectations are if their system is down for a certain amount of time, integration requirements between other 3rd party services they are using and more.
Here's an example of a question you could ask your lead:
"If your platform runs into issues that take it down for a period, at what point does it become a huge problem for you as you wait for it to be solved?"
Closing Thoughts
Use these strategies when selling ERP to your leads. It's going to take maximum effort on your part to angle your sales pitch to meet the needs and understanding of these leads. Make yourself uncomfortable to make your leads comfortable during their buying journey, only then will you reap the benefits of your labour.
If you want to experience our Odoo demo, get in touch with us at sales@pragtech.co.in