Top 10 Free Odoo eCommerce Apps on the Odoo App Store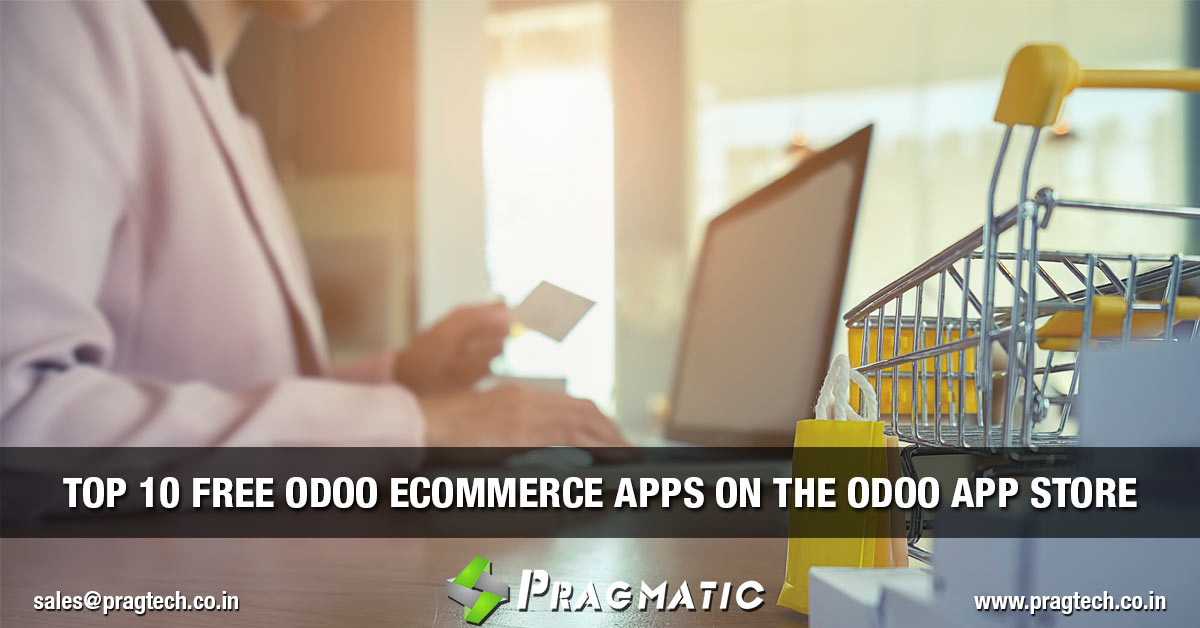 Odoo E-commerce is a powerful app/module in Odoo with which you can run an elegant and robust online shop that is fully integrated with your CMS and ERP system. You can enjoy the simplicity of having all customer and product data in one place.
It is easily adaptable and will be automatically updated with your inventory and customer management system. Odoo E-commerce will save your company time with it's super easy user interface
SHOP – Easy Management of Your Products
Odoo's software allows you to create appealing product detailed pages with the help of Website Builder .You can drag and drop images, banners, slides, call to actions, text blocks and even more. You can create and edit your products. Since everything is synced and integrated, the information from your inventories will also be updated.
It works the same way if, for example, you add an offer to a specific product, you set a new price, add a sale tag and everything in your shop looks perfect. You wouldn't need to add any other information in the inventories or listing, Odoo will do it for you.
Website Builder – Helps Create Stunning Product Pages
Checkout – Optimized One Step Checkout
Payment Gateways Available – Wide Options In Payment
Awesome Features on eCommerce

Multi-company – You can run several different companies from the same system with Odoo and invite as many users as you need.
Multi-shop – You can manage different online shops from the same ERP system. All data is being managed centrally and synchronized with the respective shop. This way you can keep an overview of every order from every shop.
Multiple Language Support – Language suggestions follow that, you can edit on your master page and Odoo's on demand professional translation service delivers in less than 32 hours.
Built In Invoicing – You can make your accountant happy with Odoo's simple invoicing and accounting. You can control your sales and cash in real time and can make smarter decisions using the integrated reporting.
Magento Integration – With this integration, you can use the most popular online shopping solution in combination with the best ERP system on the market.
Multi-currency – Odoo supports shopping in multiple currencies with real time exchange rates that are seamlessly imported into your invoicing and accounting app.
Here, we have Collated some of Top eCommerce Odoo Apps on the app store for you.
Free App
1. eCommerce Without Catalog Price
Hides catalog price on shop and shopping cart.
2. Product Sales Quickview
Add quick view for each product on your website sale page, You can add the product to cart via quick view pop up.
3. Advanced Search in E-commerce
Gives search results as drop down while typing on e-commerce search bar.
Overview
This module makes searching of products in e-commerce easier by providing results as drop down while typing on search bar.
Configuration – No additional configuration required
Features
E-commerce product search.
Provision to select category.
New drop down with product website categories.
Find all products related to searching content according to the category selected.
Display results as drop down.
Selection of results redirects to the product description page.
4. E-commerce Featured Products
The module provides automatic slider for featured products on eCommerce product page.
Features
Responsive
Make a product not available on shop, using website publish button
Automatic Slider under products listing with configured products.
Hover on product to stop slide and click for product description.
5. Hide "Add To Cart" button from product page
Allows to disable product sales via eCommerce for any reason.
6. Mollie Payments
When the Mollie payment acquirer is configured correctly, you can see the Mollie payment option at the time of checkout. You will not see Mollie as long as there are no payment methods configured on the payment acquirer. You will first have to add payment methods to your account on the Mollie website and then configure it under the tab "Configuration" of the payment method Mollie in Odoo.
The customer will be redirected to the Mollie payment methods screen after choosing Mollie in the webshop. Mollie will automatically redirect the customer after the payment to Odoo and a payment is made on the sale order.
Supported payment methods –
Creditcard
SOFORT Banking
iDEAL
Bancontact
Bank transfer
SEPA Direct Debit
PayPal
Bitcoin
PODIUM Cadeaukaart
paysafecard
KBC/CBC Payment Button
Belfius Direct Net
Gift cards
7. E-commerce Product Gallery & Zoom – Responsive Gallery and Zoom Functionality
Image Configuration On Back-end
Product Gallery On Shop Product Description Page
Hover on Product Gallery Thumbs to change the Images Preview
Hover on Image to Zoom – Scroll on Image to Zoom in and out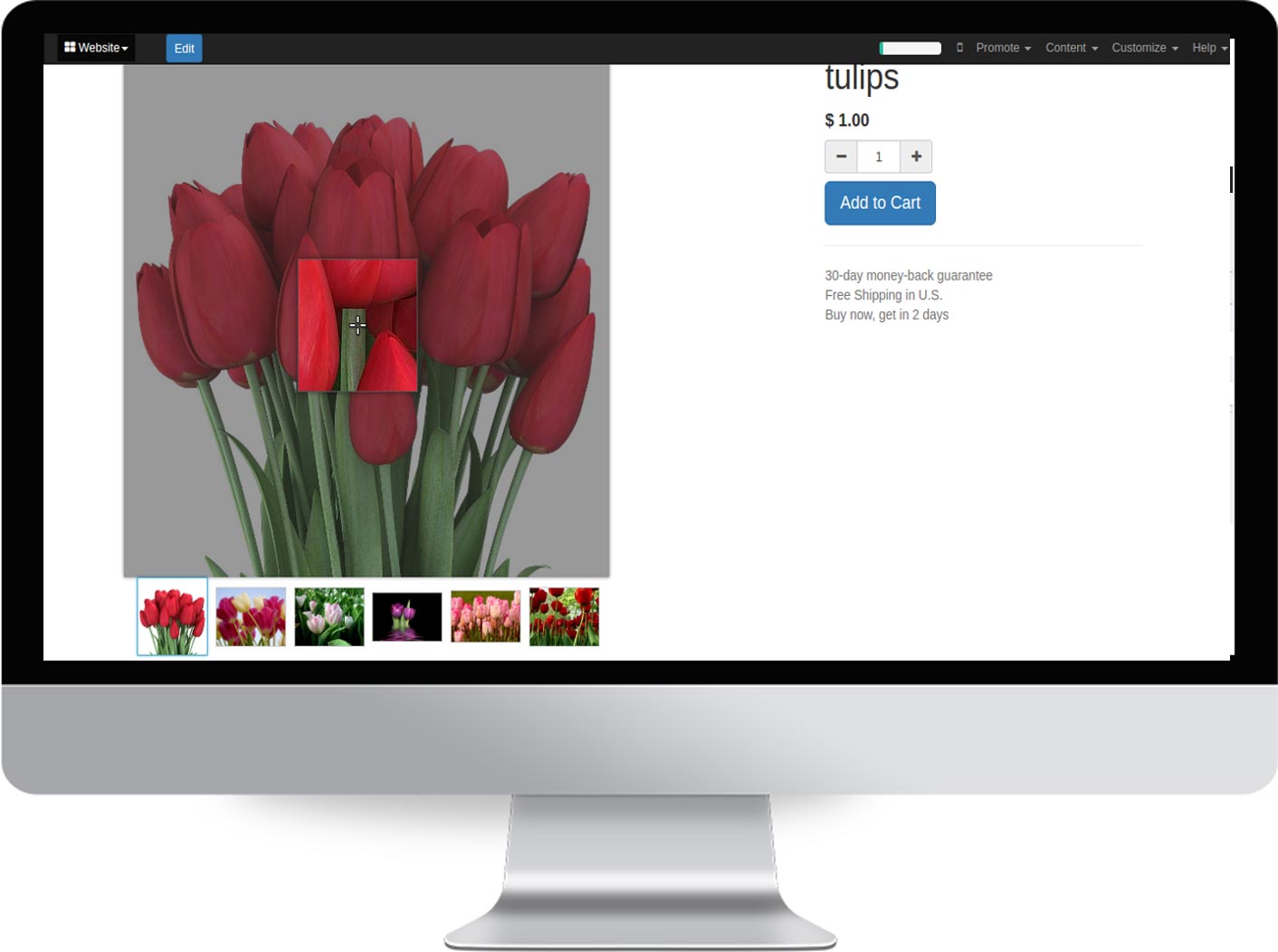 8. Product status at website shop
Adds "New" Ribbon (like "Sale").
Adds automatic ribbons:
DISCONTINUED — stock is 0 and the status is End of Life or Obsolete.
BACKORDERED — stock is 0 and the status is Normal,
Puts ribbons text at the product page.
Disables "Add to cart" feature if product is discontinued.
9. Website Extra Variants Options
In this module, we tend to add several ways/options to show product variants on your e-commerce. Depending on your business approach, you will need one or another or even mix them, due to the fact that the feature can be combined and extended, this app only tries the frontend approach in order to propose several options and avoid dependencies cross references.
10. eCommerce With Uom
Adds Uom next to the product price at the shop and shopping cart.
These are the top 10 Odoo eCommerce Apps available for free on the Odoo App store. You can get in touch with us and we can help you download and setup the app for you. Drop in an email to us at sales@pragtech.co.in