Odoo Enterprise vs Community: Choose According to your Business Needs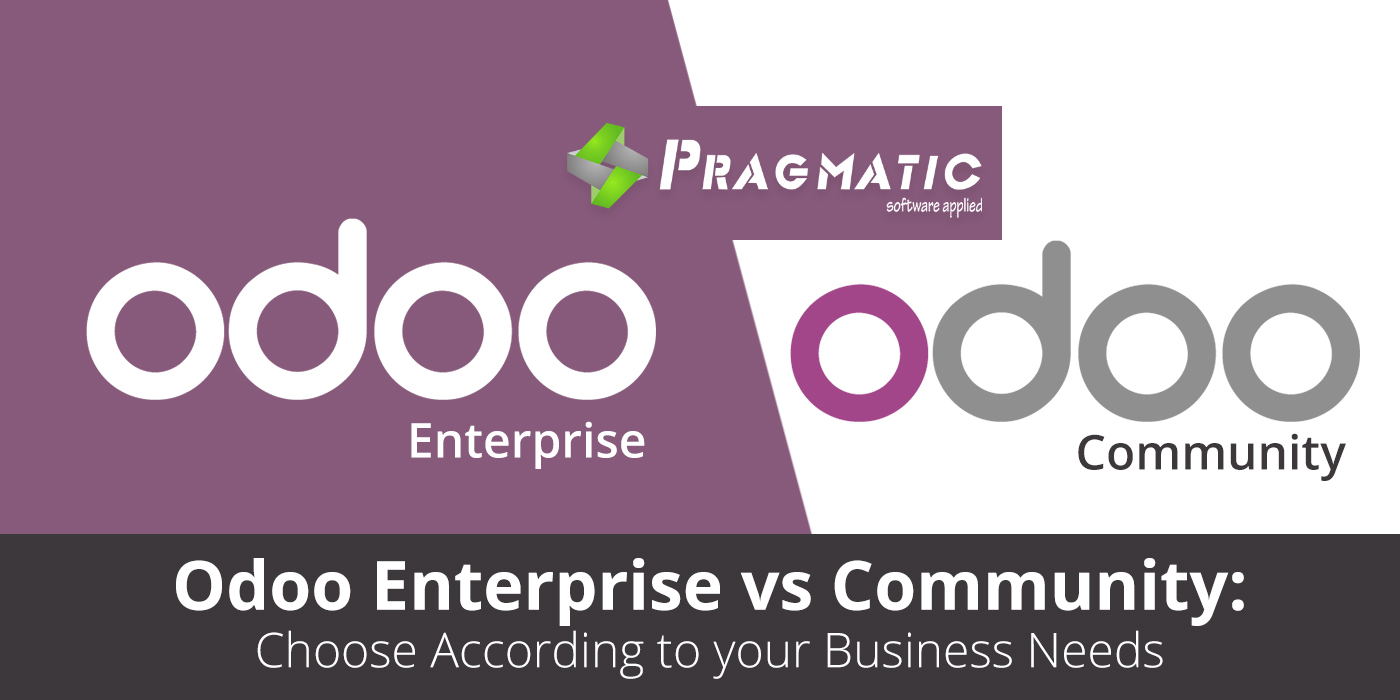 Odoo is available in 2 versions: Odoo Enterprise (licensed) and Odoo Community (Open-source). ERP is a multilayer system. Technically, Odoo Enterprise is Odoo Community + Additional Functional Modules. But these modules play a big game. Does it mean that the main difference between the two versions is just a few paid apps? Well not really, there are multiple layers to it. All layer differences are covered below.
| Layer | Community | Enterprise |
| --- | --- | --- |
| Required hardware | from 2 CPU / 2 RAM | from 2 CPU / 2 RAM |
| Scalability | The same load balancing | The same load balancing |
| Flexibility | The same modular architecture | The same modular architecture |
| Community and Store Apps | Can install any module | Can install any module |
| Enterprise Apps | Not available | Included in the package |
| Localizations | The same localizations | The same localizations |
| Out-of-the-box* | Requires more customization | Includes nice UI and more functionality |
| Access Rights | The same configuration | The same configuration |
| UI | Standard interface | Nice and fast navigation |
| Support and Upgrades | Not included | Included by vendor |
| Price | No license costs | Pricing based on country |
How Odoo Enterprise came into Existence:
From Odoo v9, the Open source ERP made a change in their business model. Rather than just developing an open source software and selling its support services, they brought into living an open core business model. Notwithstanding open source product-Odoo Community, they grew additional proprietary applications as Odoo Enterprise.
From that point on, Odoo was made accessible in 2 Editions: Odoo Community and Odoo Enterprise. Odoo Community (Open-source variant) is free, and Odoo Enterprise(Licensed adaptation) are chargeable. Odoo Enterprise is considered as the flagship of Odoo, as it encompasses the most highlights and the most mind-boggling features.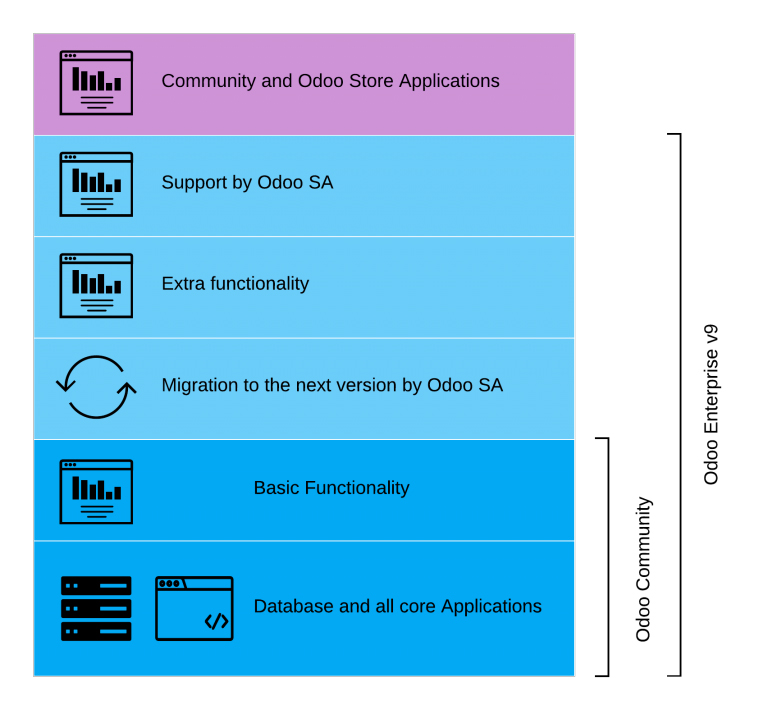 Odoo Enterprise vs Community – Apps Availability
There are free (~90%) and paid (~10%) applications (modules) in the Odoo App store. Odoo Enterprise already includes additional unique modules that will move the ERP experience to the next level.
Based on our analysis of implemented projects, we can conclude that Odoo Enterprise covers Sales, Project and Warehouse Management processes pretty well. Also, specific changes in Finance module makes accounting management intuitive, if we can say it that way.
All these makes Enterprise version a good choice for companies where sales and services are the key processes.
Comparing Odoo Enterprise vs Community
Enterprise
Community
General
Unlimited Functional support
Version Upgrades
Hosting
User interface
Desktop
Mobile version
Studio
Screen Customization
Report Designer
Menus Editor
Apps Creator
Accounting
Invoicing & Payments
Full Accounting
Project Management
Tasks
Timesheets
Forecasts
Sales Management
CRM
Sales
Customer Portal
VoIP Integration
eSignature
Subscriptions
Digital products
Helpdesk
Human Resources
Employee Directory
Expenses
Leaves
Recruitments
Appraisals
Departments Dashboard
Inventory
Inventory Management
Purchase Management
Barcode support
Shipping: UPS, Fedex, DHL, USPS
Multi-company flows
Manufacturing
MRP
IoT
MRP II
(Work center Control Panel and Scheduling)
PLM
Maintenance
Quality
Shipping: UPS, Fedex, DHL, USPS
Website Builder
Website Builder
Blogs
Presentations
Themes

Extra Fee

Extra Fee

Form Builder
Call-to-Actions Blocks
Versioning
A/B Testing
E-commerce
Full eCommerce
Shipping Connectors
eBay Connector
Point of Sale
Point of Sale
PoS Restaurants
Loyalty cards
Marketing
Events
Expenses
Email Marketing
Live Chat
Marketing Automation
Lead Scoring
Email Marketing Templates
Miscellaneous
Chat
Google Spreadsheet Integration
Fleet
Notes
Appointments
Odoo Enterprise Benefits
Let us take you through the highlights and advantages of Odoo Enterprise.
Essential benefits Odoo Enterprise –
Backend enhanced for all gadgets (responsive).
More features than in different adaptations.
Standard Migration by Odoo S.A.
No limitation with respect to the number of users.
Besides the above, there are many other benefits one can acquire from Odoo Enterprise. Comparing to Odoo Community, Odoo Enterprise has a lot to offer in terms of functionalities.
Advantages: Odoo Enterprise vs Community
One of the most preferred standpoint of Odoo Enterprise over Odoo Community is that Odoo Enterprise comes optimized for all gadgets like desktop, tablet, smartphone, etc. This implies that the content gets adjusted relying on the gadget and are better to utilize in terms of reading, write and act.
Odoo Community and Enterprise vary totally in terms of its structure and ease of use. Coming to the design: the shades of Odoo Enterprise are white, gray, pink and green, which is harmonious and welcoming. On the other hand, Odoo Community, looks somewhat dejected, with its black and gray combination.
In Odoo Community, the fundamental navigation is provided in the header and the app navigation on the left half. However, in the Odoo Enterprise, both navigations are integrated into the header, which gives responsive website composition a superior overview. It additionally spares a lot of space, benefiting the clarity of the content.

Moreover, Odoo Enterprise looks a lot tidier and increasingly proficient. For instance: the space of inner notes, message sending, and activity schedule will be displayed in the desktop version on the right side of the content and will be moved beneath the content if the gadget width

changes. Under Odoo Enterprise everything looks exceptionally brilliant, professional and mature.

Organizations can, therefore, choose whether they need to take Odoo Community and let the features evolve along with business need, or opt Odoo Enterprise and avail its full set functionalities.
Last but not least, one of the greatest advantages of Odoo Enterprise over Odoo Community is that the migration to the new form of Odoo Enterprise is performed by Odoo S.A.
Pragmatic can serve you in both odoo Community and Odoo Enterprise Edition. To avail our service, drop your request to sales@pragtech.co.in