ODOO FLEET MANAGEMENT SOFTWARE FOR FLEETS OF THE FUTURE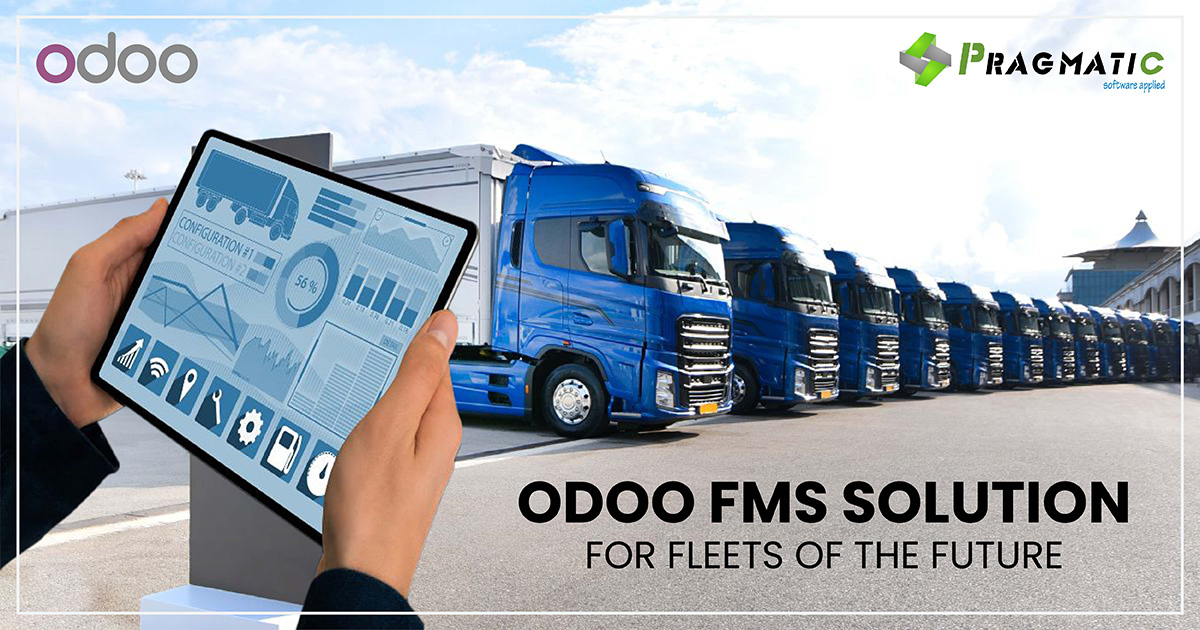 Fleet management involves overseeing and managing all fleet operations in order to ensure efficient, convenient, safe, and profitable operations.
A fleet management system primarily aims to increase productivity, safety, driver performance, while decreasing operational costs, inaccuracy in reporting, in commercial fleet establishments.
The integration of fleet management software with the right technologies can have a huge impact on the administration, staff, and the organization's roadmap to success.
Odoo Fleet Management Solution enables deep level of customization to solve precise business challenges and empowers business with the assistance of technology.
Odoo Fleet Management Features
Monitor Fleet Maintenance
CMMS (Computerized Maintenance Management System) for recording & analyzing various maintenance activities of the vehicle
Fleet maintenance contracts management including fleet maintenance, quotation, fleet maintenance orders, invoicing, etc.
Unique fuel tracking feature to help monitor the fuel consumption
Eliminate Paperwork 
Maintain fleet history including all the relevant details of the fleet like model no., engine volume, seats, license plate, fuel type, registration details, etc.
Provision to generate the work orders for equipment maintenance & spare parts
Enhance Core Functions 
Sales module to manage all the sales transactions
Purchase module manages procurement or purchases made by the company
Warehouse module tracks the inventories in an organized manner
Accounting module to meet all the financial & billing needs of the company
Advanced Database Management 
Configurable master data including vehicles, service templates, service tasks, insurances, fuel type, driving licences, etc.
Maintains a complete record of the driver's details like name, driving license, etc.
User can maintain insurance details
Provision to perform a complete history search
Better Tracking & Analysis
Daily reports with graphs/ distance travelled/ top speed etc.
Real-time tracking of fleets, assets, and sales team
Vehicle-specific odometer statements
Easy to Implement  
Integrated with fleet management and ERP
No need for GPS devices (works fine on Android-based smartphones)
Can be integrated with any tracking device
Module Configuration
Odoo Fleet Management Module is one of the best software for fleet management because it's easy to configure and implement. To get an overview of the dashboard or order a Free Demo kindly  click here
10 Benefits of Odoo Fleet Management Module by Pragmatic

Reduce operational expenses
Improve driver performance and safety

Custom reporting/analytics boosts efficiency, cuts down costs

Optimized workflows and processes
Fraud prevention
Better vehicle maintenance
Good working experience for the staff
Deliver customer satisfaction
Real-time updates/insights to contrive better strategies
Sustained fuel economy
Why Choose Pragmatic Fleet Management System?
We strive to provide the best fleet management support modules for the changing requirements of the transport and logistics industry globally.
Pragmatic Techsoft has many years of experience providing services in Odoo for fleet management. We have helped transport and logistics companies to manage their administration efficiently through advanced automated systems. With our proven software products and technical support system, you can simplify routine tasks and focus more on the things that need your immediate attention.

If you are looking for Odoo fleet management ERP, kindly click the below button.