Odoo Implementation and Support Made Easy : Your FAQs Answered here!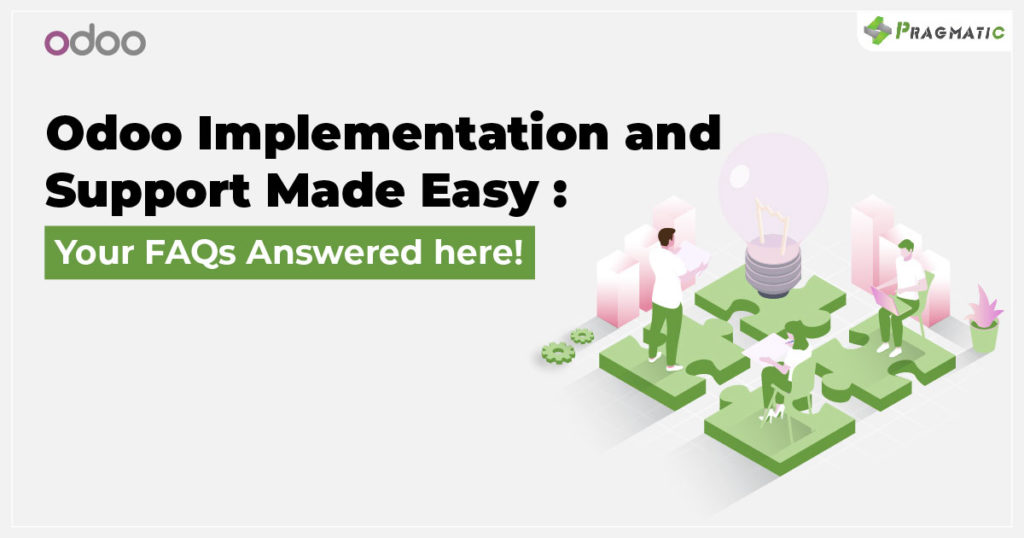 Pragmatic aims to address some of the Most Important FAQs regarding Odoo Implementation and Support.
What is the Odoo Implementation Process?
Check out how Odoo Implementation Process is followed by the Pragmatic experts here :
https://www.pragtech.co.in/services/customization-implementation-service/odoo-openerp/odoo-openerp-implementation-methodology.html
How long does the implementation process take and what's the costing like?
Pragmatic's Odoo Pricing that Fits All, its custom pricing is adapted to your business needs.Do check our packages in the link – it shall give you a clear idea on the duration and pricing based on the projects undertaken : https://www.pragtech.co.in/odoo-pricing.html
How much does it cost to obtain a License?
While the Community version of Odoo is free, the Enterprise version has varied costs. The access to all apps are free however the number of users will define the cost. Additionally, there may be other costs associated with using Odoo, such as hosting costs and fees for third-party applications. It's essential for businesses to carefully evaluate their needs and budget before selecting a pricing plan that suits them best.
What is the extent of Customization options available in Odoo?
Odoo offers customization options that integrate a company's operations into the platform, with pricing based on required modifications and additional add-ons. Odoo Studio, a drag-and-drop interface tool, allows for customization without programming knowledge and is included in the Enterprise plan or can be purchased separately for the Online plan at $16/user/month.
How does the AMC work?
Pragmatic's Odoo Services provides a subscription-based model called Annual Maintenance Contract (AMC), which includes technical support, software updates, bug fixes, and access to new features and modules. The AMC fees are determined based on the number of users and modules subscribed to by the customer, and all Odoo Online/Odoo.sh plans offer unlimited support, hosting, and maintenance.
Refer https://www.pragtech.co.in/odoo-pricing.html to learn about our AMC pricing.
How is Odoo deployed (On-premise, Cloud [Private / Public])?
Odoo can be deployed on-premises or in the cloud. Odoo offers its cloud-based platform called Odoo Online, which is hosted on Odoo's servers, and customers can also use Odoo.sh, a cloud-based platform with more control over customization and hosting options.
Is there any cloud deployment cost applicable?
There may be additional cloud deployment costs associated with implementing Odoo in certain scenarios, the specific costs and requirements may vary and should be discussed with your Odoo implementation partner such as Pragmatic Techsoft.
How is Data secured when the solution is deployed On-cloud?
Pragmatic takes Data security very seriously. We employ various security measures like secure hashing, backup and disaster recovery, and external authentication systems to ensure data security when deployed on the cloud.
What kind of Support does Odoo provide?
Odoo provides a range of support services, including technical and functional assistance, bug fixing, customization, and help with test environments and updates. 
NOTE :
It's crucial to choose a Reliable and Competent Odoo Implementation partner for efficient support.
"Pragmatic Techsoft" prioritizes customer satisfaction and commits 100% dedication to ERP implementation.
Pragmatic Techsoft, provides a range of Odoo support services, including consulting, customization, development, implementation, and dedicated resources, success packs, and turnkey projects, along with specialized Odoo apps and the Odoo SaaS Rocket Kit All in One.
Always ready to assist you with all your Odoo Requirements, Pragmatic ensures its dependency and reliability by offering top-notch Odoo Services.
For Odoo Implementation & Support
Contact Pragmatic Techsoft today – Receive the Best Odoo services !