Odoo Manufacturing Apps Add Extra Features to your Odoo Manufacturing Module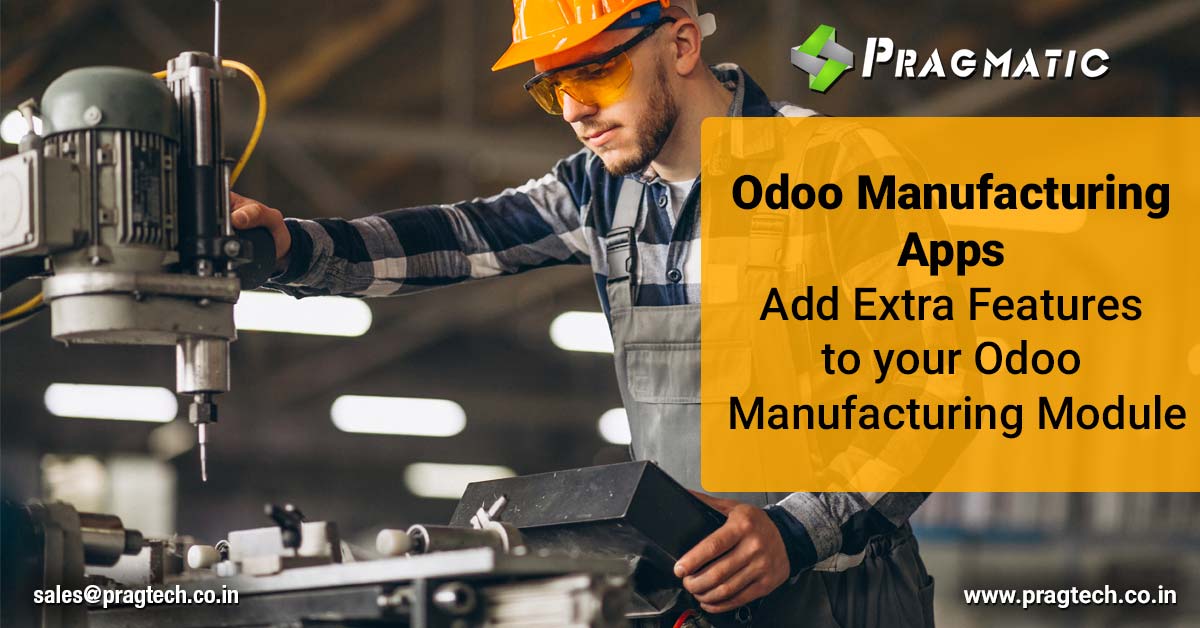 Odoo has all the necessary features to effectively and efficiently manage a manufacturing industry. It helps the end user to handle the complexity of production, manage bills of materials, plan manufacturing orders and track work orders etc.
Odoo Manufacturing enables the end users to create the manufacturing order of a product and pass them in different stages in a production line throughout the complete production cycle. The user can also customize manufacturing procedure matching their company's process using WorkCentre and other routing concepts.
Odoo manufacturing also enables a user to manage 'Scraps' during any stage of the manufacturing procedure and 'Unbuild' a manufactured product if needed. An organization may assign different level users to overlook the entire manufacturing procedure for effective management of the entire process.
If we compare Odoo manufacturing module with other ERP solution, like in all other modules we can find a lot of unique features which Odoo alone have.
For example, features like byproducts, routing facility, single BOM for multiple product variants, MRP II scheduler, Master production scheduler, Kanban Planning, Production calendar, Backward scheduling, Work orders, Repair etc. are not available in SAP ERP, while Odoo implements all of them.
And against Microsoft Dynamics, Odoo have the advantage of features like Equipment / Machine Management, Work Instructions on Work Orders, Maintenance Requests from Shop Floor Terminal, Production calendar etc.
Let us see one by one some Odoo Apps that can be used to further enhance the features of Odoo Manufacturing module –
Top 5 Paid Manufacturing Apps
1. MRP Subcontracting
This app provides manufacturing subcontracting functionality which enables users to manage manufacturing services which are outsourced. Subcontracting Configuration will be defined in the WorkCenter(s) to activate outsourcing process with third party.
2. MRP Substitute Products
Sometimes manufacturers want to substitute the missing product with another available product to continue production order. Odoo doesn't have this feature. This module is designed to overcome this limitation of Odoo. After installing this module you can substitute non available products with available products and continue the production order.
Features
Substitute missing product with available product
Substitute only some missing product quantities with another available substitute's product quantities
Keep your production order going with several available substitutes
Freedom to choose quantities used from substitute and main product
Freedom to choose quantities used from several substitutes and main product
See real time available quantities and reserved quantities
Produce only when you have enough quantity available
Doesn't interfere with the workflow of previously created orders. They will run the same way they were running earlier
3. Split Manufacturing Order
Split Manufacturing Order Based On Number Of Split
Enter No Of Split and Click on Split Manufacture Button Based On That Split MO in Equal Part
4. Product BOM Duplicate
This module allow you to duplicate bom when product duplicate.
Key features:
 Easy to duplicate product bom
 Time saving.
5. Merge Manufacturing Order
This feature allows user to merge manufacturing order on basic of partners, daily weekly and monthly for rapid production. This module works in V11, V12 with community and enterprise.
Top 5 Free Manufacturing Apps 
1. Print Work Order Details
Generate a PDF report with all necessary details of a Work Order. It can be used for the internal purposes of the plant/work center.
2. Draft Manufacturing Order
Provides a new state 'Draft' as default. So that users can manage a manufacturing order more easily. No additional configuration is required.
Features
Newly Created Manufacturing Orders Will Be In 'Draft' State.
User Can Change The Product, Quantity, etc.. On This State.
A New Button 'Confirm' Is Added To Confirm The Manufacturing Order.
Sequence Number Will Not Be Generated Until Confirmation Of Manufacturing Order.
3. Work Center Cost Parameters
The following fields are provided into a dedicated notebook in workcenter master data:
Direct Cost per hour
Labour/Direct Cost Analytic Account
Indirect Cost per hour
Indirect Cost Analytic Account
These costing parameters are used for
product costing calculation at Manufacturing Order level
financial costing evaluation in consolidating Master Production Plan
4. Export BOM Structure to Excel
This module extends the functionality of the MRP capabilities of Odoo, and allow you to export the BOM structure to MS Excel .XLSX format.
Installation
To install this module, you need to:
Go to apps
Look for mrp_bom_structure_xlsx module
Click install
Usage
To use this module, you need to:
Go to the Bill of Materials form or list views, press 'Print > Export BOM Structure to Excel'.
5. Work Order Multi User
This module's purpose is to work multiple users in work order. In Odoo, when one user is blocked the other user also gets blocked in work orders, but with the help of this module one has the option to change this. When one user is blocked, other users can work in work orders.This module is mainly for multi users in work orders, you can block the particular user and also you can view the blocked users in work orders. This module you can use only in "Enterprise Version".
These are the top 5 paid and top 5 free Odoo Manufacturing apps available on the Odoo App store. You can get in touch with us and we can help you download and setup the app for you. Drop in an email to us at sales@pragtech.co.in