Odoo Pricing: Comparison of Odoo with other Enterprise ERP Software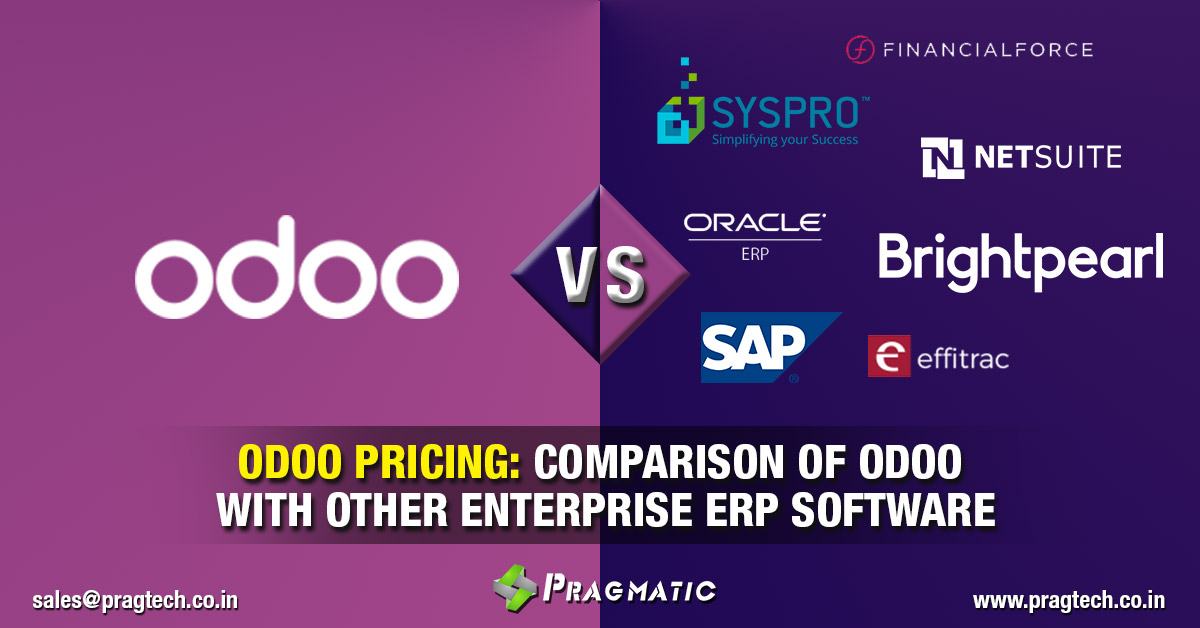 If you're in the initial stages of the ERP evaluation process, you're probably wondering, "How much is it going to cost my business?" This is a fair question, yet unfortunately there is no simple or precise way to answer it.
Estimating the total cost of an ERP software solution requires careful assessment of an array of variables which can vary wildly from one company to the next. The size of your business, your unique requirements and your scope of use all play a critical role in determining the cost of your system.
Understanding the factors that influence the cost of ERP will help give you a better idea of how much your business can expect to pay. Moreover, it gives you the knowledge to carefully evaluate estimates that fall significantly below or above industry standards.
How Much Does ERP Software Cost?
So how much does Odoo ERP Software Cost? As mentioned earlier, ERP implementation costs largely depends on a number of factors. However, for the purpose of providing a simple answer, we have come up with a short guide on how much you should spend in an ERP system, using business size categories as pricing basis.
For Small Businesses
For small businesses with up to 75 employees and turnovers of up to $80 million, low-end ERP solutions are typically enough to cover all processes. The prices of these tools may range from $25,000 to $100,000 depending on factors such as customizations, industry requirements and number of users.
Examples of ERP Software for Small Business
1. Scoro
Cloud-based business management solution Scoro is highly-suited to SMBs, especially those in the IT, consulting and advertising sectors. It has a wide array of features that include work scheduling and tracking, collaboration, customer relations and project management and reporting.
It is easy to use as it gets rid of the need to use a different solution for different tasks. A main feature is a control hub, which displays account information, tasks, performance data and other pertinent business aspects.
Pricing based on feature set. The software is priced based on individual plan features. It can be purchased in three pricing models. Its plus package comes for $22/user per month. A premium package is being sold for $33/user per month and an Ultimate plan is priced at $55/user per month.
2. Sage Intacct
Sage Intacct combines Sage and Intacct, bringing to the table all the capabilities of both companies. It essentially provides finance and accounting with all the benefits of cloud computing.
The system is designed to boost corporate performance and financial productivity. Key functionalities include cash management, accounting, purchasing, financial consolidation, subscription billing, contract and vendor management and financial reporting.
Pricing by quote. Although Sage Intacct pricing comes by quote, packages for small businesses start at only $400/month.
3. ECount
Cloud-based ERP platform ECount helps businesses in handling processes like purchasing, production, accounting and human resources, all from a single dashboard. It also helps companies on ERP implementation costs.
Proof of this is the fact that the system is being used by around 22,000 organizations around the world. This highly-flexible ERP solutions is highly-recommended for small to medium-size businesses.
Pricing fixed using a single plan. ECount is available in a single pricing plan of $55 per month.

4. FinancialForce ERP
Designed for mid-market companies, FinancialForce ERP helps businesses in moving from CRM to ERP platforms. It is highly beneficial to organizations' customer services as it basically unifies all departments under a single ERP tool that is built around the Salesforce system.
It connects employees, customers, products and even partners under a common solution, enabling each one to view the whole customer experience. Key features include workflow, analytics, cross-departmental reporting and collaboration, financial management, ordering and billing and supply chain management, among many others.
Pricing based on per user. FinancialForce ERP is sold on a per user subscription basis. Individual pricing is calculated depending on users' organizational roles.
5. Effitrac ERP
Effitrac ERP centralizes all core operations from within a single platform and leverages powerful automation tools to accelerate one's workflows and processes. Built for small and medium-sized enterprises, this ERP solution helps users easily stay on top of their accounting, inventory, production orders, inter and intra departmental communications, human capital planning, customer management, and others.
At a quick glance, you can see all essential data in real-time and make appropriate adjustments to satisfy customer demand. Effitrac ERP also delivers precise, custom reports that are always updated to provide you with reliable figures. It features an offline mode as well so you can take charge of your business operations at all times and reliably sync information upon reconnecting to the internet.
Pricing by quote. You will need to contact the vendor to get a custom quote.
For Enterprises

Large companies require enterprise-grade ERP solutions. In shopping for such a tool, businesses with more than 501 employees and turnovers of above $250 million should be ready to dole out more than $1 million when purchasing such system.
Examples of ERP Software for Growing SMBs/Medium-Size Business
1. Odoo ERP

Cloud-based ERP platform Odoo is a combination of sales and project tools, housed in a single product. This is further complemented by functionalities such as POS, MRP and eCommerce, helping companies handle all aspects of their operations. Its inventory management feature combines with its sales channel integrations, making sure that sales and inventory are always on the same page. However, what makes the software a powerful one is that users can avail of around 300 new applications per month.
Pricing
by module. Odoo is being sold on a per module basis at
$12/user
per month. What's great is you get to customize your own plan by adding more apps of your choosing as the need arises. We have been Odoo service providers for more than a decade with clients all over the globe. You can get in touch with us for a free quote or to know more about
Odoo pricing
.
2. NetSuite ERP

Netsuite ERP is specifically designed for growing, mid-size organizations and enterprises. It is capable of automating just about any process there is, including revenue, order, inventory and financial management, fixed assets and billing. These functionalities enable the system to provide the whole organization with visibility into key performance reports and indicators. The platform combines financial management and business intelligence, allowing users to make sound business decisions. Order-to-cash processes are likewise accelerated with sales and fulfillment tied to pricing policies.
Pricing based on per user, modules, add-ons. NetSuite ERP's pricing models come by quote. Enterprise plans, on the other hand, are priced based on number of users per month, modules and add-ons.
3. SYSPRO

A robust ERP software, SYSPRO is designed to help growing manufacturing firms to integrate, synchronize and control their processes. Deployed via the cloud or on-premise, the tool comes in multiple modules that showcase features that do not only focus on manufacturing, but other company processes as well.
The software effectively manages costs by minimizing losses from manual and repetitive processes and paperwork. It also automates warehousing through distribution management. Aside from these, accounting, financial, operational and manufacturing management capabilities are also present. The best way to evaluate the features is for you to try them.
Pricing by quote. Syspro's pricing depends on number of users, software deployment and customer requirements.
4. Brightpearl
A multi-channel management platform, Brightpearl is highly-recommended for retailers as it is useful in managing orders, accounting, customer information and inventory all from a single console. Its real time reporting capabilities provide users with a view of customer purchasing behavior, cash flow and profitability by SKU and channel, to name a few. It has a number of popular integrations, including Shopify, Bigcommerce, Magento and online marketing platforms like Amazon and eBay.
Pricing by quote. You have to contact the company to request for a customized quote.
5. Oracle ERP
An end-to-end business management platform for any organization size and type, Oracle ERP is a cloud-based solution that observes best practices and industry standards in streamlining any business process.
It is simple but highly-scalable and is able to automate processes like reporting, compliance, planning and procurement, risk management and product lifecycle, to name a few. This fully integrated ERP solution comes with a host of applications that can boost productivity, lower costs and improve control over entire business operations.
Pricing based on feature set. Oracle ERP Cloud can be purchased in three pricing plans, which are based on product features. A financial reporting plan comes for $175/month. Its advanced financial controls plan for $80/user per month, while an advance access controls package is priced at $150/user per month.
6. SAP S/4HANA
SAP actually provides an ERP that scales across business sizes starting with the SAP Business One. For enterprises, you have SAP S/4HANA designed for businesses with global reach across practically all industries. It can be deployed via cloud private cloud or on-premise and offers companies total control over their organizations. This intelligent ERP platform is designed for in-memory computing, providing users with value across all business lines. Key features include predictive analytics, better automation, agility and efficiency through machine learning and headquarters and subsidiaries integration.
Pricing by deployment. The company does not publicly disclose its prices. You have to visit a vendor's website to get a quote. The type of deployment will dictate your plan.
Deciding to purchase an ERP software solution can be difficult at times. But knowing their cost is a step in the right direction when choosing one. Being aware of how much you should invest in such system minimizes risks of making the wrong purchase.
Like mentioned above, you can get in touch with us to know more about Odoo pricing or to get a free quote taking into consideration your business requirements. You can get in touch with us at sales@pragtech.co.in