ODOO PROPERTY RENTAL MANAGEMENT SOLUTION BY PRAGMATIC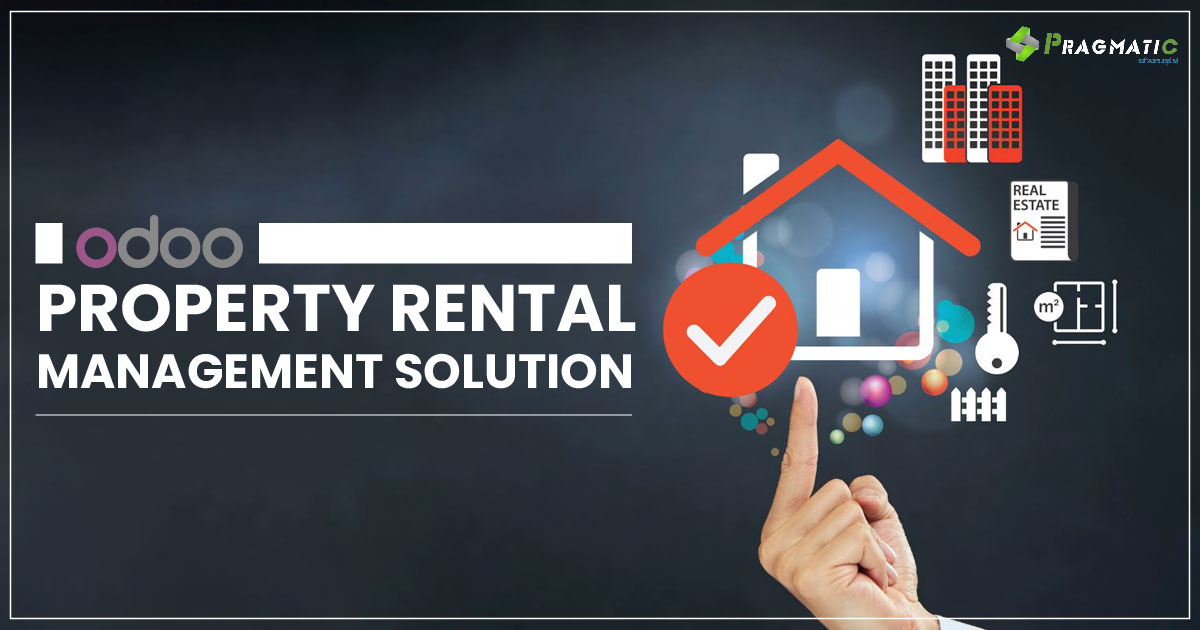 Property management primarily involves four key functions – administration, accounting, sales, and marketing. For property management companies (particularly with multiple units) keeping a tab on all these functions manually becomes an arduous task. This can be counterproductive for both, managing the property and making profits from it.
Odoo property rental management software or property leasing management solution helps users get control over rentals, tenants, and properties. It is an end-to-end integrated solution that has all the features you need to run your property rental business effectively and efficiently.
Essentially, it is everything related to managing and operating a property online, including acquisition, accountability, control, responsibility, utilization, maintenance, and disposition. Moreover, it enables you to manage your property's operations, staff, and customers remotely.
The Odoo Property Management Software is trusted by thousands of property managers and landlords every month, whether they are managing a single unit or hundreds. With an Internet connection, you can access the software from anywhere in the world.
Features of Property Leasing Management
The most flexible property management software for residential and commercial properties.
Manage property valuations, maintenance, insurance, utilities, and rents with reminders for each KPI.
An integrated content management system helps display property details on a website alongside images and other details so that real estate brokers and buyers can easily find the information.
A provision for defining deposit schemes at the time of booking
A powerful in-built business intelligence system enables you to obtain robust analytical reports easily so you can make informed decisions.
Create your own Building Types, Room Categories, and Rooms
Flexible pricing policies can be defined for different customer segments
Reports
There is a provision for defining an unlimited number of layouts for user-defined reports
Auto-generated email to the customer on booking
Graphical representation for the availability of rooms and booking chart
Powered by event-based email functionality
Inbuilt reports
Status of total bookings
Customer category wise booking status
Room availability report with multiple filter criteria (building, room category, room no., date range, etc.)
Accounting
Full GL accounting for properties, tenants, and owners
Accept online payments via Paypal, credit cards from your tenants
Property managers can pay owners
Generate invoices and send via emails
Reports and Dashboards to monitor occupancy
Dashboard Overview:
Odoo Property Rental Management Module is one of the best software to manage properties because it's easy to configure and implement. To get an overview of the dashboard or order a
Free Demo, kindly
Click here 
Operations
Your company and listings can be promoted online with a website
Exclusive owners access to valuable property data
Store and share important documents with owners and tenants
Keep track of maintenance and repairs
Leasing & Management
Receive rent payments and maintenance requests
Automatically post your vacancies to your website
Built-in email communication with your tenants, owners, and vendors
Holiday Rental Property Management
You can list properties for holiday rentals on this page
Send invoices to customers
Manage the properties
Integrations with Airbnb
Integrated Holiday Rental Business Module
A great feature of Odoo property management system is its holiday rental management module. You will find everything you need to grow your holiday rental business here. Manage all aspects of your holiday rental business under one roof, including guest interactions, bookings, check-ins, cancellations, communications, listings, and more.
Business Listing at Popular Platforms
Add more revenue to your vacation rental business by getting listed with channels such as Booking.com, HomeAway, VRBO, Airbnb, and many others. Listings for these channels are automatically generated by the vacation rental management module and are updated in real time.
Additional Features of Odoo Property Rental Management Solution
Synchronize your accounting with Quickbooks and Xero
Integrations with Salesforce, Hubspot CRM
Marketing, CRM, HRM, Helpdesk and other useful business apps
Easily list and upload properties on portal
Avail a CRM system through portal
Property search on demand
Property listings and content management for offices
Advertising and related marketing campaigns
Tenant management
Generate new referrals and listings
Finalising the lease/rent and security deposit refund
Managing/monitoring repair and maintenance
Providing business intelligence report
Monitoring lease expiration dates
Renewing the lease/contract
Mobile/ tablet responsive web and system UI
Key Benefits of Odoo Online Property Management Software
RENT ARREARS
Keep track of rent arrears to avoid escalating the problem.
PROPERTY TRANSACTIONS
Maintain a record of all your property transactions. This will make it easier for you to track money coming in and going out of your properties.
MAIL
Email Marketing – Send mail to tenants and property owners.
BANK ACCOUNTS
Ensure the integrity of transaction data by managing bank accounts and performing bank reconciliations.
Since Odoo Property Management Software is simple to use, it is suitable even for those who are not too tech-savvy. This software covers all aspects of your property management business from marketing, sales, and accounting to administration. Property agents, owners, and property management businesses can all use this simple yet powerful web-based property management solution to meet their unique requirements.
Best Property Management Solution for Property Managers & Landlords
PROPERTY MANAGERS
On the website, tenants, landlords and property managers can access their own data
Disburse payments to your clients (after deducting the management fee).
Keep your owners updated on their properties by sending them property summary reports on a regular basis.
LANDLORDS
Track your mortgage payments and remaining balance so you know how much you still owe.
Keep track of your depreciation expenses every year, and also for the future.
Calculate the investment and cash flow of each property to determine its effectiveness.
Why use Odoo Rental Management Software?
Saves Time
With online rent collection, you won't have to go to the bank anymore. Additionally, you can organize all aspects of your property management business, which will save you time and frustration.
Increases Profit
Fill vacancies quickly with qualified tenants with our tenant screening service and rental posting tools. In addition, your expenses will be organized, so none of them will be missed during tax season.
Easy Setup & Use
We've designed our services to be intuitive so that you won't need our support team's help, but we're available anytime if you need it! Our help section also offers a variety of diagrams and training videos to help you obtain a better understanding of the program.
Highly customizable
You can add various fields to Odoo property management software according to your needs. For example, you can include tenant details, rent schedules, income expenditures, document expirations, properties by location, follow-ups, building safety, and safety certificate expirations. Further, you can also set reminders for KPIs that are crucial.
Why Choose Odoo Property Rental Management Software by Pragmatic?
We strive to provide the best solution for open ERP rental management in Odoo ERP for the changing requirements of the industries globally. Pragmatic Techsoft has many years of experience providing open-source rental software for property owners, to streamline their administration. With our proven software products and technical support system, you can automate routine tasks and focus more on the things that need your immediate attention.
If you are looking for the best property management software in Odoo, click here to Talk To Our Odoo Expert.