ODOO INDUSTRIAL EQUIPMENT RENTAL MANAGEMENT SOLUTION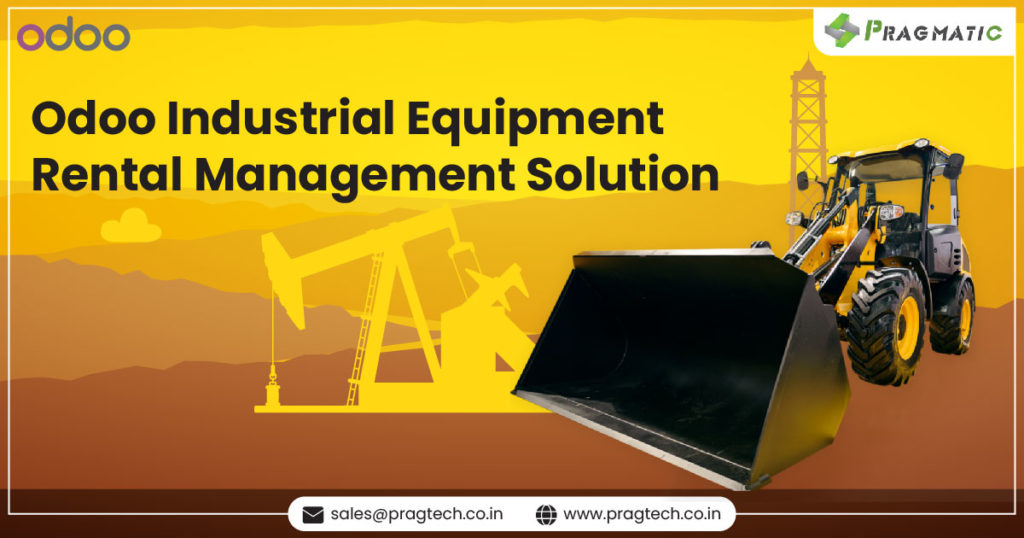 In order to succeed as an equipment rental company, you must provide efficient customer service, maximize fleet utilization, define strategic rental terms, and manage your assets efficiently throughout the lifecycle of your business.
Our Odoo Rental Management Software offers the best-in-class technology solutions for delivering unmatched business results. The rental management business is becoming increasingly complex, which requires you to stay on top of smart management of industrial assets (such as equipment, components, products, and instruments). Make the most out of Odoo by bringing Pragmatic Techsoft onboard for your industrial asset rental business.
We provide you with a unique, custom Odoo rental management solution customized for your business. With our experts at your disposal, you won't have to worry about anything from monitoring the rental process to tracking repairs and maintenance. You can increase your earnings and revenues by implementing the perfect Odoo rental solution by Pragmatic.
Why is Odoo Industrial Equipment Rental Management Solution important for businesses?
Your business is sure to benefit from the flawless and robust performance provided by Odoo rental software regardless of the complexity or scale of assets that need to be managed. Our cohesive team is comprised of business solution experts who are skilled in devising dynamic rental management strategies. Here are some compelling reasons why our Odoo rental solution should be a part of your business plan:
Serves diverse industry verticals: Our solution will quickly become an integral part of your success strategy, no matter what industry you serve. You can conveniently track your equipment and products and ensure timely customer service to your clients. 
Holistic operational management: A comprehensive system of tracking all success metrics (the rental of your equipment and assets, their usage, and maintenance throughout the specified period) keeps you in complete control of your business.
Amazing tech extensions: Featuring powerful integrations such as RMO, recurring billing, warehouse management, and payment tracking, our Odoo rental solution enhances the value of your business significantly.
We have years of experience behind us, making our software the only solution you'll ever need for gaining an unrivalled business advantage in the Construction Equipment & Asset Rental Business.
Use Odoo to give a Performance Thrust to Your Industrial Equipment Rental Business. Click here for a Free Demo.
Applications of Odoo Equipment Rental Management Software by Pragmatic
Pragmatic Techsoft Pvt. Ltd caters to numerous business units across the globe. We facilitate the following processes –
Aerial equipment rentals
Portable sanitation rentals
Construction component rentals
Power and pump rentals
General rental needs
Preventive repairs and maintenance
Materials and machines rentals
Service efficiency and management
Powerful Features of Odoo Rental Management Solution
You can scale up your operations with absolute confidence with Pragmatic's Odoo rental module. Below are the prominent features of the application –
Rental operations
Inventory and warehouse management
Maintenance and repair services
Back-office operations
Rental Operations
Rental product configuration
Rental dashboard to get a clear view of product availability and booking
Calculation of prices based on daily, weekly, and monthly price lists
Simplified way to extend contract
Stand-down entry and additional days for rental orders
Setup monthly billing
Utilization report equipment wise
Accounting
Renting and selling are handled separately
Maintain equipment-wise income and expense
Asset sale accounting entry differs from normal product sale
Invoice analysis report for both sale and rental
For accurate reconciliation, import bank statements into your accounting system
Inventory
To maintain correct stock levels, Odoo rental optimizes inventory levels
Intuitive interface that is easy to use
It is possible to maintain sales stock or asset stock
A hassle-free inventory management method for converting Sales stock to Asset stock
Dashboard Overview: Odoo Manufacturing Management Module is one of the best software to manage production units or manufacturing setups because it's easy to configure and implement. To get an overview of the dashboard or order a Free Demo, kindly Click here
Repair
Odoo rental can easily track status update of all equipments and assets under repair or maintenance
Capture expense against equipment
Typical workflow in Pragmatic Rental Management
Odoo rental management manages every aspect of the business, from quotes to inventory allocation, to billing and payments.
Benefits of Odoo Equipment Rental Management System
Order Management: Create, update, and manage orders, invoicing, and recurrences quickly and easily. Ensure conflict-free bookings by scanning the availability calendar well in advance.
Work Order Management: Assign task to site managers, add checklists, or monitor the progress of equipment maintenance tasks with Work Order Management.
Optimize Webstore: Organize your rental catalogue online, increase your traffic, and make it easy for customers to find your business.
Financial Integration: Accept credit card payments and sync your transactions with Quickbooks or Xero using our payment gateway integration.
Alerts and Customized Reports: Develop custom fields to track unique data points, and generate custom reports and email alerts tailored to your business needs.

Access Control: You can restrict access based on user roles or create custom roles with specific permissions and access rights.
Why Choose Odoo Manufacturing Management Software by Pragmatic?
We strive to provide the best solution for equipment and asset rental management in Odoo ERP for the changing requirements of the industries globally.
Pragmatic Techsoft has many years of experience providing software for manufacturing endeavors. We have helped industries understand how to customize Odoo manufacturing ERP systems to streamline their production lines. With our proven software products and technical support system, you can automate routine tasks and focus more on the things that need your immediate attention. 
If you are looking for an advanced Odoo equipment rental management solution, click here to Talk To Our Odoo Expert.