Recent Success Stories That Prove Why We Need WhatsApp For Business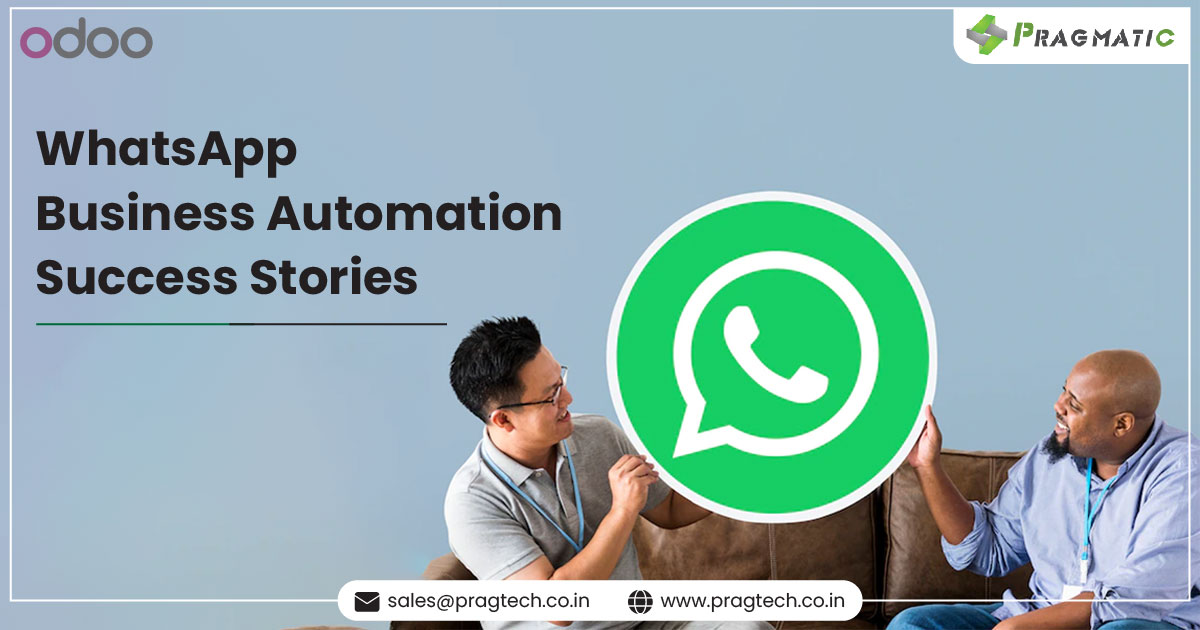 Customers want companies to be accessible. WhatsApp has become an integral part of the customer communication strategy for any business. With a range of incredible features offered by the platform, businesses can actively engage audiences, scale sales figures, and drive better customer support outcomes. Feature your business where your customers are and promote it in the best possible manner leveraging the extensive possibilities of the WhatsApp business account.
Why WhatsApp For Business?
Tap the limitless potential of the world's most-used messaging app.
Highly secure communication platform offering end-to-end encryption.
Verified/Official business account feature promises reliable interaction.
Chatbots and WhatsApp autoresponders enable superior customer service.
Real-time communication/faster responses reduce waiting time.
Multimedia experience with images, videos, audio, or documents.
Instant messenger for business.
Whatsapp Facts Worth Knowing If You Are A Business Owner
WhatsApp is the most popular mobile messaging app worldwide.
There are over 2 billion WhatsApp monthly active users.
It's the third most popular social network worldwide.
About 100 billion messages are sent daily on WhatsApp.
There are over 50 million WhatsApp Business users
There are over 8 million business catalogs on WhatsApp.
WhatsApp is available in 60 languages.
Success Story # 1: LightSpeed Mobility
Founded in 2016, the Indian startup builds e-bikes that can be pedaled or run on battery. Their electric conversion kits upgrade regular bicycles to e-bikes.
Sales Channels: 19 stores across 14 cities in India, e-commerce sites, and a website.
Challenge
Innovative concepts demand adequate trusted platforms for market orientation.
Buyers required easily accessible service platforms to leverage optimum product benefits.
Physical presence was shrouded with limitations in terms of reach and personalization.
Solution
WhatsApp's quick replies feature enabled timely customer interactions.
The labels feature was useful for maintaining a sales pipeline.
Availability of 24/7 customer support resolved buyers' concerns promptly.
Connection with more than 21,000 customers on WhatsApp.
Results
Lightspeed sells products ranging from $470 to $2,280 over WhatsApp.
50% of their sales (amounting to $350,000) have been through WhatsApp Business.
The average order value was 30 per cent higher through WhatsApp compared to other sales channels.

With advanced WhatsApp automation functionalities, you can manage entire business in WhatsApp Messenger to effectively acquire, support, and retain customers.  'WhatsApp Central All In One' by Pragmatic Techsoft can enable your system to do exactly that.

Click here for a Free Demo.
Success Story # 2: Chéel
Chéel is an eco-friendly bag producer from Mexico that endorses a sustainable lifestyle. It utilized social media channels for environmental awareness & brand promotion.
Sales Channels: Conventional platforms along with social media channels.
Challenge
Showcasing online the wide range of colours/patterns of the available products.
An easy and accessible platform to digitise the business for sharing product information.
A cost-effective platform that would also facilitate conversations with interested customers.
Solution
The catalogue feature allowed Chéel to add, edit, & showcase its products/patterns quickly.
Unique QR codes printed on product tags established a direct connection with customers.
Such connections opened a pre-filled message that was part of the sales funnel.
Upon purchase, WhatsApp further facilitated monthly promotions and brand updates.
Results
WhatsApp Business increased brand awareness, customer interaction, and trust.
Product QR codes connected people to the product info and saw a 70% rise in sales.
The catalogue feature helped Chéel digitise its business, and boost conversations.
Overall 70% increase in sales & 80% new customers were acquired in a single quarter.
How Popular Brands Utilize 'WhatsApp Business' Platform?
Netflix: Send personalised recommendations and account information to the users.
Uber: User registration, booking a ride and receiving trip receipts entirely within WhatsApp.
Booking.com: Sending booking confirmation and other key information.
Singapore Airlines: Offer travellers up-to-date flight information, flight status, etc., on the go.
Melia Hotels International: Provide information about reservations, confirmation notifications, location services, & more.
Absa Bank: Access the customer service team while still being able to bank via a secure interface.
With a multitude of WhatsApp automation software solutions available today, businesses can do almost anything with the platform. In the enterprise domain, advanced WhatsApp implementation has been credited with some of the most recent successes from large corporations to small businesses.
Empower Your Business with WhatsApp Automation Software
WhatsApp business software integration is the next-gen solution to personalize communication and commerce at any scale. It amplifies the scope of 'WhatsApp for Business' or 'WhatsApp Web Business' with a host of additional features that automate core business functions like customer support, accounting, product catalogue, business contact, sales, and marketing. Let's quickly understand the different ways in which WhatsApp automation can assist you to achieve your business goals –
Meet Your Marketing Goals with Effective Campaigns
Launch marketing campaigns and customer promotions through mass messaging while staying connected with customers at every stage of the process.
Nurture Brand Perception Offer Next-level Customer Support
Create, allocate, and process helpdesk tickets through e-mail or WhatsApp messages while sending notifications at every step.

Achieve the next level of business automation directly in WhatsApp and offer simpler, better, and faster solutions to your customers with 'WhatsApp Central All In One' by Pragmatic Techsoft.
Click here for a Free Demo.

Optimize Operations through Accounts & Billing Automation
Generate bills and receipts, make payments, set auto payment reminders with the payments integration feature.
Get Better Business Outcomes with Stellar Customer Experience
Comprehensive customer service features like interactive messages, live chat, IVR, along with a quick automated response.
Drive Lead Generation With Sales-Efficient Functions
Manage pre-sales customer queries, share quotations, and other sales collaterals. Send sales order/delivery order through WhatsApp.
Accelerate E-commerce Store With Shopping Cart Feature
Organize product catalogue, contact labels, and inventories with the shopping cart feature to manage your E-commerce store in the most efficient manner.
Advanced POS Integration For Additional Sales Support
Send automated WhatsApp messages to registered mobile numbers, manage receipts and orders.
Pragmatic Techsoft has launched a good number of business-centric apps and solutions including WhatsApp business integration systems. The company has 11 years of experience in Odoo ERP products and services, with 1000+ projects implemented, and 150+ plug-n-play readymade modules on the Odoo app store.
If you are looking for Odoo WhatsApp Business Website Integration or WhatsApp Odoo Solution, Talk To Our Odoo Expert Now!