Salesforce OdooERP Integration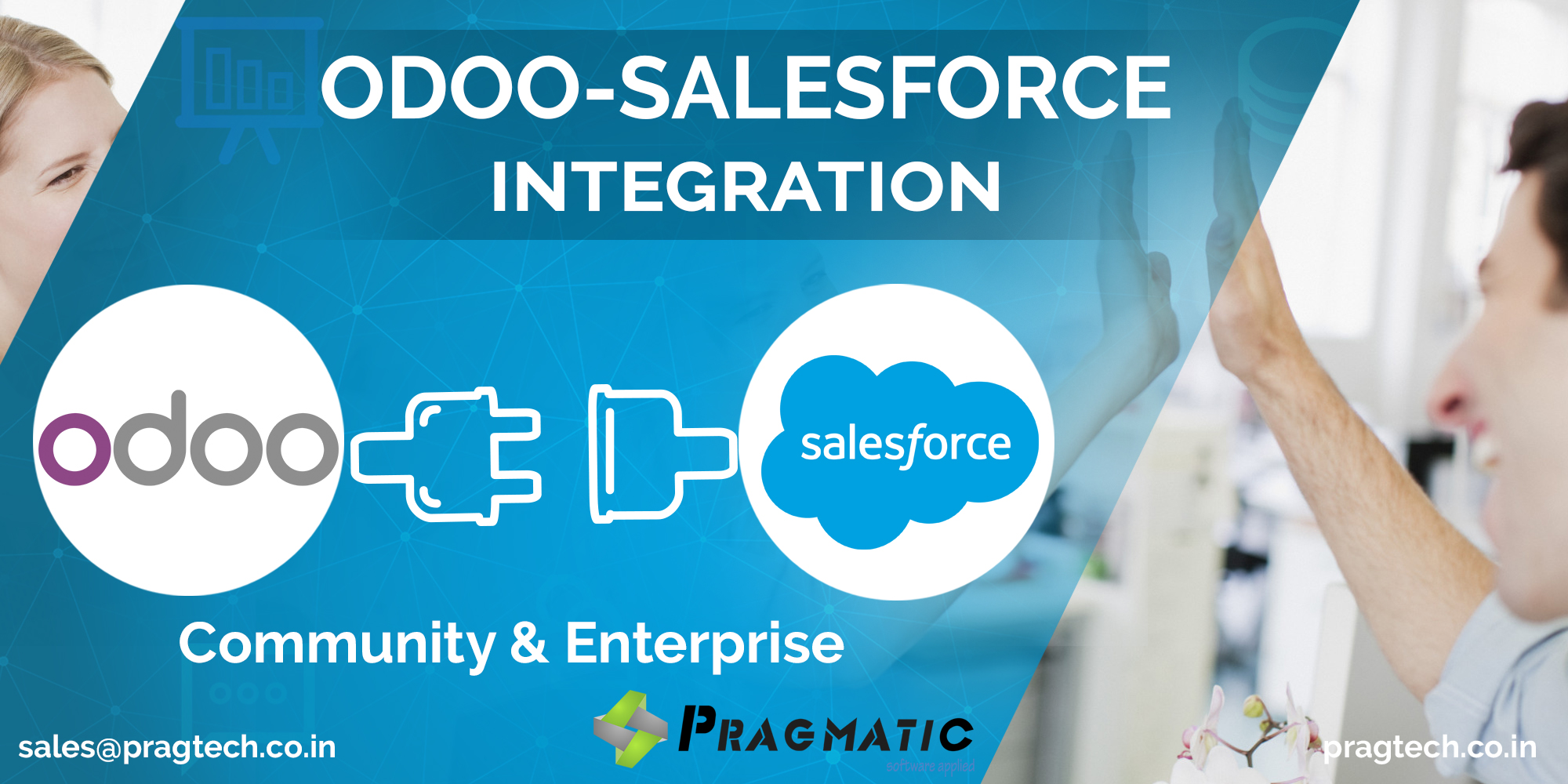 Salesforce OdooERP Integration: This is Why you Need it Right Away.
Salesforce is the innovative company behind the world's #1 CRM platform. Salesforce software is cloud-based, so it doesn't require a team of IT experts to set up or manage – you just log in and start using it.
Faster, Cheaper. Easier. Better. Salesforce takes your business to the next level. Salesforce's customer relationship management software instantly streamlines and automates your business processes. By creating infrastructure-as-a-service, your business allows sales, marketing, and support teams to work in sync and see important sales and customer data with more width and breadth, freeing them up to generate new clients and better service existing ones.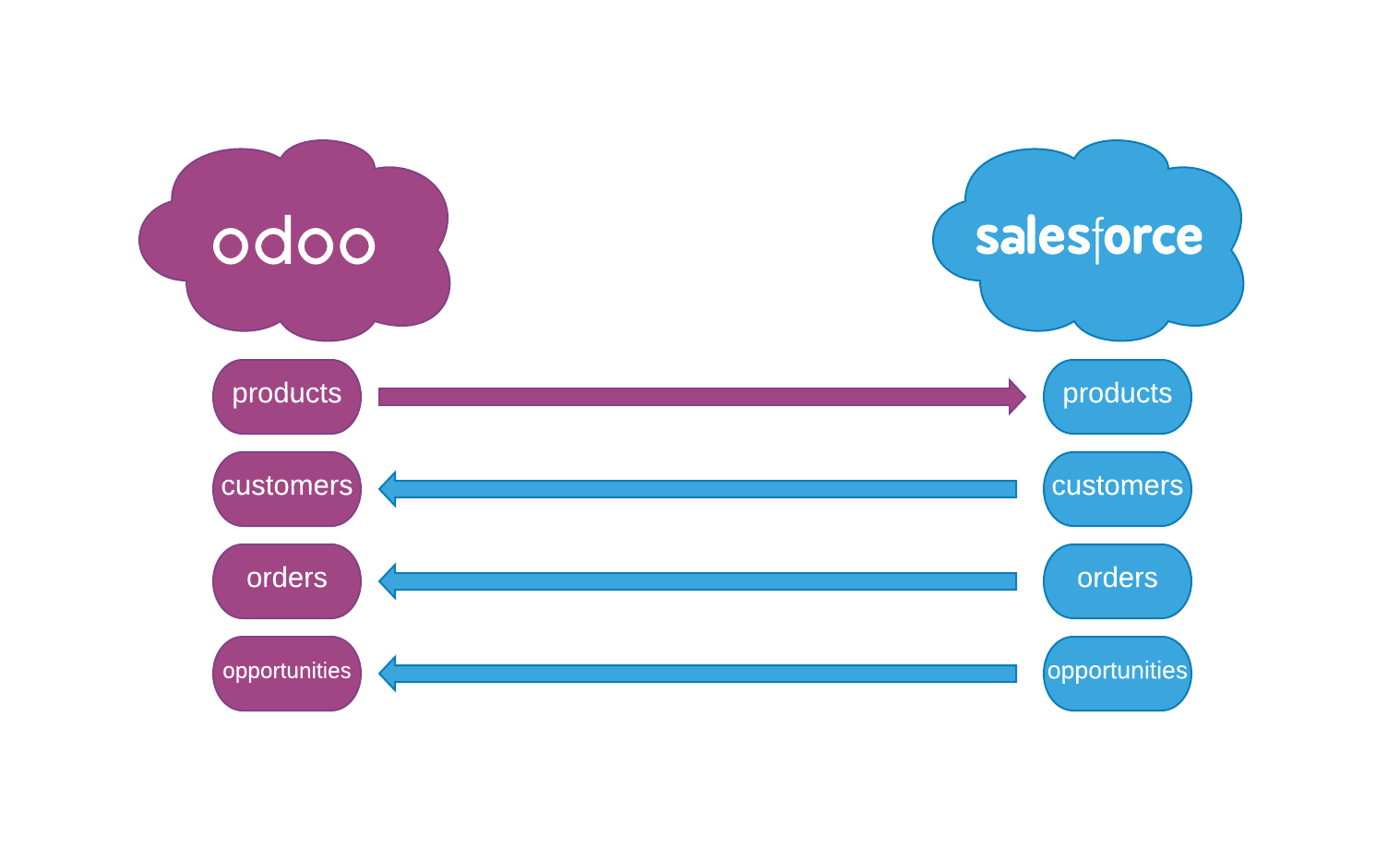 The Odoo – Salesforce Connector syncs in real time between Odoo and Salesforce. This module is exceptionally useful for businesses who already have Salesforce and want to keep it, even after adopting the OdooERP System.
Key Features And Functions
Import Customers from Salesforce to Odoo
Import Sale Orders from Salesforce to Odoo
Import Opportunities from Salesforce to Odoo
Export Product to Salesforce from Odoo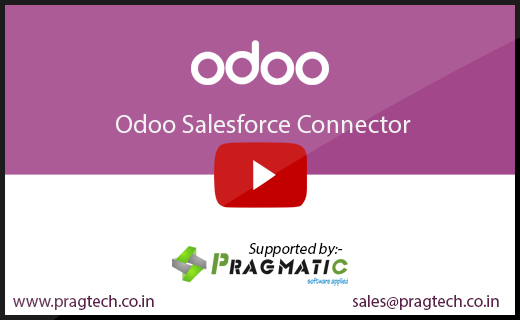 When achieved, the complex integration of the two systems can solve numerous business challenges and open up new opportunities for cross-departmental cooperation. Below, we outline top use cases of Salesforce integration with OdooERP.
1. Account and contact information
As a rule, information about your customers is stored in both Salesforce and your OdooERP systems, with CRM focused on leads and sales data and OdooERP on billing information. The more places to store customer data, the more chances you'll end up with inconsistent customer profiles. That is why account and contact integration can be a good starting point for you. At first, you can transfer customer information from your OdooERP system to Salesforce and then configure a two-way integration. This way, you'll synchronize customer data entered in one platform with another instead of updating information in two platforms separately.
2. Invoices and payment history
Whenever the accounting department has created an invoice or reflected a new payment made by a customer in the OdooERP system, your sales and account management teams may need this information in Salesforce to make informed decisions about providing discounts or recollecting debts. If you don't want your sales reps to see the final invoice amounts you can create a custom field within Salesforce Account object that will reflect the level of reliability of each customer (e.g., from A – excellent payer to C – bad payer, etc.).
3. Quote and Order Management
Creating accurate quotes may turn out to be an extremely difficult task for companies with complicated product configurations. If your company is going to turn proposals (created in CRM) into actual orders (executed and tracked at the OdooERP level) you'll also need to integrate both the systems. Such integration can also provide your sales reps and customer service specialists with visibility into the order status and help them timely inform customers of any changes.
4. Inventory data
Your sales team need inventory data in Salesforce to identify whether the requested products are currently in stock in needed amounts. This information helps them to create accurate sales opportunities as well as provide customers with correct shipping dates.
5. Product and Price Books
Initially, all products and their prices are stored in the OdooERP system. However, your sales reps need this information in Salesforce to create detailed opportunities and provide correct prices for customers. Without integration, manual update of product lists and price books can turn into a nightmare for your employees, especially if you deliver an impressive amount of products or have frequent market price fluctuation as you do not control it. Besides, your employees can simply forget to update information and mislead your customers by providing incorrect prices or promising quick delivery of out-of-stock products. Product and price book integration comes in handy, because whenever you update your product list or change prices in OdooERP, this information will be automatically synced with Salesforce price books and products.
Why go for Salesforce integration with OdooERP?
Integrating Salesforce CRM with your OdooERP ensures smooth data flows between both the systems. What does this mean for your everyday operations? With this integration, you can get the following benefits:
deal faster with customers
enhance customer service
increase visibility of data that will be used by different departments (e.g., sales and finance)
let your sales, account and customer service teams make faster, smarter and more informed decisions
automate data management tasks
increase data accuracy, etc.
Though CRM has been a core staple of many OdooERP suites, the CRM components in these systems may be unwieldy, lack critical industry specific features or are otherwise dated and in dire need of a facelift.
At the same time, many sales professionals know Salesforce, given how ubiquitous the platform is.
So, implementing Salesforce and integrating it with an organization's existing OdooERP system often makes sense for organizations who want the best of both worlds.
We can't seem to get enough of the benefits of Salesforce OdooERP integration and hence, here are six more benefits.
1. Provide All-In-One Access from Either System
Some employees may know one system better than the other. The sales team is more likely to master Salesforce, while the people on the financial planning team are pros at using the OdooERP system. Integrated systems allow users to work within their preferred system.
Some employees may know one system better than the other. The sales team is more likely to master Salesforce, while the people on the financial planning team are pros at using the OdooERP system. Integrated systems allow users to work within their preferred system.
Because the data is synchronized, everyone on staff has all the information they need without switching systems – that goes for C-level, customer support, and anyone else accessing data.
2. Improve Communication
An integrated system also can enhance communication across teams. For example: The finance team works in the OdooERP. When they communicate with the sales team, the OdooERP has all the information finance needs, including the data that lives in Salesforce.
This allows finance and sales to have more effective discussions. Neither feels like there is a piece missing because they lack information. They also contact each other less often because they have access to the same data, regardless of their system of choice.
3. Deliver More Insightful Information
Since the information from all integrated systems is shared, each system has more data it can use in its calculations and reporting. As a result, employees get more detailed and relevant information. This helps them make smarter decisions faster and know what actions to take. Higher-level management has a clearer picture of the company's operations.
4. Prevent Costly Errors
Any manual data entry can lead to mistakes, even when using copy and paste. Often, when companies depend on several systems, employees must enter the same data into each one. This increases the likelihood of errors and data duplication. When someone discovers the mismatched data in two systems, it takes time and effort to figure out which system has the correct information.
A well-implemented integration project contains automated checks and balances to make sure all integrated systems have the same information. Reducing data duplication helps keep the data clean. Employees will no longer do multiple data entry or waste time on data errors. These alone are huge time-savers, allowing users to spend their time on more valuable tasks.
5. Automate Workflows Without Coding
With integrated platforms, no one needs to request programming to set up workflows. Since workflows can be created with simple point-and-click, anyone can use business logic to move data, create processes, and automate data manipulation.
A CRM alone can automate many everyday tasks. Add an OdooERP system to the equation, and you can automate even more. This allows employees to focus on what they do best while the integrated system takes care of the tedious stuff.
The OdooERP is king of all things involving customer payment and product information. Salesforce is boss for customer contact information and sales activities. When these two are not integrated, salespeople may have out-of-date pricing and product information and the company cannot send automated payment notifications to the customer.
In this case, interested customers may walk away when they find out a quote is inaccurate. And the company may have uncollected payments on its accounts receivables, which impacts cash flow. That could lead to serious trouble.
With Salesforce and the OdooERP system working together, everyone knows what is going on with every order and customer. The finance department stays on top of unpaid invoices and ensures they are paid on time. This positively affects the all-important balance sheet and profit and loss statement. As a result, a frustrating and complex process becomes an effortless closed-loop process.
6. Enhance Customer Service and Satisfaction
Uniting multiple systems provides you with a complete view of your customers: everything from buying habits and preferences to order history and payments. These insights will help your organization build and maintain strong relationships with customers.
By integrating systems, data moves faster between them. If a customer contacts support, your support team will not have to search multiple systems for answers. They will find what they need within one system. This speeds interactions with customers and improves efficiency. For example: A sales rep enters a sale into Salesforce. The data is synced with the OdooERP, where an invoice can be created for the finance team.
In sum, integrating Salesforce with your OdooERP system automates data management tasks, speeds processes and workflows, boosts data accuracy, and increases operational visibility. These together lead to massive time savings and maximized ROI opportunities.
OdooERP is a must-have for any enterprise that hopes to stay competitive and engineer growth. But the choice of an OdooERP is just as important as embracing the solution in the first place. Feel confident you're getting everything you really want and need by insisting on Salesforce integration.
To know more about Salesforce Odoo OdooERP integration visit > Odoo Salesforce Connector Page or you can get in touch with us sales@pragtech.co.in