Odoo for Small and Medium Scale Businesses – Case Studies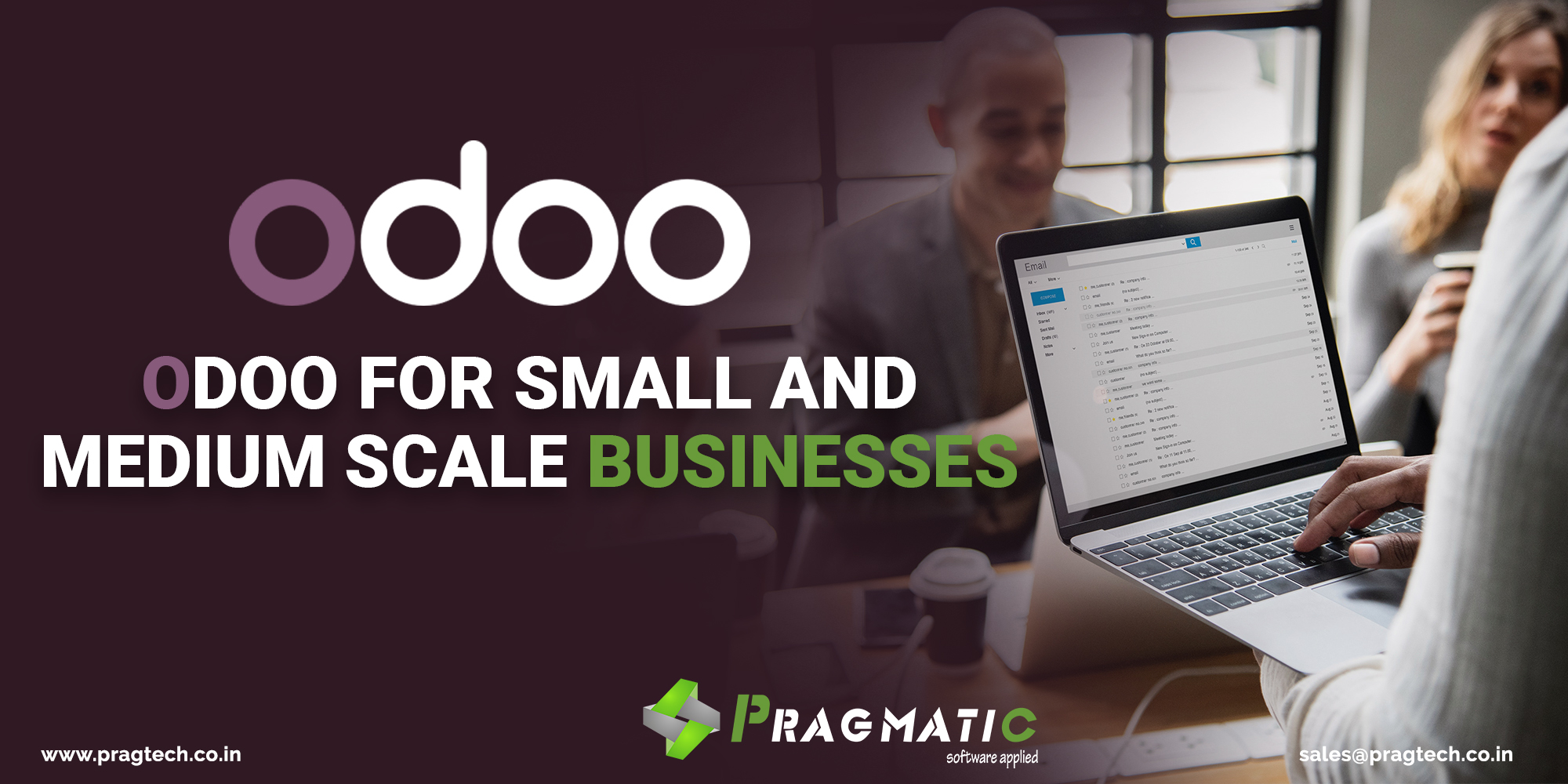 1. Inproma Improves Clients' Morale with an Integrated ERP
Industry: Employee Engagement Programs, Branded Products
Apps Implemented: Sales, Purchase, Inventory, Manufacturing, CRM, Website
The success of the numerous company programs Inproma tracks, in addition to maintaining the myriad of products they carry, required Inproma's president Regina Munroe to shift the way the business operates.
Initially, Munroe and her colleagues were using a number of programs to manage different aspects of the business. Munroe used QuickBooks for her accounting, but it lacked the features to make it a strong CRM. It also couldn't connect to Inproma's webstore. These splintered programs required duplicating data, replicating information, and even developing a custom dashboard in Microsoft Access to keep track of everything.
As an example of the repetition required to run the company, Munroe would have to create a contact in QuickBooks, then create that same contact in the CRM to document the information, before adding it once more to the dashboard in Access. Every instance the data was entered, an opportunity was created for a discrepancy between each different application.
Munroe was looking for an all inclusive program that could bring these disparate systems together. Netsuite, SAP, and others were among the first she considered adopting for her business. These systems did not fully appeal to Munroe and she kept looking for a better fit for the company. After a suggestion from an employee, she looked into Odoo.
Immediately, Munroe liked the look and feel of Odoo's open source ERP. To her, "It feels more modern," and not antiquated nor brimming with countless screens like some of its more expensive competitors. Through live phone support, Odoo's consultants were able to walk her through some industry challenges and prepare Inproma for the next step in its journey as a business.
Once Odoo was implemented, it simplified and streamlined the entire company's processes. No longer did Inproma have to replicate data or re-enter contacts. Odoo so streamlined Inproma's operations that Munroe was able to operate with one fewer employee.
Not only that, but by implementing Odoo she was also able to better understand her company's line of production. Now Munroe could, at a glance, see if the products were delivered, if an order was in process, or even if they were waiting for a customer's approval. It eliminated the need for Microsoft Access, thereby saving the company both time and money.
2. Borit Was Able to Reach Quality Norms Thanks to Odoo
Industry: Metal Production
Main Apps Used: Inventory, Purchase, MRP, Project, Accounting
Because of the accuracy needed in the business, Borits' customers are very demanding in terms of quality. As a result, the need arose to structure, optimize and standardize the internal business processes in the field of logistics, production, sales and administration.
This is why Odoo was considered the best choice for the entire logistics flow. Today, the entire production is driven by Odoo's MRP app, where they can fully trace the evolution of their engines. Thanks to those changes they were able to obtain the IOS 16949 quality norm of the Automotive industry. In other words, Odoo helped them reach a new position on the market.
Better Adaptability for Better Results
Borit also started using a few other tools, such as Odoo Project and Accounting from Odoo so that the pre-sales process could properly be followed and their finances better managed. By adapting as much as possible to the standards of Odoo, Borit managed to really quickly have a good working solution. The time of adaptation for the employees was minimal since the changes were reduced to a minimum thanks to the adaptability of the software.
No Licence to Pay, No Money Problems
The return on investment was clear to Borit, because of the low price of Odoo compared to the competition. Indeed, because there are no licences that need to be installed, the price of the implementation was easily optimized.
Very soon they were able to see a clear change with the new solution, and on the long term investment remains manageable since so much can be managed in-house thanks to the user-friendly design of the software.
3. Odoo Simplified Operations for Non-Profit, BIG, by Centralizing their Data Management
Industry: dangerous substances management
Main Apps Implemented: Projects, Timesheet, employees, leaves
Staff Management Made Effortless
BIG's staff management was simply chaos. They had their personnel's information spread over 3 to 5 different computer programs. For example, the time-sheets of the employees were not integrated in the schedule and an Excel sheet was used for the leaves management and team rotations. This resulted in multiple inputs and complex outcomes.
The centralization and integration of the various administrative processes was therefore important for BIG. Thanks to the solution Odoo offered they were able to reduce the number of entry errors and increase the quality of the data.
For example, the Outlook agenda was integrated with the Odoo system and the leave demands and approvals were centralized and managed within Odoo. With the central management of holidays and working hours, BIG is now able to use the data to establish the teams' schedules accordingly.
Efficient Work Management
One of BIG's tasks is the creation of technical chemical reports. Thanks to the implementation of Odoo's project management app, they were able to centralize the management of hours done by their employees and their objectives on specific projects. On top of that, they were able to standardize their project templates. This way, with a simple push of a button, projects and tasks can be created and managed.
4. EPC Power Makes Epic Products with Limitless Possibilities
Industry: Manufacturing (Electrical Equipment)
Key Apps Implemented: Accounting, CRM, Inventory, Manufacturing, Sales
It took some time for Bill Graham, the COO of EPC, to make the decision to switch to Odoo's enterprise resource planning software. In the mid 2000s, Graham had conducted his own research on ERP systems at a previous company he founded. He discovered a small, open source solution called OpenERP which would eventually become Odoo.
While Graham didn't implement OpenERP then, he kept it in the back of his mind knowing eventually the time and the business would be right for Odoo's modular approach. After joining EPC Power Corp., Graham knew it was a prime opportunity for Odoo to prove its mettle.
To manage the business, EPC Power started off with commonly used applications such as QuickBooks and Excel. While this solution worked, it was complicated, unintegrated, and produced errors. For instance, keeping track of inventory on a spreadsheet, whether products get sold or stock is acquired, also required manually producing invoices for sales and purchases on QuickBooks.
This is a difficult and time consuming procedure requiring double the work. Should any step in the process be missed, small inaccuracies can quickly become mismatched data. Finding an error like this can cost the company time and money as correcting the miscalculation severely reduces the employee's forward productivity. Graham knew he had to find a simpler and integrated solution.
An Open Solution
Having previously done some research, Graham already had Odoo in mind but thought to look into the larger, more well known solutions such as SAP. What he found with those systems was an outdated interface that was complicated, difficult to use, and not user-friendly. On top of that, it would prove to be too expensive for EPC, then a smaller company, to afford multiple users with many of the more expensive enterprise-class solutions.
"We looked at the functionality and realized the underlying functional value, combined with the cost, made Odoo the right choice for us"
Bill Graham, COO of EPC Power Corp.
Odoo proved to be exactly what they sought by being scalable, integrated, and more cost-effective (balancing features, connectivity, and value). When asked if Odoo's price point was enough by itself to convince Graham to use it he responded by saying that was not the case. Indeed, Graham states that "while the price was competitive, it wasn't the only factor. We looked at the functionality and realized the underlying functional value, combined with the cost, made Odoo the right choice for us." EPC Power found itself at a crossroads in regards to its business. At this pivotal moment, it was time to bring on Emily Phan.
EPC and Odoo
Emily Phan, Manufacturing Engineer for EPC Power, joined the team and quickly established herself as the leading force behind Odoo's implementation. Once EPC made the decision to go with Odoo, it was time to roll out the system company-wide. Using Odoo's Quickstart process, EPC's database was able to go live in February of 2018 and after six months became fully integrated with virtually all of their core operations.
EPC's use of Odoo is multifaceted and impacts many roles and workflows within the organization. Phan used a majority of Odoo applications right out of the box. Customizations, to perfectly fit EPC's unique business needs, came later in the form of field, menu, and report updates in Odoo Studio. Apps such as Inventory, Manufacturing, and Accounting are but a few of the tools that helped EPC grow out of their old spreadsheet methods. Managing inventory became a streamlined process, invoices were automatically generated, and the accounting features kept everyone in the company on the same page.
"[Our Business Analyst] helped a lot in bringing me up to speed with Odoo and answering the technical questions I had in the beginning."
Emily Phan, Manufacturing Engineer for EPC Power Corp.
According to Phan, making the switch to Odoo was a painless process but, as with switching to and integrating any new software, says there's a learning curve to getting used to Odoo. Thankfully, she was not alone in getting this system off the ground. When asked about their Odoo project manager and business analyst, Phan stated "Mateus helped a lot in bringing me up to speed with Odoo and answering the technical questions I had in the beginning." With EPC's success using Odoo, both Phan and Graham would recommend it to other companies.
Making Epic Products
The expertise EPC displays has caught the attention of larger manufacturers, such as Lockheed Martin, who use EPC Power's products in their own manufacturing processes. There is no doubt that the EPC is a powerhouse in this industry. As EPC moves from Odoo version 11 to version 12 and beyond, they can be counted on to continue making epic products that are "stable, powerful, and smaller than you ever thought possible"!
Do you want to take your business to the next level by being like one of the companies mentioned above? If yes, drop an email to us at sales@pragtech.co.in and have a chat with one of our Odoo experts to see how Odoo can fit your needs.