The Hidden Risks of Using Odoo without an AMC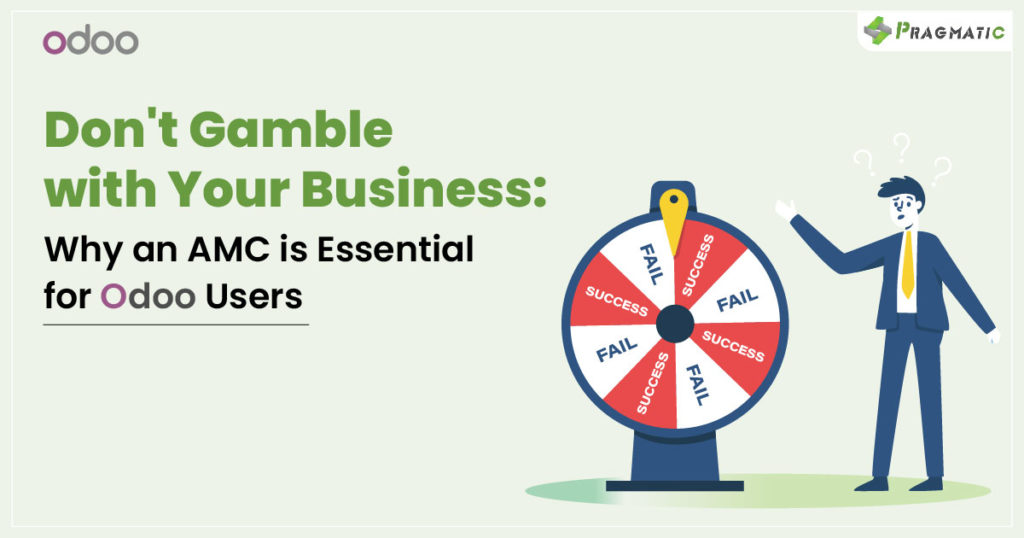 Let's Examine some of the most pressing problems you might encounter if you don't have access to an AMC.

Technical Support:
Without an AMC, you can't get in touch with Odoo's technological support team for help. Without it, you're on your own to figure out how to fix any technological problems that may occur. The technological intricacies of operating an Odoo business can make this a Herculean task. Getting help from a support team such as Pragmatic Techsoft, can help you save both time and money.

Error Management:
You can't get reliable error control services without an AMC, either. The absence of a dedicated staff to handle Odoo platform errors can have disastrous consequences. An AMC can assist you in monitoring and fixing these problems before they have a detrimental effect on your company.

Access Management:
Managing who has access to what in an Odoo installation is crucial. You will be unable to control who has access to what and in what groups without an AMC. This is a serious problem because it requires cautious management of user access to prevent unauthorized individuals from gaining access to private information.

Increased costs
Without an AMC, you may end up paying more for maintenance and upgrades in the long run, as you will have to pay for each service separately

Customization:
Odoo is a powerful platform that can be customized to meet the specific needs of your business. However, without an AMC, you will not have access to the resources that can help you customize the platform to your specific needs. This can be a major issue, as customization is often necessary to ensure that the platform is optimized for your business processes.


Updates and Upgrades :
Odoo is constantly evolving, with new features and updates being released regularly. Without an AMC, you will not have access to these updates and upgrades. This can be a major issue, as these updates often contain important bug fixes and security patches that can help protect your business from future threats.

The Potential Pitfalls and Headaches that come with trying to manage Odoo without proper support are simply not worth it. 
So, Save yourself the Trouble and Invest in an AMC today.
Signing an AMC with a trusted Odoo partner, like Pragmatic Techsoft, provides Peace of Mind.