Customizing Odoo to Fit Your Business Needs: Is it Worth the Cost?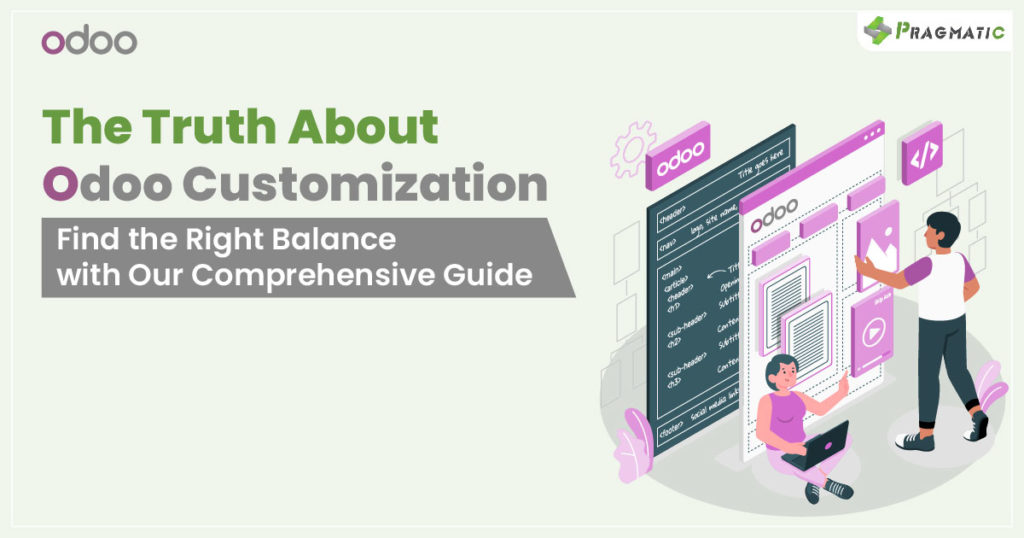 Why Customization Matters?

Customization is an essential aspect of any ERP implementation. Every business has its unique requirements, and a one-size-fits-all solution may not be enough to meet them. Customization can help tailor Odoo to meet your specific business needs, making it more efficient, user-friendly and valuable to your business.
Pros of Odoo Customization :
Improved Efficiency: Customization can help automate tasks, reduce manual effort, and streamline processes, increasing productivity and efficiency.
Enhanced User Experience: Customization can help make Odoo more user-friendly, making it easier for your employees to use the software and perform their tasks.
Competitive Advantage: Customization can give you a competitive edge by providing unique features that your competitors may not have.
Scalability: Customization can help Odoo grow with your business, ensuring that it can handle your business needs as you expand.
Cons of Odoo Customization:
Higher Costs: Customization can be expensive, as it requires additional development efforts and resources.
Longer Implementation Time: Customization can take longer to implement than using out-of-the-box features, delaying the benefits of Odoo.
Upgrades and Maintenance: Customization may require additional upgrades and maintenance efforts, which can be time-consuming and costly.
How do we determine If and When Customization is required?
Your Business Needs are Unique: If your business requirements are unique and cannot be met with out-of-the-box features, customization is necessary.
Your Business is Changing: If your business processes and needs change frequently, customization can help keep Odoo aligned with your requirements.
You Need a Competitive Edge: If you need a competitive edge in your industry, customization can provide unique features and capabilities.
Finding the right balance between customization and standardization is crucial to achieving the best results for your business. 
We recommend following these tips when deciding how much customization is right for your business:
Prioritize Functionality: Focus on customizing areas of your ERP system that provide the most significant benefits to your business processes.
Plan for the Future: Consider how customization may affect future upgrades and maintenance requirements when making decisions.
Work with an Experienced Partner: Partnering with an experienced Odoo implementation partner, such as Pragmatic Techsoft, can help you make informed decisions and achieve the best results for your business.
If you want to customize your Odoo ERP system, you need to choose a reliable vendor that can help you along the way and make sure everything goes well.
Pragmatic Techsoft, specializes in Odoo ERP Customization – helps create a system that aligns with your business processes and meets your specific requirements.
Contact our Odoo Gurus today to explore how customized Odoo ERP software may help you grow your business.