How Does Odoo 17's Unmissable Reminder Feature Ensure You Never Lose Track of a Document Again?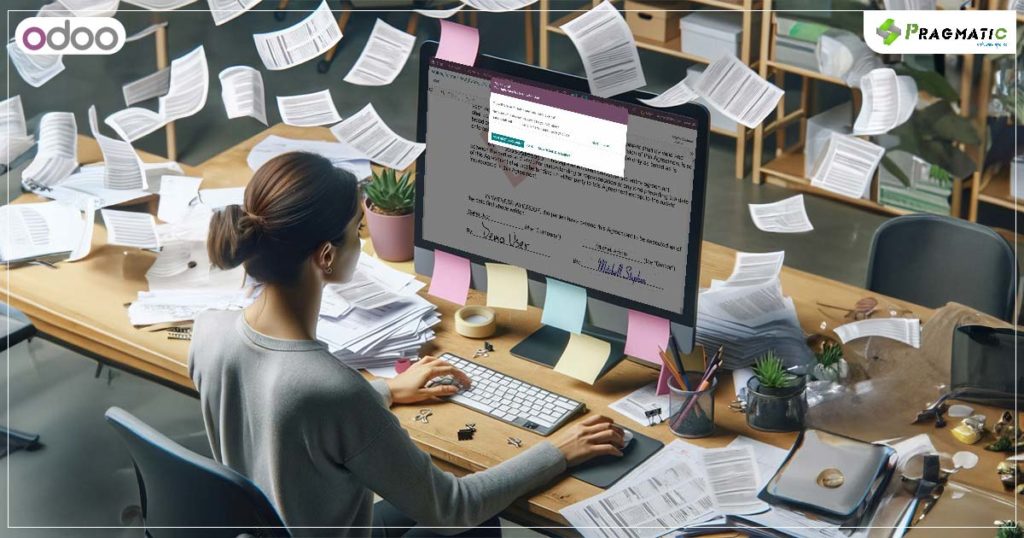 WHAT'S NEW IN ODOO 17'S REMINDER FEATURE?
Odoo 17 adds a touch of brilliance by allowing you to set reminders not just for tasks, but for documents. Especially handy for businesses using Odoo's Sign module, you'll now receive nudges for documents awaiting your signature.
Moreover, you have the freedom to choose how you want to be reminded – via email, a pop-up notification or an SMS. This personalized approach ensures that you get the reminders the way you prefer.
TAILORING REMINDERS TO YOUR NEEDS
With Odoo 17, you can tailor reminders to suit your business needs. Be it a customer invoice nearing its due date or a sales opportunity awaiting your review, setting precise time-bound reminders is now a breeze.
THE PERKS OF USING ODOO'S REMINDER FEATURE
1) Boosted Productivity
Automating your reminders means less time fretting over missed deadlines and more time focusing on core business activities. It's like having an extra set of hands helping you manage your time and tasks better.
2) Enhanced Customer Service
Never miss responding to a customer's request or following up on a lead. With automated reminders, you're always on top of your game, leading to happy customers and stronger relationships.
3) Fewer Errors
Forget about the hassle of missed deadlines or overlooked tasks. Odoo's reminder feature acts as your second brain, helping to minimize errors and save both time and money.
GETTING STARTED WITH ODOO'S REMINDER FEATURE
It's simple to set a reminder in Odoo 17 :
Open the document you want to set a reminder for
Click on the "More" button
Select "Add Reminder"
Pick the date and time for your reminder
Choose how you want to be reminded : via email, pop-up notification, or SMS
Hit the "Save" button
PRACTICAL USES OF ODOO'S REMINDER FEATURE
Here are some practical ways you can use this feature :
Set a reminder to follow up with a client
Reminder to send out an invoice
A nudge to review a contract
Reminder to renew business licenses or other compliance documents
A prompt to attend scheduled meetings
Reminder to sign documents
The Reminder feature in Odoo 17 is a simple yet powerful tool that brings a new level of organization to your business. With every reminder, it's not just about a single task or document; it's about steering your business towards a path of enhanced productivity and improved relationships.
Keep an eye on our website and blogs for more useful insights on Odoo 17 and how it can elevate your business operations. Our experts are constantly sharing blogs, tips and webinars to help you get the most out of Odoo.
Got questions about Odoo 17's reminder feature or need help migrating to the latest version? Reach out to us. At Pragmatic Techsoft, we're here to assist you in making your Odoo journey seamless and successful.