How to Customize the Dashboard Interface in Odoo 17 : A Step-by-Step Guide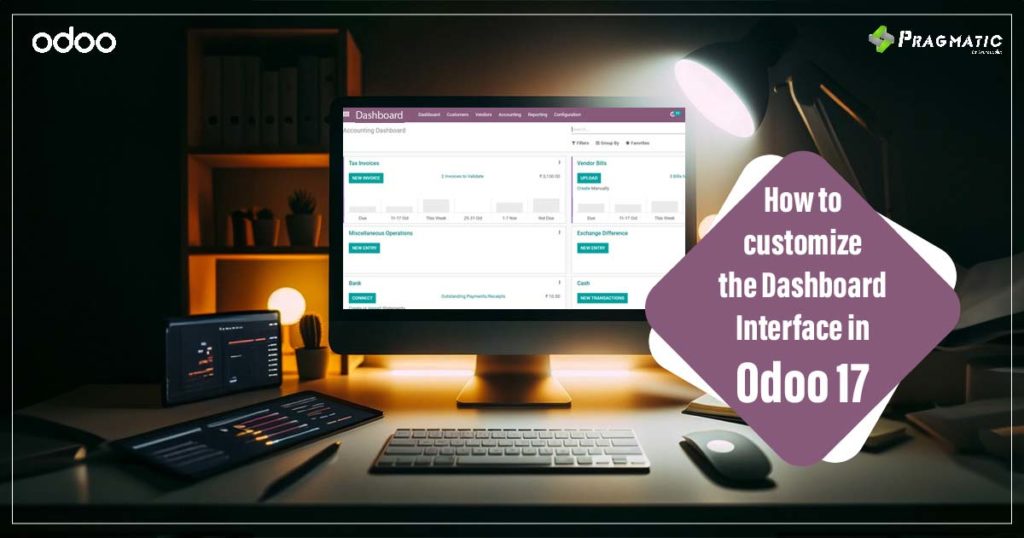 SETTING THE STAGE FOR CUSTOMIZATION
1) Familiarizing with Default Dashboard
Embark on this customization journey by understanding the default settings, modules and features Odoo 17 dashboard offers. A well-informed start is a precursor to meaningful customization.
2) Identifying Your Customization Goals
List down the modules crucial for your operations, the data you want at your fingertips and the aesthetic appeal you desire. By setting clear goals now, you can guide your customization journey to a successful end.
CRAFTING YOUR DASHBOARD
1) Navigating to Customization Interface
Go to Settings > Technical > Dashboard. Hit the Create button to initiate a new dashboard, name it aptly, and save.
2) Sculpting Your Dashboard
Hit the Edit button and let the customization begin. From adding/removing modules to adjusting the layout, drag, drop and design your dashboard to resonate with your business ethos.
WIDGET WIZARDRY
1) Adding Widgets
Drag widgets from the left-hand panel to the right-hand panel, positioning them as per your preference.
2) Configuring Widgets
Click on the Settings icon on your widget to delve into a world of configuration options, tweaking them to meet your operational requisites.
3) Widget Removal
Should a widget no longer serve your purpose, a simple click on the Delete icon in the top-right corner of the widget will remove it from your dashboard.
TESTING THE WATERS
Post-customization, engage in a thorough testing to ensure the dashboard aligns with your set goals, making adjustments as necessary for an optimal user experience.
Customizing the Odoo 17 dashboard isn't just about altering a digital interface; it's about aligning a potent business tool to your operational blueprint, ensuring a seamless interplay between technology and business processes.
Pragmatic Techsoft stands as a beacon of excellence in providing Odoo migration services, with a rich legacy of steering numerous successful migrations. Our seasoned Odoo developers are well-equipped to transition your data across Odoo versions seamlessly, ensuring business continuity and data integrity.
Keep your eyes glued to our website and blogs for deep dives into Odoo 17's offerings.