11 GOOD REASONS TO CONSIDER ODOO 'COOPERATE' SOFTWARE FOR COLIVING SPACES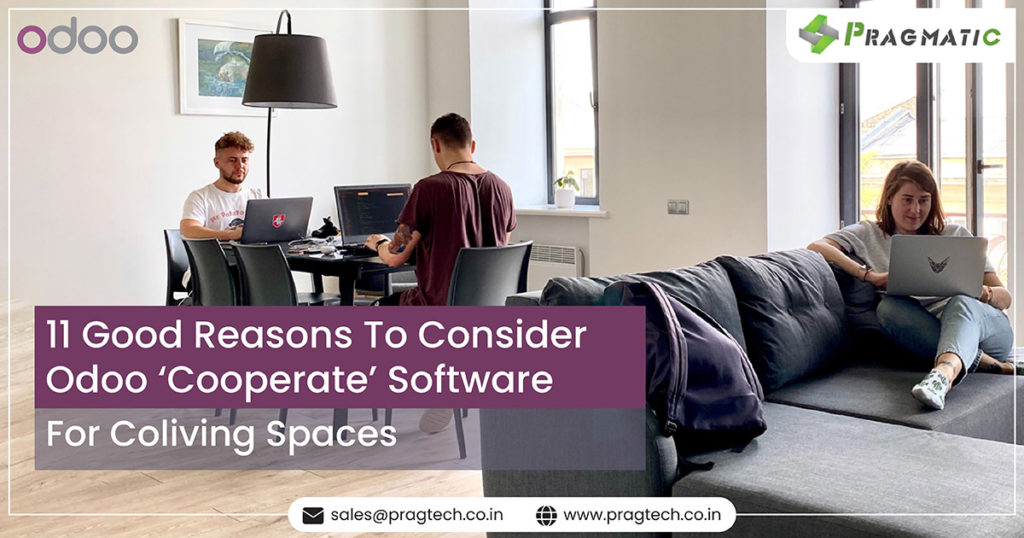 As coliving setups take center stage, a new way of life is emerging. Collaboration is at the heart of this thriving culture.
In other words, each coliving space is designed, communicated with, organized, and nourished in a way that nurtures the highest potential in every individual and community.
Around the world, coliving communities are becoming more popular as a means of facilitating individual and collective growth.
In order for this to be feasible, especially at scale, technology needs to be involved. By utilizing technology adequately, providers and residents can enjoy the best possible experience.
In fact, the whole point of coliving businesses is building communities and empower individuals to live with freedom. A coliving space management software automates leasing and property management tasks so you can achieve this goal.
Enter – Odoo 'Cooperate' Coliving Space Management Software
Developed specifically for coliving spaces, Cooperate is an intelligent and world-class property management system. This software supports 500+ plug-and-play apps and integrations.
It is designed to manage all the needs of coliving setup management, viz., tenant management, community building, complaints handling, employee management, and revenue management.
Cooperate is the best tool for optimizing your coliving space, whether it's a single location or a multi-location hub.
You can advertise your spaces better with an attractive website and allow members to book and register spaces, collect payments, and manage your business efficiently.
Using Cooperate you can find out how your coliving business is performing from a 360-degree perspective.
11 Reasons to Consider Odoo Cooperate for your Coliving Spaces
Streamline Conversations with WhatsApp All-In-One
Send important messages to multiple members in a single go. Maintain a single WhatsApp number for any communications with the management team. Coordinate among WhatsApp member groups.
A Simple Way to Manage Amenities
Gyms and cafeterias can be easily managed with our solution. POS tracking can be done in the cafeteria and gym where members can sign up for monthly meal plans.
Easier Revenue Management
Using our solution, you can see every expense and revenue made by your company, giving you a clear picture of the health of the company's finances. You'll be able to keep track of your costs through tax bifurcation of amenities and value added services provided by your co-living space.
Organize Rooms and Beds Inventory
Keep the database of your rooms, and beds in one place. If you want to change prices based on length of stay or price beds and rooms separately, the system can be customized to suit your needs.
Create Website/Mobile App for Branding
You can create amazing websites for your brand and engage prospects with them. Automate regular functions such as raising support queries, rent payments, or availability information.
Enable Tenant Community Networking
Create a vibe for your co-living tribe. Encourage tenants to collaborate and build a sense of community. You can provide your tenants with opportunities to interact with one another by organizing events.
Resolve Complaints in a Timely Manner
Provide an easy, intuitive and efficient complaint resolution system to your tenants. Route the complaints to the respective maintenance staff and track issue resolution. Take feedback on the resolution experience.
Automate Payment Collection
Provide tenants with the option of booking and paying their rent online. Generate monthly or daily bills and track invoice status. Accept cash, credit cards and bank transfers.
Set Housekeeping Schedule
You'll never have to worry about missing cleanings again and you'll be able to handle maintenance issues quickly with Odoo coliving software.
In addition to mobile browser apps, white-labelled apps can be developed for Android and iOS. Provide a mobile app for booking to your customers.
Lead Capture and Management
Manage leads throughout your sales and onboarding process by feeding them from your website, chatbot, or other online forms.
Best Coliving Management Software Solution with Users in 50+ Countries
Dashboard Overview: Odoo Cooperate coliving space management module is one of the best software to manage coliving spaces because it's easy to configure and implement. To get an overview of the dashboard or order a Free Demo, kindly click here
Features of Odoo Cooperate Coliving Spaces Management Software
Advantages of Odoo Coliving Property Management Application
Why Choose Odoo Coliving Management Software by Pragmatic?
We strive to provide the best solution for coliving space management in Odoo ERP for the changing requirements of the industry globally.
Pragmatic Techsoft has many years of experience providing software for coliving spaces in Odoo. We have helped coliving space establishments streamline their administration by providing the best Odoo coliving apps solutions. With our proven software products and technical support system, you can simplify routine tasks and focus more on the things that need your immediate attention.
If you are looking for an All-in-one Coliving Space Management Solution, click here to