Odoo POS lets you offer the kind of Customer Service your Guests will Remember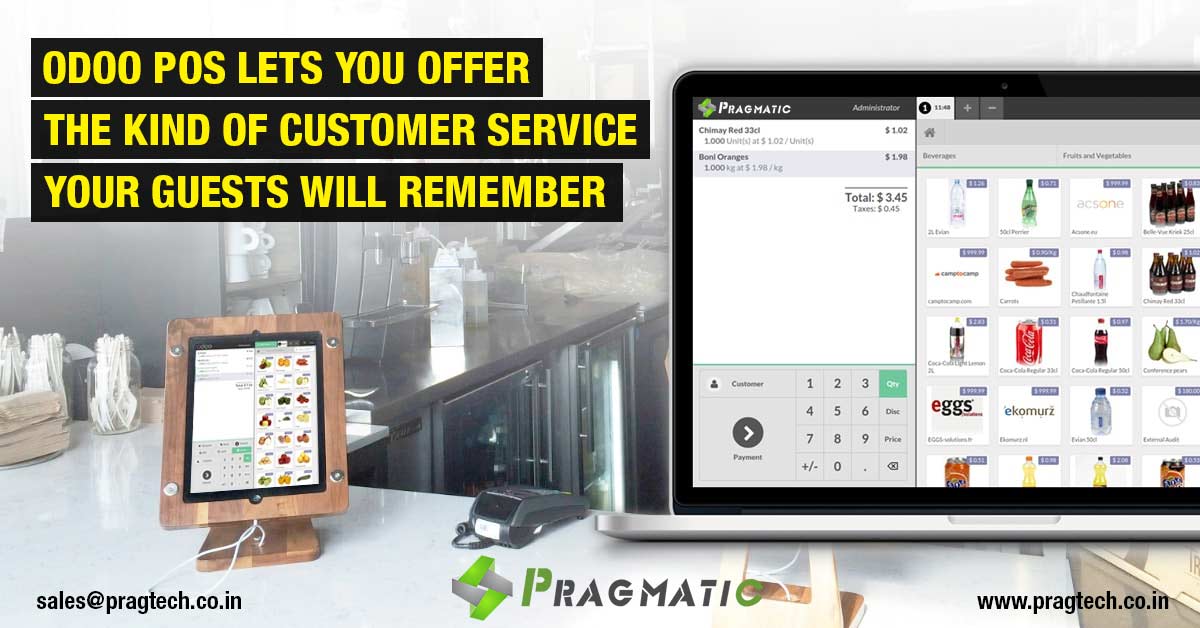 Odoo POS can be set-up in minutes to enable you to sell in seconds and it is compatible with any Device.
Features of Odoo POS
Easy to setup – Easy to use
Without any complex configuration, Odoo POS is easy to install and use, with its user friendly, beautiful and responsive interface, which work flawlessly and effortlessly with desktops, iPads & android tablets.
Powerful and Integrated
Odoo POS is a simple yet powerful app having integration with stock, accounting and other apps of Odoo. All transactions from POS directly affects your stock, without any extra efforts to manage it. When you open a store with Odoo POS, your products, orders, and customers, barcodes and discounts are instantly synced with your point of sale, so you never have to worry about updating two sets of inventory. You can identify your customers directly from the POS and also can create invoices with an ease and accuracy, allowing you synchronizing your accounting data seamlessly with great customer experience.
Flexible Payment Methods
Odoo POS allows you to configure multiple payment method, providing flexibility to the customer to choose their appropriate payment method. Getting a step ahead POS allows split payments between different payment methods, enhancing the payment experience of the customer to next level.
Engage your customers. Every customer.
Also let them coming back with amazing loyalty programs. Reward your Guests with points, gifts and discounts with Odoo loyalty programs. The whole process is fast and can be entirely automated. Identifying your customers is even faster with loyalty cards and customer barcode ids. Register your customers to keep track of their buying habits. You can then send them special offers and sale notices with Odoo Mailing. Register tax identifications for your business customers and give them invoices instantly (or send by email). With Odoo, you get a 360 degree customer view, including cross-channel sales, interaction history, profiles and more.
Connect all the traditional point of sale devices with the cross-platform hardware solution, POSBOX.
The posbox is a small device that allows you to use the same industry standard USB POS peripherals on every device (PC, Mac, Linux, iOS, Android ). Not only does it makes the setup easier, it actually lowers your costs. Plug your peripherals to the PosBox, connect it to your local network, and you are done. Restart your Odoo POS, and your peripherals are ready to use. Odoo POS will work with most USB Barcode Scanners, connected to the PosBox or directly on your computer. The PosBox is compatible with popular printer models like the EPSON TM-T20, the EPSON TM-T70, the EPSON TM-T88 and the Star TSP650II. Odoo POS can operate any EPSON compatible cash register. The PosBox enables Odoo POS to integrate with electronic scales. The product weight is read in real-time from the scale to your point of sale.
Everything your shop needs
Odoo POS is based on a smart interface that any retail company can use without difficulty. Because it's extremely flexible, you can configure Odoo POS to meet your precise needs.
Online or offline – Odoo's Point of Sale stays reliable even if your connection is not.
Set up new stores quickly and easily with just an internet connection. Then use your Point of Sale everywhere, anytime. While an internet connection is required to start the Point of Sale, it will stay operational even after complete disconnection.
Integrated Inventory Management – Real time control & accurate forecasts to manage procurements.
Odoo Inventory app automatically inputs any transaction from the POS in the stock. You can see in real time the availability of products without losing time. Furthermore, the POS is compatible with Odoo eCommerce. You won't need to set up separate stocks for the two apps and be a truly multi-channel business, without headache.
Print or Email Receipts
Give your guests an environmentally friendly option by offering to email them a bill instead of printing it. Still need paper ? Odoo POS integrates with a number of industry standard printers and peripherals for easy printing of a bill after a purchase.
Customize floor plans for your restaurant – A complete solution to manage bars and restaurant.
Create a floor layout that matches your restaurant seating. Need to quickly move some tables around? It's as easy as swiping. Insider Odoo POS, you can create or manage your floor plans, positioning tables on POS screen by simply drag & drop and create a replica of the actual floor plan of your restaurant.
Kitchen & Bar Printing –
New orders and updates can be sent to the kitchen or bar as soon as you encode them. The order instructions are automatically sent to the correct printer based on the menu item category.
The POS application is so simple and accessible to use that your shop or restaurant will never need any other tool to manage orders. Due to its smart and user-friendly interface you don't need any training to learn how to use it. Think of it as an out-of-the-box solution to boost your business' productivity. To know more, get in touch with us at sales@pragtech.co.in