Manage Project Resources & Progress Easily with Odoo Project Management Apps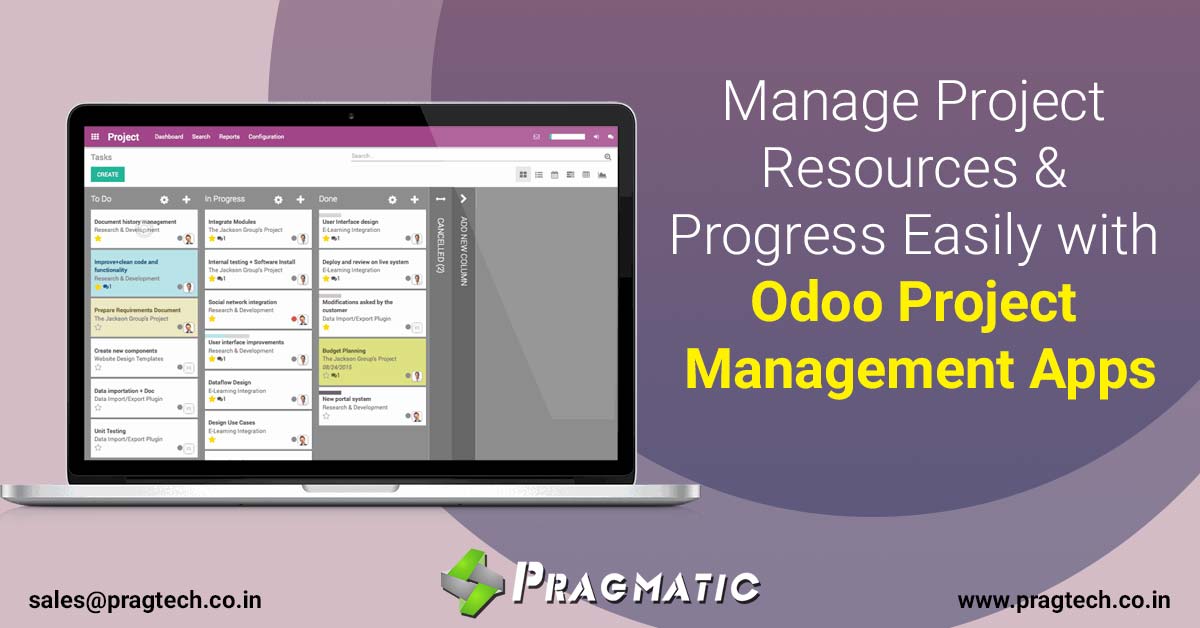 Odoo's Project Management App will help you to manage a lot of projects with people working around the world.  Using this you can efficiently manage tasks for customer projects as well as our support issues in real time, agile, social and flexible way. In this different views are designed to fit your own needs: work on tasks and issues using the kanban view; schedule tasks in the Gantt view (enterprise); control deadlines in the calendar view.
Keep track of everything, from the big picture to the minute details, from the customer contract to the billing. Task Management with alerts to stay up to date with all that interests you, with collaborative writing to work on the same task at the same time, with task delegation and a chatter to work together. It automatically creates new tasks and issues from incoming emails, allowing you to collaborate easily with customers.
Top 5 Odoo Project Management Paid Apps
1. Gantt Native Web view
It is the main UI Gantt Module. It is only the web gantt framework. It is the main cost dependence module. To find out how it works, you need to look at project module. Get project module and MRP/Manufacture – it is a free part of Web Gantt Framework.
2. Website Helpdesk Support Ticket and Issue Management
This module allows you to manage your customer support ticket, ticket portal, billings for support, timesheets etc. This app is only for odoo community edition. Your customer can send support ticket/helpdesk request from your website and also attach documents. Generation of unique ticket on submission and record it as ticket in backend.
3. Budget for Job Contracting and Construction Projects
This app allow you to create and manage budgets based on analytic account/project for job contracting and construction.
Main Features – 
Allow you to create a budget for your project/jobs/construction contract.
Automatically synchronization with Job Cost Sheets for your projects.
Give real picture of actual purchase, vendor bills, Timesheet on budget form based on material, labour and overheads.
You have to configure Budget lines by Job, Job Cost line which will show you Planned amounts of material, Labour and overheads.
Allow you to view material, labour and overhead actual amounts spent vs planned on budget form.
Reporting/Pivot view of budget analysis.
You can create budget for multiple job cost sheet and job cost lines.
Budget lines allow you to see Planned and Actual Amounts and Qty's.
4. Project Job Costing (Contracting) and Job Cost Sheet
This module allow you to manage any type of Project/Contracts with its job costing (contracting) and job cost sheets.
Main Features:

Allow you to create job cost sheets for your projects/contract.
Allow you to have Project/Contract with Job orders.
Allow you to create Project/Job Notes.
Allow you to create Job Order Notes.
Allow you to manage material requisition for job orders.
Allow you to set BOQ for Jobs.
Allow you to configure/setup Material, Labour and Overheads on jobs cost sheet where you can plan for your different jobs of your project/contract.
Allow you to have multiple job cost sheet for single project/job/contract.
PDF reports for Job Cost Sheet and Job Orders.
Job Types setup for different types of job you are doing for your customers.
Custom job stages for your job orders.
Allow you to setup your subcontractors.
Allow your employee/workers to fill timesheet based on job they are doing and allow to select job cost center on timesheet lines/activities.
Materials Requisition / BOQ request and manage. This also allow on the fly creating purchase orders from Materials Requisition / BOQ.
Unique sequence for job cost sheets.
Create subtask/sub jor orders for main job order/task.
Manage material planning and consumption per job order (Manually).
Gives complete idea about your planned cost and actual cost since system allow you to setup planned amount for materials, labour, overhead on job cost sheet and at the same time show actual amounts showing on cost sheet automatically. This actual amount is based on linking purchase order, vendor bills, timesheets where system allow you to select Job cost center and Cost line on Purchase order, Vendor bills and Timesheets.
Main feature of this actual cost is that if you do not select Cost line on Purchase order, Vendor bills and Timesheets then system will crete/add new cost sheet line under that job cost center on confirmation of document.
5. Job Card
Job Card for Worker / Technician / Users / Machine Operator.
This app allows you to have job card with all the details related to that job along with instructions to do job. Your Worker / Technician / Users / Machine Operator / All Types of Job Workers can access job card in Odoo and see details and instructions. They can also fill Timesheet in time card tab available on Job card.
Main Features:
Job Card form and list view for your users/operators.
Wokshop Team on Job Card.
Quality Checklists on Job Card.
Instructions on Job Card.
Cost Sheet on Job Card.
Job Card on Material Requisition.
Material Requisition on Job Card.
Job Invoice Line on Job Card.
Timesheet on Job Card.
Print a pdf report for Job Card and Cost Sheet on Job Card.
Top 6 Odoo Project Management Free Apps
1. Web Gantt View for Project Task in Odoo Community
This apps helps user to view web gantt view for project task in Odoo Community version/Edition.
Task Wise Gantt View with Days – User can see gantt view for project task with days.
Attractive Gantt View for Project – Attractive gantt view for project and task.
Display Start Date and End Date – User can see start date and end date of task by focusing on the task on gantt view.
Gantt View for Project Task
User can see gantt view for project task day wise. Also user can see start date and end date while hovering the task.
2. Project timeline
This module extends the standard tasks and projects actions to add the timeline view to them, and also adds the needed fields in the view for handling them.
Usage
Go to Project > Search > Tasks or Project > Dashboard.
Click on the icon with a clock.
You will see the tasks or projects in the new view.
3. Project Report XLS & PDF
This module enhances the project management with intuitive reports. Reports consist of task details with respect to the selected project. The user can use the filter facilities from report wizard to get the optimized reports.
Features
PDF Reports in Project.
XLS Reports in Project.
Detailed Report on Tasks.
Advanced Filters for Report.
4. Mediocre DHX Gantt
With the integration of DHX's Gantt chart in Odoo, the goal of this project is a full integration of the Gantt chart with Odoo. Since Gantt chart is an essential tool for project management, including one in Odoo will make it compete with older and more fully featured Project Management applications. Companies whose main work is projects like construction companies, tend to not accept Odoo easily over other well known PM apps. Thus, it must be done sooner or later to enter that market (Project Management).
5. Project – Set Team and Members
This module is developed to set project team members. You can configure the project teams from 'Projects team' menu under configuration of projects.
Once you select the relevant project team, you will get the associated team members automatically assigned to that project team.
6. Project Task Timer
You have a smart button to start & stop your task. When you start your task, it will automatically process a time sheet entry for that particular task with starting time. When you toggle it to pause, the task end date will be updated and the duration gets automatically calculated.
No additional configuration required and in terms of features, it has a timer in task and an automatic timesheet calculation.
These are the top 10 Odoo Project management free and paid apps available on the Odoo App store. You can get in touch with us and we can help you download and setup the app for you. Drop in an email to us at sales@pragtech.co.in