Odoo Unified Payment interface UPI Payment Gateway (Gpay, Paytm, PhonePe) Integration for Odoo eCommerce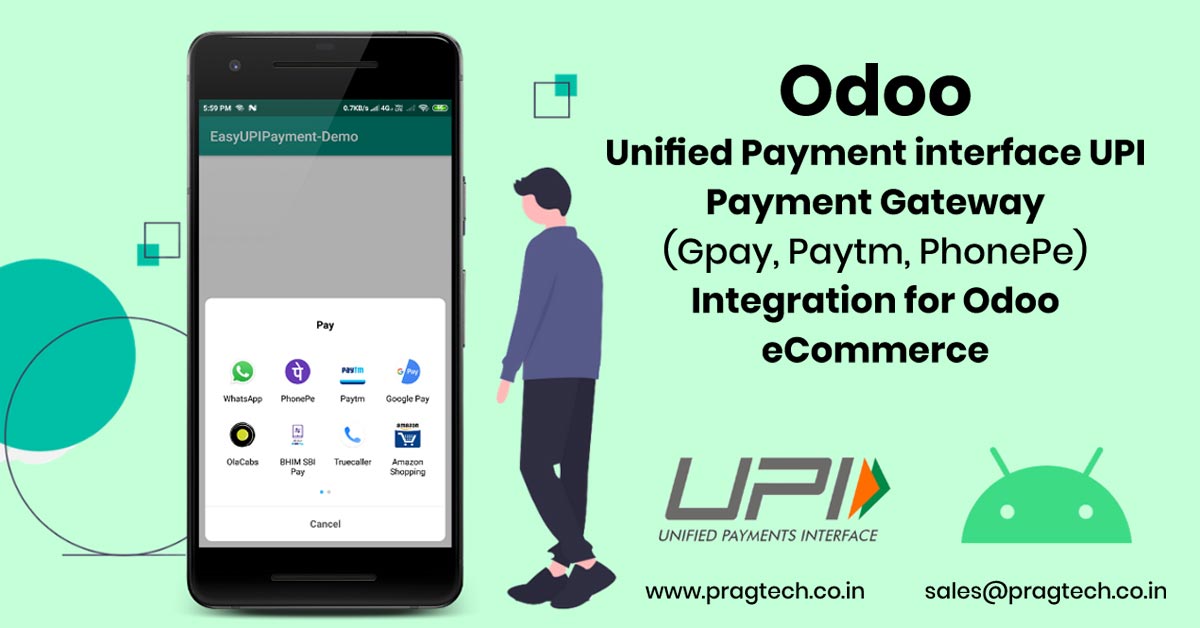 Odoo eCommerce provides an easy way for businesses to setup an online presence. Unified Payment Interface UPI has become a standard and preferred medium of payment for customers in India. Pragmatic has developed this app so that Customers can pay using this facility on their Odoo eCommerce stores. This app supports payments from Odoo website using UPI QR Code and UPI Apps.
Prerequisites and Steps to be followed.
1. Users should have a Business UPI account in order to receive payments through odoo website. If you do not have the Merchant id, customers could pay only using QR codes.
Update your Merchant / Business UPI ID in the VPA field and Receivers Name in the Receiver field.
Now you're all set to start your ecommerce cart payments using UPI.
2. Go to Odoo website and add products to cart. Complete the checkout process and select 'UPI Payment' payment method.
Once you select the payment option you will see image(a) when accessing the website from the desktop browser and image(b) and image(c) from the mobile view.
1) image (a)
And Scan the QR code using the UPI App and Make the payment from it.
2) image (b)
When you click on the 'CLICK HERE TO PAY THROUGH UPI' (This button is visible only if odoo website is opened in Mobile view) button you will get the UPI Apps present in your mobile as shown in image(c) and using them you can make the further payment.
3) After the successful payment the user needs to add their UPI Transaction ID or their Name in the given text box and click on confirm. Order will be placed and will be confirmed by the operation user manually after verifying the payment.
4) You can track the sale order and its transaction from the backend.
The UPI Transaction ID or Name updated by the user will be saved in the 'Acquirer Reference' Field in the transaction record as shown below.