POS Features That Will Make Your Retail Business Thrive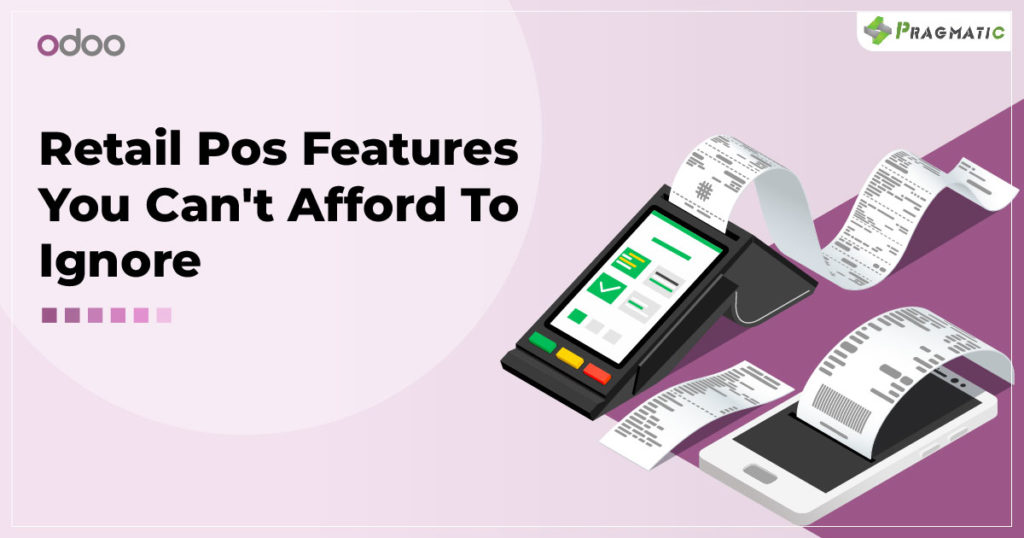 1) User-Friendly Interface : 
The Best POS is one that has a straightforward interface which can be easily used by everyone from consumers to cashiers. It has to be flexible so that the system can be adapted and changed as per the needs of the business.
2) Multiple Payment Methods/Split Payments : 
A POS system that takes forms of payment other than cash and credit cards is essential. Customers should be able to utilize many payment options in a single transaction, and the system should support this.
Shopify discovered that 56 percent of customers have come to expect merchants to accept several forms of payment, with credit and debit cards being the most common. Even more impressive is the fact that 33% of customers favor using mobile wallets whenever possible.
3) Inventory Management : 
A POS system should have robust inventory management capabilities, including the ability to track inventory levels, set reorder alerts and view real-time stock availability. This feature is especially crucial for businesses with high product turnover.  Synchronizing your inventory, sales and order requests between your physical and online stores is essential for businesses that operate in multiple channels. This feature helps ensure that your inventory is accurate and up-to-date, regardless of where a sale is made. 
4) Sales Reporting and Analytics : 
In-depth analytics and reports on sales activity are an essential feature of any respectable point-of-sale system. The system has to deliver statistics on things like best-sellers, average order value and customer information.
5) Offline Mode :  
A Reliable POS system should have an offline mode that allows businesses to continue processing transactions even if the internet connection goes down. This feature is critical for businesses that operate in areas with poor internet connectivity.
6) Integration with E-commerce Platforms : 
For businesses that sell both online and in-store, it is essential to have a POS system that integrates with e-commerce platforms. This feature allows retailers to sync inventory, sales, and customer data across all channels.

7) Automatic Discounts :
A POS system should have customer management capabilities that allow retailers to store customer data, view purchase history. It should have the capability to automatically apply discounts and promotions from the Ecommerce store to applicable orders at checkout. This feature helps retailers offer consistent pricing and promotions across all channels. 54% of consumers are more likely to make a purchase if they receive a personalized discount or promotion.
8) Customer Relationship Management :  
A streamlined CRM tool that tracks all your customer data is essential for any retail business. A points-based loyalty program that rewards your best customers can also be integrated to boost customer retention. With this function, stores can strengthen relationships with their customers and inspire greater loyalty.
9) Camera Barcode Scanner : 
Barcode scanners can help with tasks like counting inventory, but some merchants want less hardware on their checkout counter. A camera barcode scanner eliminates the need for additional hardware and can still accurately scan barcodes.
10) Strengthen Efficiency :
A POS system that leverages staff confidence can improve efficiency. With thumbnail images of products on the POS screen and smart categories to identify and add products, employees no longer need to memorize prices and product names.
11) Retail Business Intelligence : 
As a retail business owner, it's essential to know what products are selling, how much inventory you have on hand, and who your best customers are. A POS system that provides comprehensive data analysis and reporting can help you make informed decisions about your business.

Any retail establishment would be wise to think about the aforementioned aspects when deciding on a point-of-sale system.
An Excellent example of a POS system that provides most of these features is Odoo, which is widely used in the retail industry.
Pragmatic Techsoft implements custom POS systems for businesses. Their knowledge makes them a great partner for retail system upgrades.
Want to unlock the secrets to success in the Tech Industry?
Follow Pragmatic Techsoft for Game-changing Insights and Strategies that will help you get there faster!