Manage all Social Marketing Channels Seamlessly in Odoo 13
Fabien Pinckaers, the mastermind behind Odoo ERP announced on Twitter the list of new apps in Odoo 13, social marketing being one of them. This comes as good news to the marketers as it will make their tasks easier and faster.
Odoo 13 has made it easier for marketers to do their jobs on the social media front. With Odoo 13, they will be able to post their creatives on social media from one single platform. They can manage and maintain social media streams of Facebook, Twitter, LinkedIn and Instagram from one single screen.
The best part is scheduling of content posting on various channels can be done within Odoo. Even social media can be integrated with Odoo 13 CRM, with just a few clicks.
With the social networking features module, the user can allow for adding/removing friends, discussing on groups/pages with advanced permissions control (eg. define admins, moderators, users, etc.), friend-to-friend chat, group chats (between frontend users who've added each other), user feeds/timelines, etc.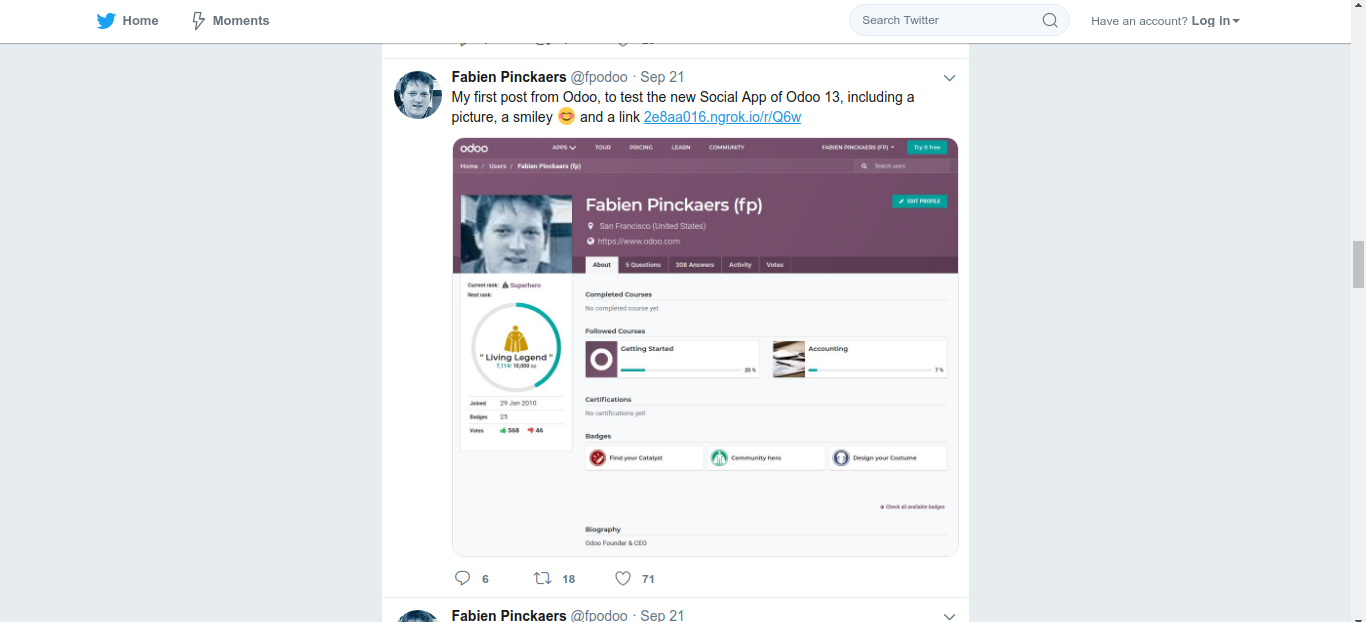 With the social media app, you can manage your social media accounts in one central location. The below given features can be executed from the social media app –
 Start individual social media campaigns
 Integrate your social media profiles directly into Odoo
 Stay in touch with your followers
 Manage your feeds
 Integration of: Twitter, Facebook
 Extend your range!
Given below are some screenshots of the how the social marketing dashboard looks –
Social Marketing Dashboard (overview of your social media accounts)
Another timesaving feature of the social media app in Odoo 13 is that the user can post, like and comment directly from the Odoo App.
All this and more coming to the brand new Odoo 13.
In case you have any requirements related to setting up an ERP for your business, do let us know at sales@pragtech.co.in