Odoo 13 Flaunts a New Gamified HR Referral App
Odoo 13 has come up with an easy way to source more resumes, find the best talent, and build a successful business culture with the HR referral app. It enables you to refer your friends and earn rewards for your good referral or when the company hires the person your referred.
The best part is that Odoo has gamified the entire process. They feel that referral plays a very important role when it comes to hiring the best possible talent and also the process should be fun and motivating for the current employees.
It all starts with a window where the admin can devise his own strategy to gamify the referral process. Odoo has given us an example of how the referral process can be gamified. They have played with the words where they say that villians are lurking the city and asking the employees to recruit a team of superheroes to save the day for them.
Have a look!
Next, comes your avatar. When you login and create a new instance, you are given an avatar which is a normal person without any superpower pieces of clothing like cape or headgear. As you go on referring people and your referrals get selected, many superpowers will keep getting added.
You will be able to see if there are any open positions in the company on the referrals dashboard and can email the job opening directly to your friends. See the screenshot below.
You can refer friends from your mobile also. Open the app, search for the said job on mobile and email it to your friends or share it on your social media. If your friend applies through your link, that person will directly be assigned to you under your name.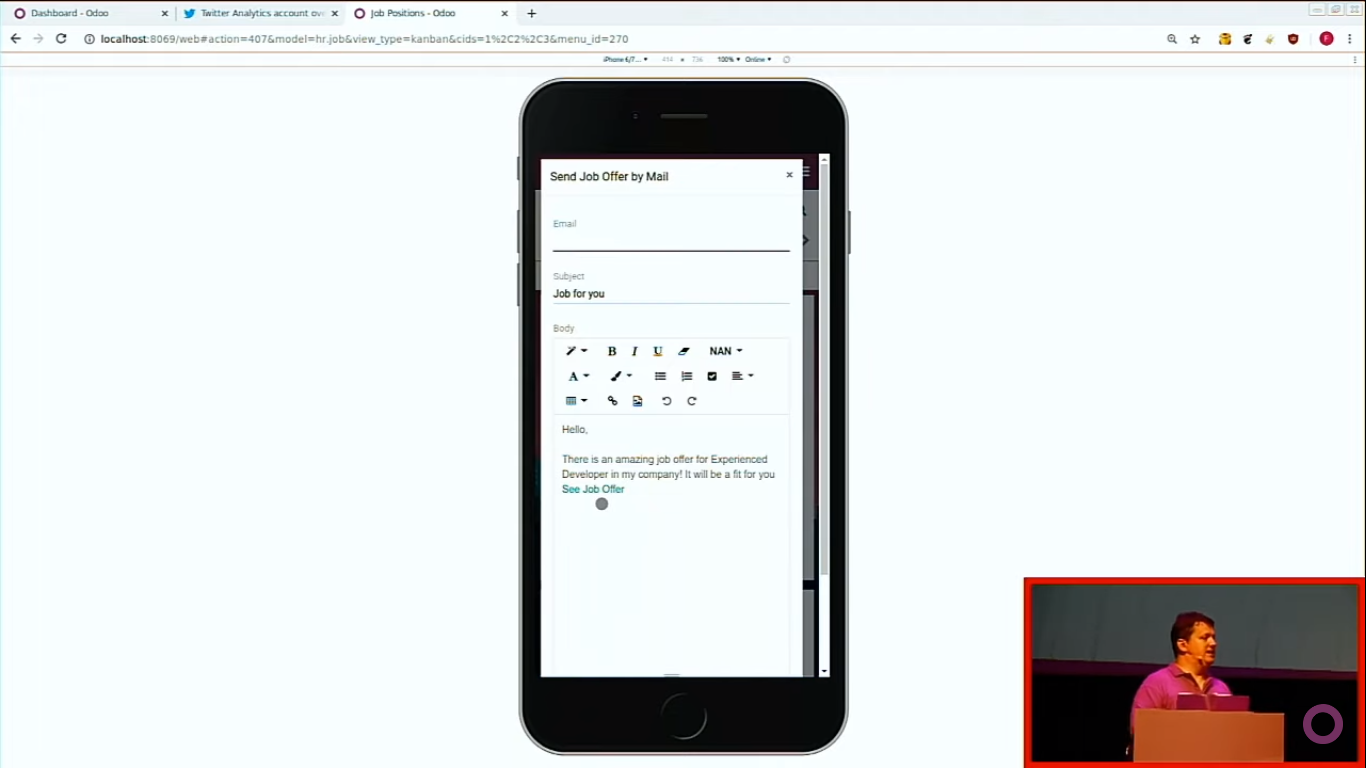 The progress of all the friends your referred are clearly seen on the referral dashboard so that you don't have to go asking your HR about the status of each.
Once the candidate clears the interview, you will be rewarded with some points with which you will be able to claim your rewards.
Once your referred candidate gets selected, Odoo 13 gives you the ability to choose an avatar image for your friend and add it as a team member of your gang.
This is how referral app works in Odoo 13. With this app you can increase the speed of hiring with new age recruitment solution. Create referrals, track it and reward it. That's perhaps the oldest and most trusted strategy. New HR referrals app exactly let's you do that but in a new gamified way.
In case you want to get Odoo 13, or you want to use the referral app in your organization, you can get in touch with us at sales@pragtech.co.in