Odoo Construction Management System
Pragmatic's Odoo Construction Management system consists of following features:
Project Planning & Scheduling
Work breakdown structure  (tree structure)- hierarchical and incremental decomposition of the project into phases, deliverables and work packages.

Critical path method (CPM) – List of project activities, duration for each activity, dependencies between the activities, milestones.

Resource management – activity resource estimation, financials and project,  human resource management.

Resource leveling-  smoothing the stock of resources on hand, reducing both excess inventories and shortages ???.

Controlling – Multi Level approvals of each transaction and several control points whenever needed

Budgetary control – to control the resources, motivate managers to strive to achieve budget goals, for better accountability
Project Execution
Resource Indents – requisition/indent for material or services.

Work inspection – monitoring of actual work completion at site and the payment linked tasks work completion???

Change orders – Changes in scope of work.

Review payments – Accounts payable, Accounts receivable of the stakeholders

Quality control – workmanship, and the approval systems

Daily reports – daily insights of the projects

Petty cash management – Misc. Expenses on projects with budgetary control

Inventory Management – schedule base delivery, PO based material receipts, inter site transfer
Vendor Management
Vendor Registrations – vendor information with status like Active / on trial / Suspended / etc.

Request for quotations – Request vendors to raise the quotation against indent/requisition

Quotation comparisons – Multi vendor quotation comparison and approval for Purchase Order

Orders & Invoices – vendor wise order details, invoices and payment details.

Tender Management – Raise tender, enquiry, estimation from vendor, bid management, rating, etc.
Advanced Reporting
Project Management – Category budget report, Gantt Chart report for project planning, Project Summary

Purchase Management – Purchase order summary, Purchase bill summary, Short supply report (pending shipments from vendor), Unbilled GRN (material received but bill not prepared), Purchase analysis.

Contracts Management – Work Order (WO) summary,  RA bill summary, Incomplete work report (pending WO), Contractor payments report.

Tender Management – Enquiry, vendor estimation, comparison of bidding, rating, etc.
Project Definition:
Record all the construction project related information on Project form. This information contains project specific details like Construction Area, Project sanction information, Sub-Project information, Project related document uploading
Project WBS:
Project WBS is Work Breakdown Structure.Here we can define required resources i.e. Material and labour for particular Project. Also we define actual and planned start and finish dates here.
Task:
Resources like manpower, equipment's and materials which can be added in task.
Project budget:-
User can define task category wise – budget, so while confirming work order it does not allow excess amount more than the budget allocated.
Project Gantt Chart:
Features Of Gantt Chart:
Every element is editable from gantt chart, Zooming option, Manage task status, Manage dependencies, Full undo-redo support, Supports N-levels.
Purchase Management:
In Odoo Material (products) requisition – Once user click on search button with all necessary filters requisition lines gets auto populate from estimated material in project WBS.
Allow to compare multiple quotations and approves particular vendor to raise purchase order.
User can create purchase order by selecting approved requisitions, validations to avoid order more material than specified in requisition
Creates vendor bills along with information of project,WBS, subproject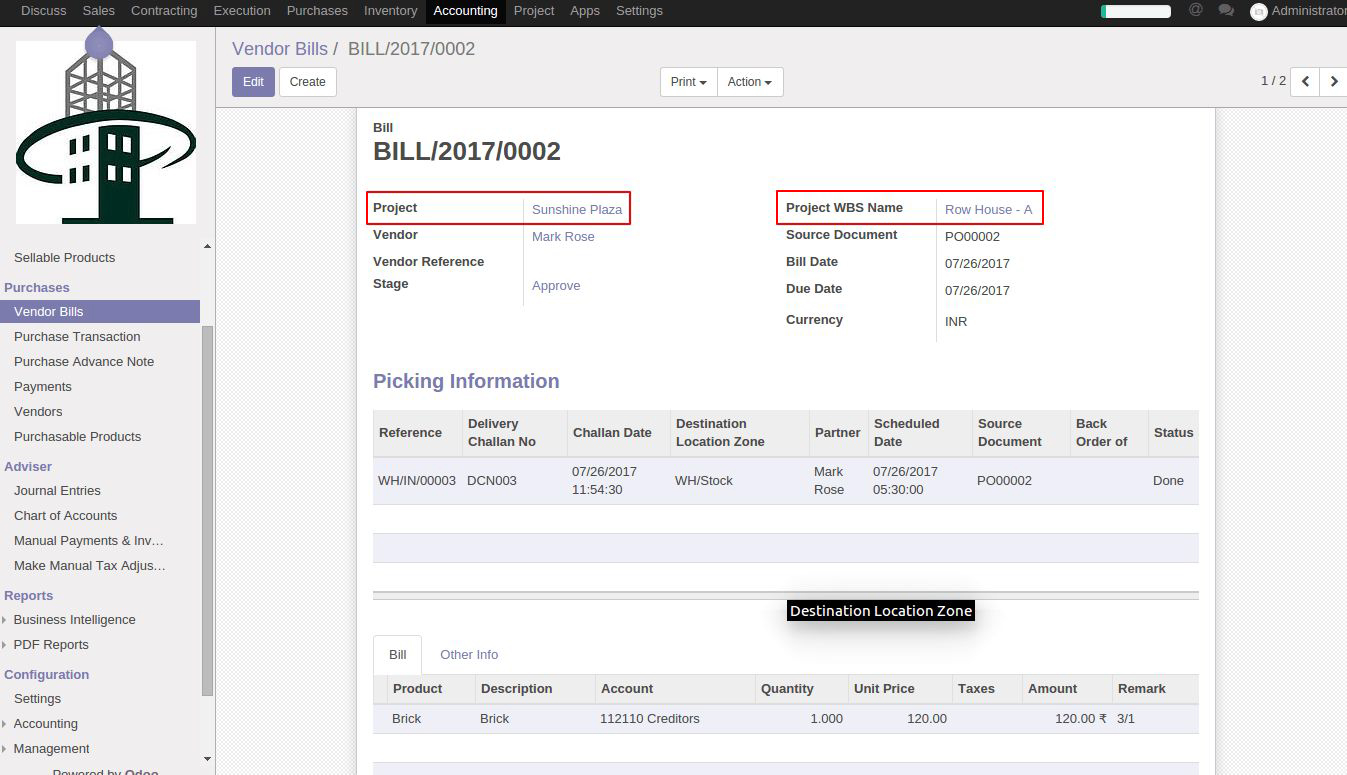 You can see various analytical report like unbilled GRN (Material Received but Bill not Prepared)
Subcontracting Management:-
User can create Work order by selecting approved labour requisitions to avoid raising of work order beyond the available budget.
Task Completion  – Allow to do Completion of tasks specified in WO's payment schedule.
RA Bill- Allow to create running account bill i.e.RA bill if there is task completions by considering debit,credit,advance transactions and recovery of same
Advance, credit, debit recovery can be done in RA bill which user can see as balanced recovery, total amount of transaction etc.
Tender Management System :
Pragmatic's Tender management allows user to create tenders, tender enquiries, set eligible criteria for bidders, bidder rating, tender estimation and computes top bidder from their rating.
Bidder can create enquiry against tender and system allows to put technical, financial eligible criteria, related questions and rating.
Tender estimation