Top 5 Ways Odoo v17's Inventory Module Organizes Your 3D Print Preparation Workflow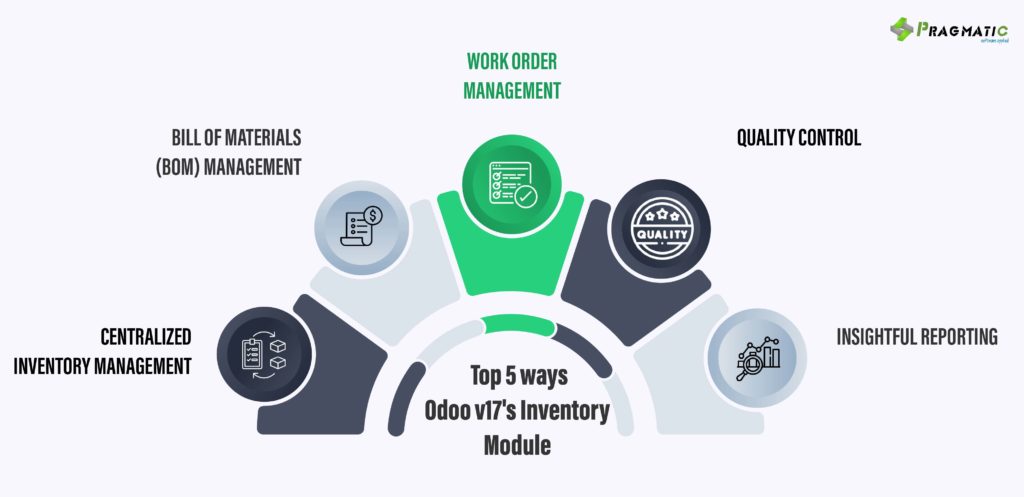 1) CENTRALIZED INVENTORY MANAGEMENT 
Think of this as the central station of your 3D printing city. Odoo 17 provides a unified point to manage all your materials—from filaments to nozzles. Track your inventory levels, set reorder points, and generate reports effortlessly. It's about having what you need, when you need it.
2) BILL OF MATERIALS (BOM) MANAGEMENT
Before any project, having a clear list of what's needed is crucial. Odoo v17 lets you create and manage Bills of Materials for individual or batch 3D prints. It's like having a clear recipe before baking a cake, ensuring you have all necessary materials before pressing 'print'.
3) WORK ORDER MANAGEMENT
Odoo v17's work order management is like your project planner. Create and track work orders for individual or batch prints, ensuring tasks are completed on time and to your specifications. It's about keeping your printing projects on track and well-organized.
4) QUALITY CONTROL
Quality is the hallmark of excellence. With Odoo 17, track the quality of your 3D prints, spotting issues like print failures or dimensional inaccuracies early on. It's about catching the little hiccups before they become major headaches.
5) INSIGHTFUL REPORTING 
Odoo 17's reporting system is your city's news reporter, providing insights on inventory levels, BOMs, work orders and quality control. It's about staying informed and continually refining your processes for better outcomes.
STEP-BY-STEP GUIDE TO 3D PRINT PREPARATION WITH Odoo V17
Step 1 : Start by creating a centralized inventory of all your 3D printing materials.
Step 2 : Prepare BOMs for your 3D prints to ensure you have all necessary materials.
Step 3 : Create work orders for your 3D prints to keep your projects on schedule.
Step 4 : Utilize Odoo's quality control system to track the quality of your 3D prints.
Step 5 : Generate reports to gain insights into your workflow and identify areas for improvement.
Odoo v17's Inventory Module is your companion in organizing a seamless 3D Print Preparation Workflow.
HOW PRAGMATIC TECHSOFT CAN ELEVATE YOUR 3D PRINT PREPARATION WORKFLOW
Pragmatic Techsoft, with its extensive experience in Odoo, can help you implement Odoo v17 and tailor it to meet your specific needs. From managing your inventory of 3D printing materials, creating and managing BOMs and work orders, implementing quality control systems, to generating insightful reports, we are here to ensure your 3D print preparation workflow is streamlined and efficient.
Choose Pragmatic Techsoft for Your Odoo Migration – With a proven track record, our team of experienced and certified Odoo developers ensures a smooth migration to Odoo v17, letting you harness the full potential of its new features.
Our comprehensive Manufacturing module is your one-stop solution for managing the entire manufacturing process, ensuring a seamless transition from material procurement to the final print.
Stay tuned to our website and blogs for more insights on Odoo 17, propelling your 3D printing enterprise towards operational excellence!