THE 'EXTRA-ORDINARY' FACTOR IN REPAIR SERVICES: ODOO REPAIR MANAGEMENT SOFTWARE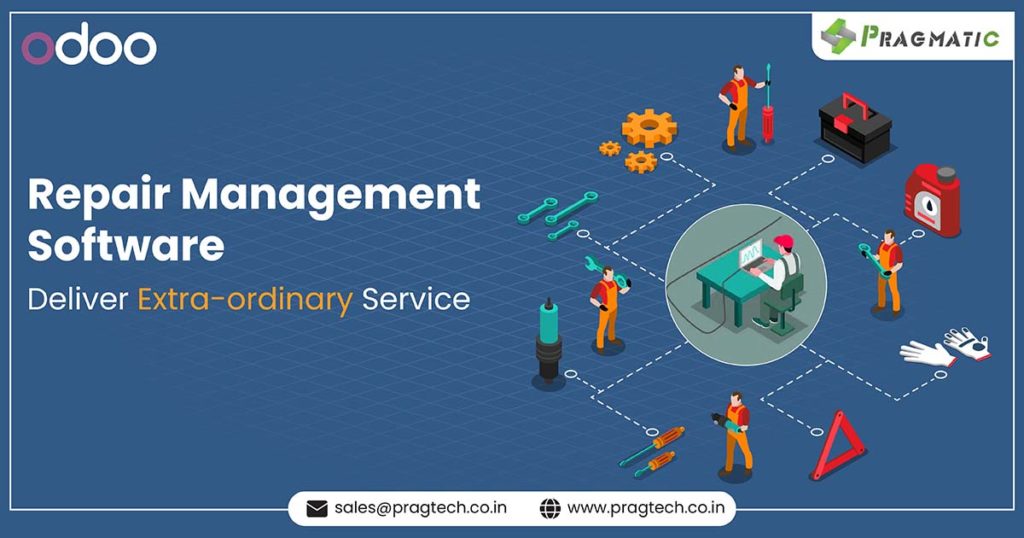 What is Repair Management Software? Let's kickstart things from here.
Basically, businesses that provide repair services, like auto repair shops, appliance service vendors, or handyman service companies, need to provide efficient and frictionless service experiences to maintain customer loyalty.
As part of their duties, they are responsible for managing day-to-day operations, coordinating and tracking service claims, and collaborating with technicians to complete repairs on time.
It is possible, however, for repetitive activities, administrative challenges, and outdated processes to slow down operations.
With Repair Management software, technicians and service teams can focus on completing repairs on the field and exceeding customers' expectations, eliminating manual, and unproductive tasks.
How Does Odoo Repair Management ERP Help?
Odoo Repair Module is created by industry specialists having extensive practical experience in the repairing industry/workshops.
The repair industry is prone to different roles and responsibilities from different vendors. Be it the spare parts suppliers, OEM agencies, records of the different automotive components or engaging with customers.
Your work needs a helping hand from Odoo vehicle repair management solution. Leave your worries about inventory, supplier engagement, or customer relationship, behind and focus on doing what you do best i.e. providing a rich user experience in the repair vertical.
Remarkable Features Of Odoo Repair Management Software
Odoo repair management module by Pragmatic brings you total control and ease of administration. You can get immediate access to useful reports and dashboards that help you keep your business running in top shape. These reports include:

Tracking the spare parts used in the vehicle tracking
Work hours spent by the technicians in the assigned tasks
Vehicle repair analysis report
Financial reports like profit and loss, balance sheet, etc.
Cost and revenue reports over any of the vehicle repairs

Efficiently manage automotive repairs of motorcycles, cars, and trucks, with highly specific information available in a single click, at your disposal.
Track job-wise performance of resources on key metrics. Allocate spare parts & monitor man-hours consumed in the vehicle repairs.
Provision to create different warehouse locations.
Repair vendors can systematically manage their spare parts inventory and view reports across different warehouse locations.
Monitor the spare parts distribution/usage across different warehouse locations.
Document repair orders received from the customers.
Maintain the database of purchases made for spare parts and other materials.
Unique multi-location feature of the product helps the user to effectively manage and supervise all the repair centers present across different geographic locations in a single view.
Benefits Of Odoo Repair Management Software By Pragmatic
Organize All Repair Tasks
Track Real-time Progress
Improve Response Time

Optimize Inventory Management
Reduce Costs
Ensure Smooth Operations
Why Choose Pragmatic Repair Management System?
We strive to provide the best repair management modules in Odoo ERP for the changing requirements of the industry globally.
Pragmatic Techsoft has many years of experience providing services in Odoo ERP modules. We have helped repair establishments streamline their administration efficiently through advanced automated systems. With our proven software products and technical support system, you can simplify routine tasks and focus more on the things that need your immediate attention. 
If you are looking for repair management Odoo ERP, click here to Talk To Our Odoo Expert